Opinions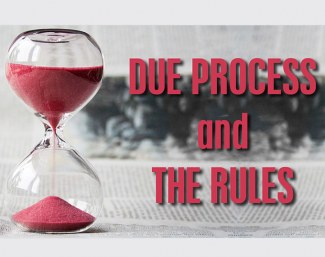 Our guest columnist of this week is Pippa Cuckson, an award-winning journalist who in recent years has actively campaigned to raise awareness of the welfare concerns within the sport of endurance in order to drive change. She has written extensively on the topic for a number of titles. Her stories picked up by international publications around the world including the Wall Street Journal, Le Monde and Berliner Zeitung. In August 2018, the French equestrian magazine Grand Prix featured Pippa in its special issue about the 50 "most influential" people in global equestrian sport.
Cuckson shared her weekly column for the Canadian equestrian website Horse Sport with Eurodressage.
Disinterest in 'Due Process' Why Last-Minute Petitions Rarely Work
Petitions for and against top hats in dressage involved many people in wasted work due to misunderstandings about the rule-making process.
If you spend all day riding, you won't have the time or inclination to read weighty tomes about FEI rule changes. But procedural know-how would reduce so much angst and wasted effort for competition riders. For a start, elite dressage athletes would learn why their 11th-hour bid to save the top hat was always doomed.
Their 151-signature petition, involving the sport's biggest names, garnered much media attention last week and triggered intelligent debate on dressage forums about safety and freedom of choice.
A pro-helmet, US-based group called Physician Women Equestrians (PWE) then scrambled to send the FEI a counter-petition. But they were urging the FEI not to do something the FEI already had no intention of doing, for last Tuesday (October 27) the FEI confirmed there can be no vote to reinstate top hats at the FEI General Assembly (GA) on November 23.
(...)
I haven't found out why the PWE was panicked into believing the FEI would disregard its own pro-helmet vote. I suspect it is unawareness of the rule-making processes ‒ a boring topic, but so important. Much work went into those petitions, time better spent reading how the process actually works here.
(..)
Some dressage riders were caught on the hop by the 2019 helmet vote. It fell under FEI General Regulations (see page 26 here ) which supercede each discipline's own rules, as do FEI Veterinary Rules, though not everyone seems to know that. There was, though, ample coverage in specialist dressage media, and two active Grand Prix riders sit on the FEI dressage committee, so it's odd there was no furor at the time.
The issue reignited this summer when Portuguese Olympian Daniel Pinto wrote about mandatory helmets giving the idea dressage could be dangerous. Isabell Werth and other big names took it up, and the International Dressage Riders Club submitted their 151-signature petition to the FEI a couple of weeks ago.
Yet no-one following the FEI's official consultation process could have had an inkling of rider discontent. The FEI publishes all stakeholder responses to upcoming rule changes ‒ even the extreme or plain daft ‒ and just one country, Sweden, suggested small tweaks to the approved helmet rule. The FEI says it heard nothing from any dressage stakeholder group during this time.
Alas, I don't suppose lessons will be learned from this latest non-event.....