Opinions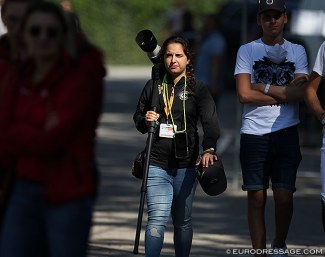 Guest columnist of this week is Lily Forado, a Spanish equestrian photographer and journalist, who manages her own website lilyforado.com as well as covers for ANCCE, the Spanish PRE breeding society, and USPRE, its American leg.  Lily also occasionally contributes to Eurodressage. In this opinion piece she reviews the turbulent equestrian year 2020. 
 "2020, a Year to Forget and Remember"
The beginning of 2020 seems distant when all the hopes were set on the Olympic year, the year of "this will be a good one". Unfortunately, there was no pre-established COVID-19 script. A few days before the end of this year it is worth asking, how will we remember this 2020 in the years to come?
The Washington Post asked its readers to summarize the year in a single word or sentence, and among the thousands of messages received, the most ingenious, the one that has most attracted attention of the American newspaper, was the one of Clarke Smith, a nine-year-old boy living in the state of Michigan. He described it as following:  "Like looking both ways before crossing the street and then getting hit by a submarine" (Clarke Smith, 9, Beverly Hills, MI).
It is difficult to describe 2020, but it is true that for everyone it has been one of those years that we could call "a year to forget and remember" in all areas, social, economic, political, health and personal, among many others.
Looking at the equestrian level, 2020 has been a year in which we have lost great stallions such as Blue Hors Don Schufro, Jazz, Desperados, and Totilas, as well as World Champion Zucchero OLD. Each one of them is a new star in the sky, shining on this somber year that has brought many changes.
There have been some changes for better and for worse. 2020 has been a year of transition to independe for several riders, who decided to leave their employers and build a new independent, professional project. Severo Jurado, Daniel Bachmann Andersen, and Marcus Hermes made that step.
In general, any change produces insecurity because it implies a modification in the circumstances of our environment. Equestrian traditions may have evolved over the centuries, and 2020 has heralded the last year of the top hat worn in FEI competition. Aesthetics, culture, safety were the heavy arguments that reappeared in the great fiery debate on social media. Finally, a ban on top hats in international dressage is set to go ahead on 1 January 2021, despite a last-minute petition to retain the option at top level.
In times of uncertainty, it is sometimes difficult to find answers. This was the case for Olympic athletes, who had to wait long to know f the 2020 Tokyo games were ever going to happen. In its 124 years of history, the games had never been postponed before, except during World War II. 2020 wrote a new page in the history of the biggest sports event in the world, but after several days of decision-making, it has finally been confirmed: the 2020 Tokyo Olympic games will take place in 2021 from 23 July until 8 August 2021.
The wave of show cancellations not only impacted the riders themselves, but also the organizing committees, that are the anchor of the equestrian competition circuit to a certain extent. Each of them has given and will give their best at all times to continue sports activity and fight against the economic losses, caused by the Covid-19 pandemic.
We say goodbye to a different year. 2020 will be remembered as a year with very turbulent months. The expressions of solidarity, affection and support among all of us, as well as the images and feelings, both positive and negative, will remain in our memory once this year is over.
A new decade did not begin in 2020, it will be in 2021. 2021 will be the year of hope. Go for it!
by Lily Forado