Oldenburg Auctions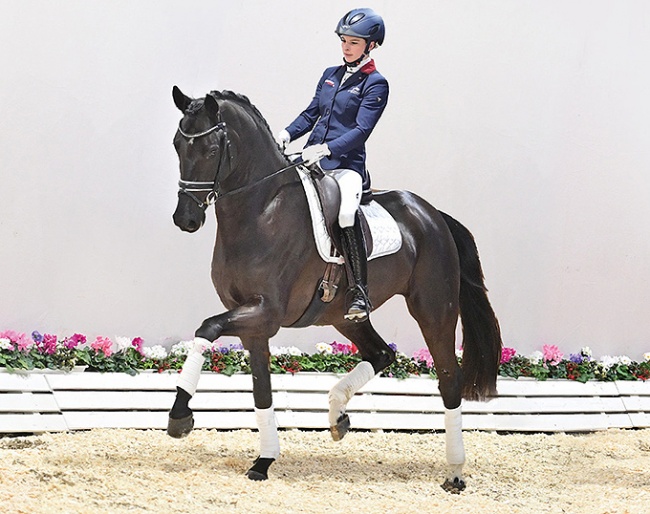 Exciting bidding duels until the last second - that was the 2021 Oldenburg Spring Elite Online Auction, which concluded on 10 April 2021. The 4-year old D'Amour became the best seller of the auction
D'Amour (by D'Egalité - Ampère - De Niro) is bred by Klaus Kotschofsky and owned by Valerie von Hohenzollern-Brenske's Gut Feichten Sportpferde Management. The black mare sold 260,000 euro to a Hamburg dressage rider, who discovered the mare on a photo in an advertisement in the well-known magazine St. Georg. 
The second most expensive dressage horse was the 8-year-old Toscana (by Tomahawk - Welt Hit II - Ordensglanz) bred by Anne Weser, and owned by René Eberz. The beautiful mare is a daughter of Oldenburg star sire Tomahawk and sister of the advanced level successful Fifty Cent/Helena Bicker and Lorenzio/Juan Manuel Vidal Testal, ESP. Toscana sold for 125,000 euro to British Chloe Wren, who trains with Tomahawk's rider, Markus Gribbe.
Good Prices for Trained Horses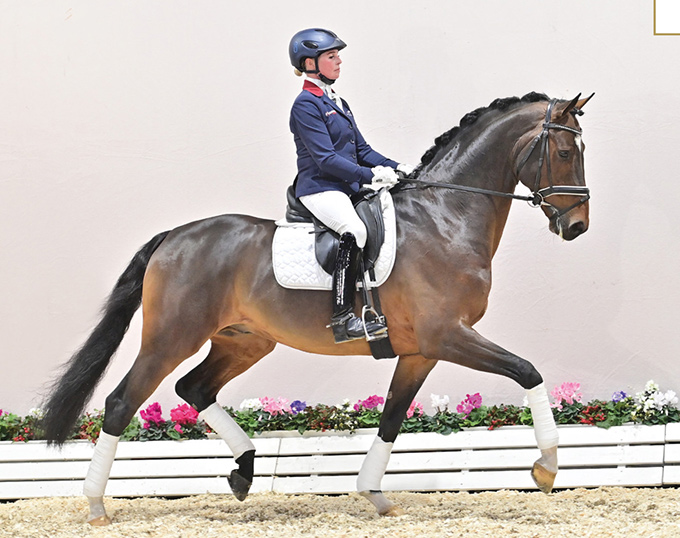 The stallion Dovizioso (by Dancier - Sunny-Boy - Rubinstein I) bred by Thaden & Tienken, and owned by Gestüt Vorwerk, sold to a dressage stable in Belgium for 108,000 euro. Dovizioso's brother Dan Roy is successful at Prix St. Georges level with Heiner Schiergen.
The 4-year old Dresscode (by Danciano x Furstenball) sold for 72,000 euro. The same price was paid for the 5-year old Montblanc (by Morricone x Sandro Hit). 
Valerie von Hohenzollern sold a second horse through the auction: the 7-year old Braveheart (by Bretton Woods x Sandro Hit). He sold for 66,500 euro.
The 4-year old Fontainebleau (by For Dance x Ampere) switched owners for 40,000 euro, Balmain (by Barroso x Depardieu) found a new owner for 38,000 euro, Inspired (by Indian Rock x Fidertanz) for 37,000 euro, Fleuresse (by For Romance x Donnerschwee) for 31,000 euro, Drykorn (by Don Deluxe x Kansas C) for 31,500 euro, Biasini (by Bordeaux x Furst Romancier) for 30,000 euro, Velasquez (by Vitalis x Don Schufro) for 28,000 euro, and Savoy (by San Amour II x De Niro) fetched 27,500 euro
Half the Collection Moves Abroad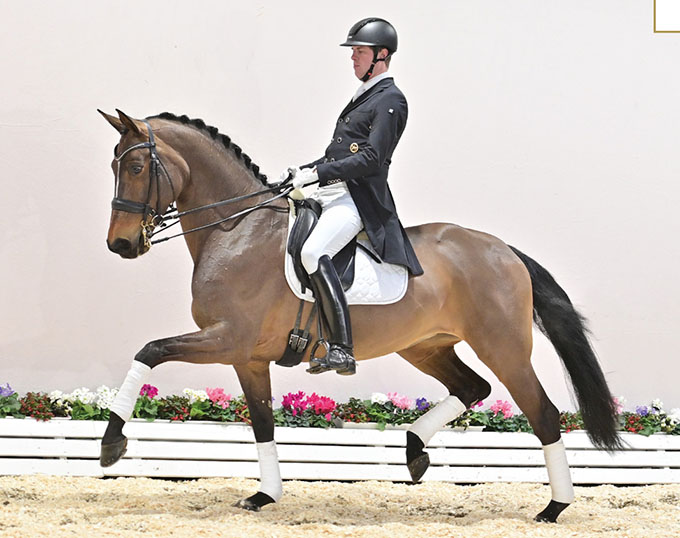 The best selling jumping mare was the 4-year-old OS Champion mare Only You (by Ogano - Balou du Rouet - Lord Liberty). She moved to a renowned jumping stable in Mexico for 88,000 euro.
15 from 31 auction candidates have been knocked down by customers from all over the world. Customers from Belgium (3), Great Britain (2), Switzerland (2), Ireland (1), Italy (1), Canada (1), Mexico (1), Portugal (1), Spain (1), Hungary (1), and the United States (1) will be taking home talented Oldenburgs to ride in the future. The total sales of the first part of the Online Elite Auction reached 1.508.500 Euro. The average price of the horses ranged more than 48,500 Euros.
Saddle Licensing and Auction
On Sunday, April 11, the licensing candidates of the 10th Oldenburg Saddle Licensing that are up for sale will be published with photos, videos and a portrait in the auction section of the Oldenburg homepage www.oldenburger-pferde.com.
The saddle licensing will take place on Monday, April 19. The Online Auction starts on April 19 and ends on Wednesday, April 21.