Rhinelander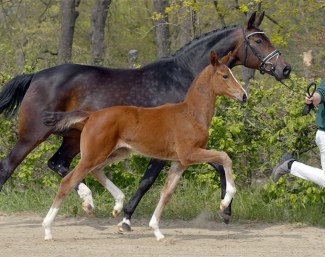 Via Valdi became the best selling foal of the fifth edition of the Wickrath Foal Auction, hosted by the Rhinelander breed society based at Schloss Wickrath on  2 - 6 June 2021. 
A collection of 22 dressage and show jumping bred foals was up for sale. 
The filly Via Valdi (by Valdiviani x Quaterback x Ravallo), presented by Valdiviani's stallion keeper Tobias Schult, sold for 30,750 euro to a German client. 
The second most expensive foal was colt Estio (by Escolar x Sir Donnerhall x Florestan), which sold for 15,000 euro to Germany. The elegant filly  Von Herzen (by Vaderland x Dancier x Rotspon) stays in Germany for 14,250 euro. 
Colt Mr Toto (by Maxim x Escolar x Delatio) sold to an Austrian buyer for 12,500 euro. The bay colt Blitz Pass Auf (by Bon Joker x Furst Fohlenhof x Belissimo M) fetched 11,750 euro. 
Filly Braveheart (by Bonds x Bon Bravour) found a new owner in Ukraine for 9,250 euro. Another Bonds offspring was coveted: the filly Bond Girl (by Bonds x Monteverdi) sold for 8,250 euro.
The best selling pony foal was Mr Golden Right WS (by FS Mr Right x Valido) which sold for 5,750 euro. 
Related Link
Directly from the Breeders - 5th Schloss Wickrath Online Foal Auction on 2 - 6 June 2021