2021 Bundeschampionate Qualifier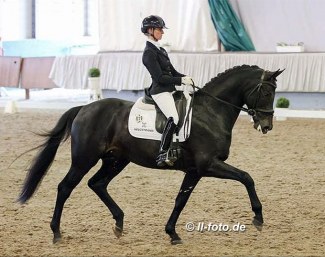 The 5-year old Moncler and the 6-year old Ferati became the winners of the Bundeschampionate qualification classes held in Hille on 3 - 4 June 2021. 
5-YO:  Moncler
Eleven pairs gathered to contest the L-level dressage horse test for 5-year olds and 2019 European junior rider champion Jana Schrödter reigned supreme on Andreas Helgstrand's Westfalian stallion Moncler (by Millennium x Ehrenpreis). The stallion received a total of 8.1 from judges Buttgereit, Mannheims and Tapken. He got 8 for walk, 8.5 for trot and canter, 7.5 for submission and 8.0 for general impression. 
Three pairs tied in second place with a total of 8.0, good enough for a ticket to Warendorf. They were Katrin Bettenworth on Herbert Schlüter's Hanoverian gelding Furst Friedrich as well as on Schlüter's Hanoverian gelding Freetown (by Finest x Quaterback) and Sophie Holkenbrink on her father's Westfalian stallion Franz Joseph Junior (by Franziskus x Rock Forever).
6-YO: Ferati
German junior rider Lucie-Anouk Baumgürtel won the 6-year old division aboard her parents' Hanoverian gelding Ferati (by Furst Belissaro x Del Piero). She bested a field of 9 riders with a score of 8.0, the only combination in the class to achieve the qualification criterium for Warendorf. In rainy conditions, Ferati got 8 for walk, 8.5 for trot, 7.5 for canter and 8 for submission and general impression from the judges. 
Professional Bianca Nowag was the runner-up aboard Michele Widmer del Pino's Hanoverian gelding Fassianos (by For Romance x St. Moritz). The pair scored 8 for walk and trot, 7.5 for canter, 7 for submission and 7.5 for general impression to total 7.6 for a second place. 
Photo © LL-foto
Results - 2021 Bundeschampionate Qualifier - Hille
5-year olds
1. Jana Schrödter - Moncler (by Millennium / Ehrenpreis) - 8.5 8.0 8.5 7.5 8.0 --- 8.1
2 Katrin Bettenworth -  Fürst Friederich (by Fürstenball / Donnerhall) - 8.0 8.0 8.0 8.0 8.0 --- 8
2 Sophie Holkenbrink - Franz Joseph Junior (by Franziskus / Rock Forever) - 8.5 7.5 8.5 7.0 8.5 --- 8
2 Katrin Bettenworth - Freetown (by Finest / Quaterback) - 8.5 8.0 8.5 7.0 8.0 --- 8
5 Lisa Marie Koch - Tomorrowland (by Tomahawk / Florencio I) - 8.0 7.5 8.0 7.5 8.0 --- 7.8
5 Dominique Schlosser -  Famous (by Finest / Wolkenstein II) - 7.5 8.5 7.5 7.5 8.0 --- 7.8
7 Wibke Hartmann-Stommel -  Brilliant (by Baccardi / Samarant) - 8.5 6.5 8.0 7.5 7.5 --- 7.6
7 Jana Schrödter - Salomea (by Sezuan / Schiffon) - 8.0 7.5 7.5 7.5 7.5 --- 7.6
9 Isabel Freese - Top Level (by Top Gear / Foundation) - 7.5 7.5 7.5 7.5 7.5 --- 7.5
10 Franziska Kötter -  Bam Bam K (by Baccardi / Feedback) - 7.5 7.0 7.5 7.0 7.5 --- 7.3
11 Sophie Roderburg -  Fürstin-Look PS (by Fürstenball / Sir Donnerhall I) - 8.0 6.5 6.0 6.0 6.5 --- 6.6
6-year olds
1. Lucie-Anouk Baumgürtel -  Ferati (by Fürst Belissaro / Del Piero) - 8.5 8.0 7.5 8.0 8.0 --- 8
2 Bianca Nowag - Fassianos (by For Romance I / St. Moritz) - 8 8 7.5 7 7.5 --- 7.6
3 Jochen Bender  - Libero (by Livaldon / Worldly) - 8 8 7.5 6.5 7.5 --- 7.5
3 Svenja Kämper-Meyer  - Quadriga (by Quantensprung / Danone) - 7.5 8.0 7.5 7.0 7.5 --- 7.5
5 Nils Borgert - Senorita Heinrich (by Sir Heinrich / Donnerschlag) - 7.5 7.5 8.0 6.5 7.5 --- 7.4
6 Achim Ostermeyer  - Glanzlicht (by Governor / Cavan) - 7 7 7 6 7 --- 6.8
7 Ariane Sander - Bon Voyage (by Belantis I / Davignon) - 6.5 6.5 7 5.5 6.5 --- 6.4
8 Ana Teresa Pires  - Florentino HB (by For Romance I / Florenciano) - 6.5 5 6 5 6 --- 5.7
Annika Korte - Fürst Samarant (by For Romance I / Fürst Nymphenburg) - RET
Related Link
Eurodressage Coverage of the 2021 Bundeschampionate and qualifiers