2021 Bundeschampionate Qualifier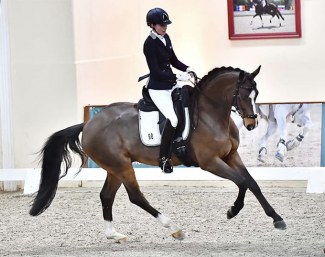 Last weekend two Bundeschampionate qualifiers took place in Sandbostel and Prietzen in the north of Germany on 4 and 5 June 2021. The winning horses were Diamante Negro, For Sure, Maximus and Bavalou. 
Sandbostel: Diamante Negro and For Sure
Riders from seven different nations competed in the BuCha qualifier held in Sanbostel on 4 June 2021. Nineteen combinations rode in the 5-year old division, nine in the 6-year old class. 
Professional Silvia Busch-Kuffner and Janna Alpers' DSP registered gelding Diamante Negro (by DeLorean x Furst Romancier) bested the field with a winning total of 8.4 points. Spanish Daniela Vidaurre Puente and Ingo Pape and Michael Klimke's Hanoverian gelding Dirty Mike (by Dancing World x Riverside) were second with 8.3., ahead of Yvonen Reiser on Gran Torino HR (by Glamourdale x Londontime) with 8.2.
In the M-level test for 6-year old Norwegian Antonia Christine Palma e Santos (née Jacobsen) rode Barbara Welding's Hanoverian gelding For Sure (by Finest x De Niro) into the winner's circle with an 8.2 earning test. For Sure was a premium licensed stallion at the 2017 Hanoverian Licensing and sold for 360,000 euro to Andreas Helgstrand and Luxembourg's Grand Ducal Dressage at the time. Andrea Miesner and her own Hanoverian stallion Devino (by Dannebrog x Silberschmied) were second with 8.1, while Anett Müller and Detlef Ruddat's Hanoverian mare DieEine (by Danzador x Ehrenwort) slotted in third with 8.0
Prietzen: Maximus and Bavalou 
At the regional dressage show in Prietzen, Katrin Knetsch topped the board with Susanne Lutz' home bred Oldenburg gelding Maximus (by Millennium x Hotline). They scored 8.3 for the victory and edged out Tessa Frank on the chestnut gelding Funrise (by Flanell x Bretton Woods), who were second with 8.0. 
In the 6-year old division the German based Czech rider Libuse Mencke topped the board on a winning score of 8.0. She rode Gestüt Ganschow's Mecklemburger mare Bavalou (by Belantis x Shavalou) into the winner's circle and to a ticket for Warendorf. The second place getter was Catherine Mayer on Silke Pelzer's Oldenburg mare Deleih La Carree (by Dimaggio x Sandro Hit). They finished on a score of 7.6
Results - 2021 Bundeschampionate Qualifier - Sandbostel
5-year olds
1. Diamante Negro - Busch-Kuffner,Silvia -   8.4
2. Dirty Mike - Vidaurre Puente,Daniela -  8.3
3. Gran Torino HR - Reiser,Yvonne  -  8.2
4. Double Check -  Blanken,Stefan  - 8.0
5. La Bonita - Jordan,Lydia - 7.8
6. Morricona -  Kalus,Malte - 7.7
7. Sonnentanz -  Goerens,Mathis - 7.6
8. Fay Alice  - k,Tessa  - 7.6
9. Funrise - Frank,Tessa  -  7.4
9. Velvety - Kiesewetter,Taja  -7.4
11. Dorina P - Peters,Christiane -  7.3
12. College Sweetheart - Lynn Thomas,Jessica  -  7.1
13. Lord Byron - Osborne Diez,Alvaro -  7.1
14. Le Beau - Berg,Antonia - 7.0
14. Fuchur B - Frieling,Sandra -7.0
16. Ladina - Behr,Denise Christin -  6.6
17. Vito - Jendsen,Sabrina - 5.7
Vito - Jendsen,Sabrina - RET
La Vivaldon - Höft,Rico - RET
6-year olds
1. For Sure - Palma E Santos,Antonia Christine -  8.2
2. Devino-  Miesner,Andrea -  8.1
3. DieEine - Müller,Anett - 8.0
4. Fleur de Vie  - Bramall,Leonie - 7.8
5. Famous K - Müller,Anett  -7.3
5. Greyson -  Lynn Thomas,Jessica -  7.3
7. Balvino Gold - Ahlers,Birte  -  7.2
7. Feuerherz -  Krüger,Lisa Sophie -  7.2
9. Sultan -  Pavao,Pedro Luiz Almeida - 7.0
Results - 2021 Bundeschampionate Qualifier - Prietzen
5-year olds
1. Maximus - Knetsch,Katrin - 8.3
2. Funrise - Frank,Tessa  - 8.0
3. Melman - Ehrich,Franziska  -   7.7
3. Fay Alice - Frank,Tessa -  7.7
5. Darian Dakota von Bellin - Desender,Bart  - 7.5
6. Dancer - Maas,Friederike - 7.4
6. Rocket Man - Schmidt-Bosse,Heike  -  7.4
8. Baljano - Roth,Stella Charlott  - 7.3
9. Fleur de Lys - Gerullis,Pia Anina  - 7.2
10. Bernay's Son - Schulz,Isabell - 6.6
Flamboyant de Carree - Mayer,Catherine - RET
6-year olds
1. Bavalou - Mencke,Libuse - 8.0
2. Deleih la Carree - Mayer,Catherine  -  7.6
3. Dante's Luca - Struzynski,Alexandra -  7.5
4. Kycara - Mencke,Libuse  - 7.4
5. Feengold - Lüders,Ronald-  7.3
5. Queenelli - Borkowsky,Diana -  7.3
7. Senzai - Voß,Susanne -  7.0
8. Dancing Scarlett - Hinz,Mario  -  6.9
Related Link
Eurodressage Coverage of the 2021 Bundeschampionate and qualifiers