Global Dressage Auction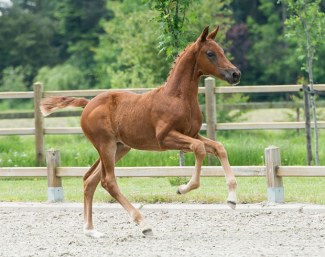 Renommée de Baian became the best seller of the 2021 Global Dressage Auction, which concluded on 22 June 2021. 
The collection of ten very talented foals, with interesting pedigree were carefully selected by team member Koos Poppelaars.
The chestnut filly by Bordeaux x Jazz sold for 15,000 euro. She is out of the full sister of Olympic medal winner Parzival. She will stay in The Netherlands.
Four for 14,500 euro
Four foals sold for 14,500 euro: the colts Romance D (by For Romance x Negro) and Escobar S (by Escolar x Jazz), as well as colts Ramses Shaffy (by Toto Jr x Tuschinski) and filly Raveena van de Keihill (by Jameson x Uphill). 
Sexes Embryos
The Global Dressage Auction had a world's first with two frozen embryos for sale that had been sexed. The gender of the foal has been genetically determined during the artificial ET process. 
One future mare and one future stallion by Blue Hors Zackerey out of the full sister of elite stallion Johnson were auctioned. 
The colt sold for 5,500 euro, the filly for 6,000 euro to Germany. 
The foals in this Global Dressage Auction sold for an average price of 13,500 euro. 
"We look back with satisfaction on this second auction of this year in which we offered foals for the first time. The foals are sold for good, realistic prices. The international interest offers a lot of perspective for the future. We have succeeded in presenting an exceptional collection," said Poppelaars.  The next auction will be in October.
related Links