2022 CDIO Compiegne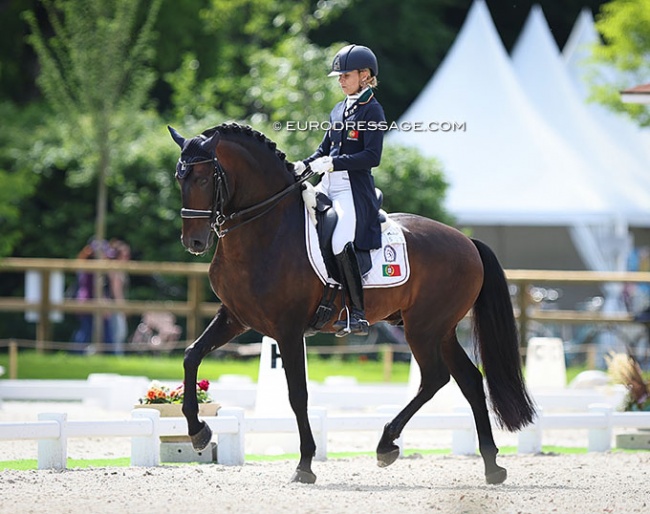 In her first international dressage competition outside Portugal since giving birth to her first baby in February, Portuguese Olympian Maria Caetano piloted her Tokyo mount Fenix de Tineo to a fourth team place in the FEI Nations Cup and rising star Hit Plus in his second CDI at big tour level at the 2022 CDIO Compiegne in France, on 20 - 22 May 2022. 
German Base for the Summer
Maria Caetano's life got a new dimension on 2 February 2022 when she and and her partner António Gomes Pereira welcomed daughter Maria do Rosário into the family. 
A month later, Maria was back in the saddle benefiting from the training her father Paulo Caetano and assistant Carolina Oliveira put on her horses during her pregnancy break. She returned to competition in April at the CDI Beloura, followed by the CDI Alter do Chao. 
With the 2022 World Championships Dressage in Herning as clear season target, Maria will move her new family and Grand Prix horses to Germany in June, from where they can more easily travel to competitions in an attempt to Portuguese team selection. 
Kur Premiere in Compiègne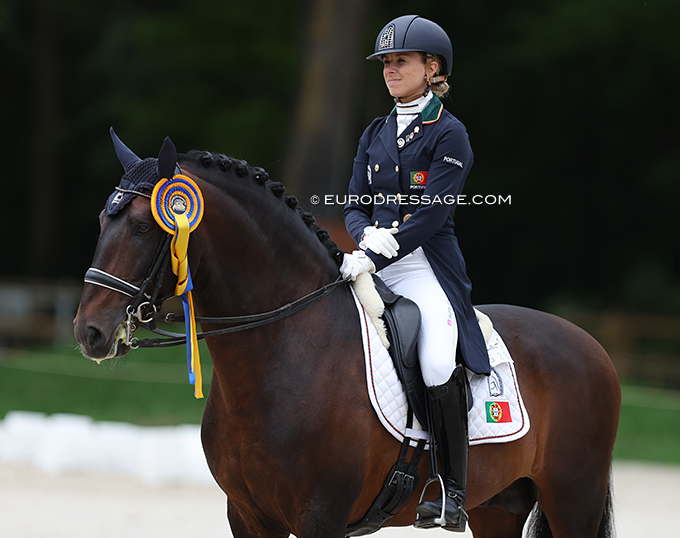 The 2022 CDIO Compiègne near the French capital Paris provided the wonderful scenery for Maria's first CDI of the season across the Portuguese border. She brought along her 12-year old Lusitano stallion Fenix de Tineo (by Rubi x Oheide) for the 5* tour and her developing Grand Prix horse and Lusitano cross bred Hit Plus (by Bretton Woods x Peralta Pinha) for the 3* tour. 
"I'm very happy with both my horses' performance in Compiegne," Maria told Eurodressage. "Fenix de Tineo is in super shape! He scored his personal best in a Grand Prix outside of Portugal and gave me the feeling that are still some things that we can improve to score higher. So I think this will be his year."
In a highly competitive field of seasoned Grand Prix riders, Maria and Fenix de Tineo scored 70.826% in the Grand Prix for 12th place and debuted a brand new freestyle based on music from Jurassic Park for the 5* Kur to Music, in which she placed 7th with 73.730%. Team Portugal landed a fourth place in the FEI Nations' Cup
"I chose this music because it can show a bit of the drama and at the same time the beauty that you can see on amazing images on that movie," Maria told Eurodressage. "It represents the power and strength of the Lusitanos together with their graceful movements. It felt great riding with this music for the first time in Compiegne."
Confidence Booster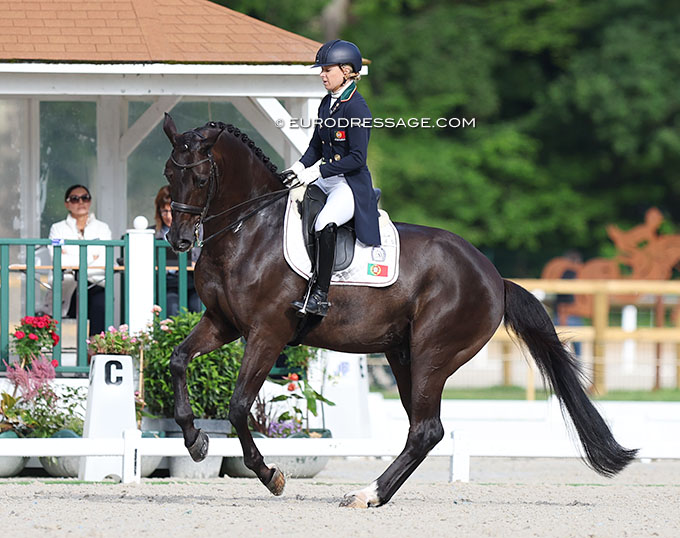 The goal in Compiegne with the Luso warmblood Hit Plus was to give the young stallion confidence in the arena at Grand Prix level.  The pair made its big tour debut two weeks ago at the CDI Alter do Chao and clocked 70.131% in the Grand Prix and 69.064% in the Special. In the 3* tour in Compiegne, he posted 68.956% in the Grand Prix and rose to a 73.735% in the freestyle. 
"Hit Plus did a super job on his first big tour CDI outside Portugal," said Maria. "It gave me big hopes for the future! When he will get more strength and confidence in the ring he will be able shine bright in the dressage arena."
Eyes on the Ground
Coached at the show by Portuguese team trainer Kyra Kyrklund as well as her long-time trainer Ton de Ridder, Maria feels that she has the best qualified pairs of eyes helping her on the way.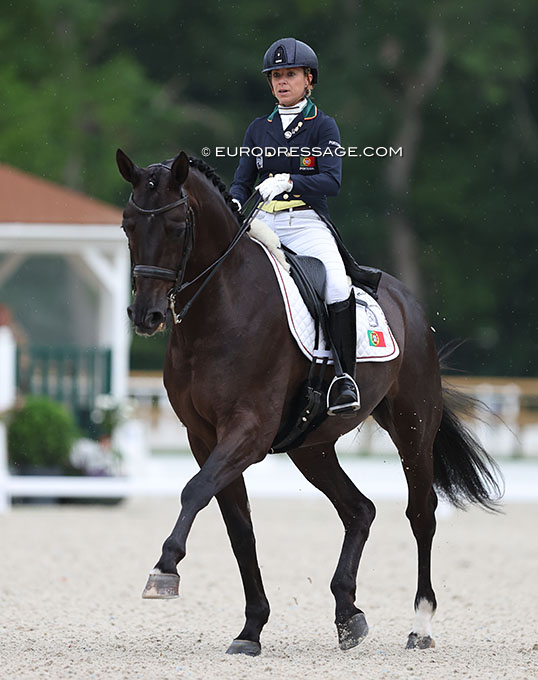 "It's great to have one extra pair of eyes looking at our training," said Maria about Kyra following her in Compiegne. "Especially when it's coming from such a good professional as Kyra. The cooperation between my father, Ton de Ridder and Kyra Kyrklund is very good. There are always some details that we can improve by having such amazing professionals by our side!
With Herning on the horizon, Maria will ride Fenix de Tineo at the CDIO Aachen and Hit Plus at the CDI Kronberg. 
Photos © Astrid Appels
Related Links
Maria Caetano Back in the Saddle after Baby Break, Training for the Future
Portuguese Olympian Maria Caetano Gives Birth to Baby Girl