2022 Bundeschampionate Qualifier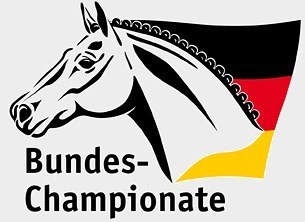 The 5-year old Shynedo and 6-year olds Diafys and Ellis qualified for the Bundeschampionate at the regional dressage shows in Dinslaken (6 May 2022) and in Haftenkamp (20 May 2022).
Dinslaken
Ten 5-year olds competed at the qualifier in Dinslaken, which was won by Niklas Brokamp aboard his own Westfalian stallion Shynedo (by Sir Heinrich x Don Bedo). The stallion scored a winning 8.0 from judges Hans-Peter Schmitz, Catrin Wingender, and Reinhard Richenhagen, receiving 8 for walk, trot and canter, 7.5 for submission and 8.5 for general impression. Marie-Therese Leuchten-Paas and Theodor Leuchten's Rhinelander mare Sansibar L (by Sir Donnerhall x Flatley) were the runners-up with 7.4.
In the 6-year old class there were 14 pairs and Stefanie Wittmann topped the board with Frederike Feldhaus' Oldenburg gelding Diafys (by DeLorean x D-Day) on 8.2.. The dark bay got 7.5 for walk, 8.5 for trot and canter, 8 for submission and 8.5 for general impression. Stefanie Wolf and Ellis (by Escolar x Dimaggio) who did not get their ticket to Warendorf with 7.8 as a minimum of 8.0 has to be scored.
Haftenkamp
At the Haftenkamp regional show only one Bundeschampionate qualification class was held and that was for 6-year old horses (alongside some pony classes). There were 10 competitors for the M-level dressage horse test, which was judged by Tim Koch, Peter Mannheims and Wolfgang Egbers. 
The winner of the test was Stefanie Wolf, who this time did strike gold and got her entry place for Warendorf with Stall Sonnenbrink's Westfalian stallion Ellis (by Escolar x Dimaggio). The stallion posted 8.6 for the victory and edged out Annika Korte on Carol Hweijan Lee's Oldenburg mare Venicia (by Vivaldi x Don Frederico), who were second with 8.2. Kira Wulferding and the Wolfram Wittig's Oldenburg gelding Barnsdale W (by Boston x Breitling) tied in third place on 8.0 with Charlott-Maria Schürmann aboard Daniel Ramseier's Oldenburg gelding Florent (by Furst Romancier x Sir Donnerhall). 
Results - 2022 Bundeschampionate Qualifiers
Dinslaken - 5-year olds
1 Niklas Brokamp - Shynedo (by Sir Heinrich / Don Bedo) - 8.0 8.0 8.0 7.5 8.5 --- 8
2 Marie-Therese Leuchten-Paas- Sansibar L (by Sir Donnerhall I / Flatley) - 8.0 7.0 7.5 7.0 7.5 --- 7.4
3 Janine Drissen - Feiner Fritz D (by Fiamingho MS / Lancer II) - 7.5 6.5 7.5 7.0 7.5 --- 7.2
4 Juliette Piotrowski - Earl of Pearl (by Escolar / Gribaldi) - 7.5 7.0 7.5 6.5 7.0 --- 7.1
5 Annika Rühl  -  Viada - Girl (by Vitalis / Stedinger) - 7.0 7.5 7.0 6.0 7.0 --- 6.9
6 Pau Bel Hidalgo  - Sir Romancier B (by ?) - 7.0 7.5 7.0 6.5 7.0 --- 6.8
6 Sophie Jamar - Escodantino (by Escolar / Andantino) - 7.5 7.0 6.5 6.5 6.5 --- 6.8
8 Jerome Schneiders  -  Escada (by Escolar / Fürst Romancier) - 7.0 7.0 7.0 5.5 6.5 --- 6.6
9 Katharina Hannes  - Be Dschinni (by Bernay / Breitling W) - 6.5 7.5 6.0 6.0 6.0 --- 6.4
Sophie Westerholt - Sommerhit (by Sir Donnerhall I / Lancer III) - RET
Dinslaken - 6-year olds
1. 1 Stefanie Wittmann  -  Diafys (by DeLorean / D-Day) - 8.5 7.5 8.5 8.0 8.5 --- 8.2
2 Stefanie Wolf -  Ellis (by Escolar / Dimaggio) - 7.5 8.0 8.5 7.5 8.5 --- 7.8
3 Niklas Brokamp  - Unikat B (by United Touch S / Raphael) - 7.5 8.5 7.5 7.0 7.5 --- 7.6
4 Monika Hüppe- Brunello (by ?) - 7.5 8.0 7.5 7.5 8.0 --- 7.5
4 Christian Reisch  -  Escolino (by Escolar / Vitalis) - 7.5 7.5 7.5 7.5 7.5 --- 7.5
4 Sophie Jamar -  Villazon (by Vivaldi / Regazzoni) - 8.0 7.5 7.5 7.0 7.5 --- 7.5
7 Sophie Jamar - Venecio (by Veneno / Riccione) - 8.0 7.0 7.5 7.0 7.5 --- 7.4
7 Lisa Malin Schöning - Dolce Vita A (by Dragon Hill / Fürstenball) - 7.5 7.5 7.5 7.0 7.5 --- 7.4
7 Beatrice Hoffrogge -  Integer (by Millennium / Songline) - 8.0 7.5 7.0 7.0 7.5 --- 7.4
10 Roxanne Feller- Diamore (by Don Nobless / Sandro Hit) - 7.0 8.0 7.0 7.0 7.5 --- 7.3
11 Amelie Ritz - Diamond Dancer (by Diamond Hit) - 7.5 6.5 7.5 7.0 7.5 --- 7.2
12 Stefanie Wittmann - Mc Queen (by Morricone I / San Amour) - 8.0 7.0 7.0 6.5 7.0 --- 7.1
13 Kim Sophie Kubla  - Sanntino (by Sir Donnerhall I / Junior STV) - 7.5 6.0 7.5 7.0 7.0 --- 7
Martina Binnenbrücker - Dr. Who (by Dr. Watson / Florenciano) - RET
Haftenkamp - 6-year olds
1 Stefanie Wolf  -  Ellis (by Escolar / Dimaggio) - 8.6
2 Annika Korte - Venicia (by Vivaldi / Don Frederico) - 8.2
3 Kira Wulferding  - Barnsdale (by Boston (NLD) / Breitling W) - 8
3 Charlott-Maria Schürmann - Florent (by Fürst Romancier / Sir Donnerhall) - 8
5 Alyssa Haskamp - Carlotta HB (by Champagner / Lissaro) - 7.8
6 Saskia Lieben-Seutter - Vintage (by Veneno / St. Moritz) - 7.6
6 Dries van Dyck  - Vitosko (by ?) - 7.6
8 Michelle Dreier  - Donna Merci (by Dante Weltino / Wenckstern) - 7.4
9 Alexandria Lampe  - La Vega (by Londontime / Hochadel) - 7.3
10 Marita Pundsack - QC Dia Dante OLD (by Dante Weltino / Don Schufro) - 7.2
Related Link
Eurodressage Coverage of the 2022 Bundeschampionate