France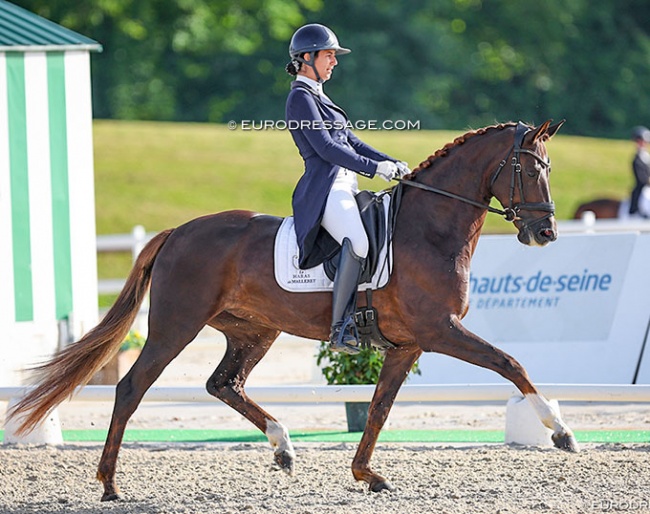 The 8-year old Dancielle de Malleret has been sold as a young riders' hopeful for French Sarah Planchet. 
Dancielle de Malleret is a 2014 born Oldenburg mare by Danciano de Malleret out of Gazelle (by Florencio). She is bred at Stall Troff in Germany.
Star Trainers
Dancielle de Malleret has been trained by Swiss Grand Prix rider Antonella Joannou as a 4-year old in 2018.
She did her first shows in 2018 in France and showed in the first round for 5-year olds at the 2019 French Young Horse Championships in Saumur under Alfonso Chica de las Parras.
In 2020 the mare moved to German Olympian Dorothee Schneider in Germany to be trained to FEI level.
At the end of 2020, however, Dancielle returned home to Haras de Malleret in Le Pian Medoc near Bordeaux, where Pauline Guillem continued to produce her. The pair placed fourth place at the 2021 French 7-Yo Championships. In 2022 the pair made its international show debut at the CDI Jardy in the small tour.
Young Riders' Hopeful
Dancielle has now been sold to French Junior Rider Sarah Planchet.
The soon to be 18-year old Planchet has competed the 13-year old Belgian warmblood Jatze van de Kwaplas (by Don Frederico x Ferro) at junior riders level.They had their first international season in 2021, showing at the CDI in Ornago and Le Mans.
As of 2023 Planchet needs to move up to the Young Riders age category. She trains with Perrine Volla-Pelardy.
Related Links
Lorber and James Bond de Massa Win 2021 French Championships for 7-Year Olds
Pauline Guillem Leaps into the New Year with New Life and Job at Haras de Malleret
Dorothee Schneider to Develop Filarmonie and Dancielle de Malleret
Haras de Malleret Strengthens Stallion Roster with Six New Acquisitions