History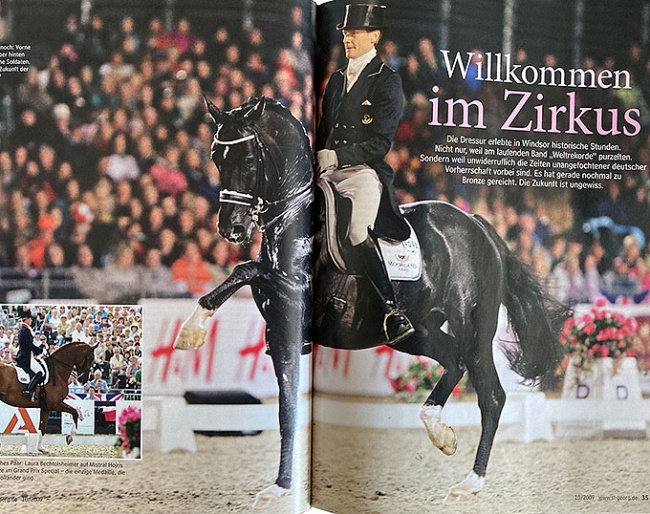 - by Silke Rottermann for Eurodressage
Our title certainly fits this introduction to a series about circus and dressage competition which is going to follow. But in fact it is a title renowned German equestrian magazine ST.GEORG already used for its report of the 2009 European dressage championships in Windsor, picturing a spectacular but a moment of incorrect trot movement.
Whenever dressage competition drifts towards the spectacular, whenever expert horsemen have the feeling movements are artificial or executed at the expense of correctness, the term of "circus riding" is quickly at hand. It is, therefore, often used as a curse word in the equestrian world.
However, every time I see it used that way, it gives me a stab in the heart and I feel slight anger. My own idea of equitation in the circus was stamped by the Swiss national circus Knie and I feel there is injustice done to this circus and certainly some others which uphold the correct way of training horses and thus maintaining their health over a long period of time.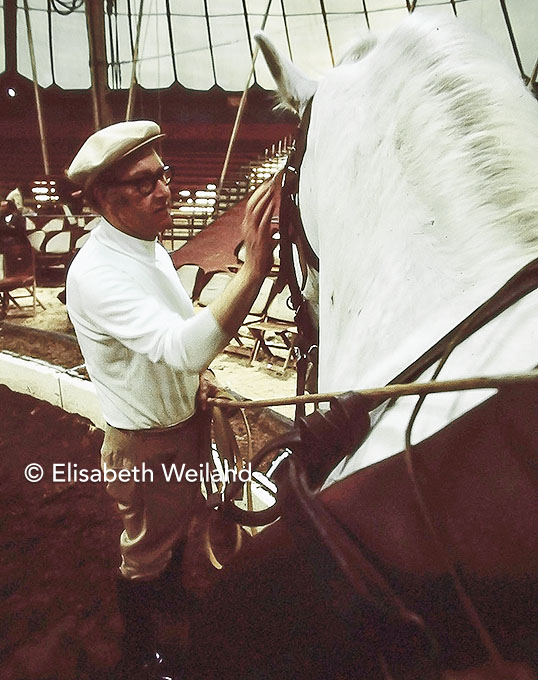 This discrepancy between what some relate to circus riding and what I personally do, triggered my interest to dig in deeper into the topic. For this it is indispensable to take a short look back in history, before I will take a closer look at the man who revolutionized training horses at the circus and who made himself a name world-wide with his classical and horse-friendly approach. I speak about Fredy Knie senior, the 2002 deceased former director of the Swiss national circus.
World famous as youngest school rider in history before World War II, Knie became a pioneer because of his nonviolent way of working horses and making it accessible for a wide public.
Even more so, Fredy Knie senior had an original interest in dressage competition and stamped it in a remarkable way in his own country Switzerland in the 1970s and 1980s, besides his friend Georg Wahl.
But long before Fredy Knie senior entered the stage, circus and dressage  riding had some surprising relations.
The Origins of the Circus
At all times people were looking for entertainment in the few spare hours they didn't have to work. Even back to ancient Rome the world famous Circus Maximus fulfilled that purpose with gladiator fights, animal baiting, and of course chariot races.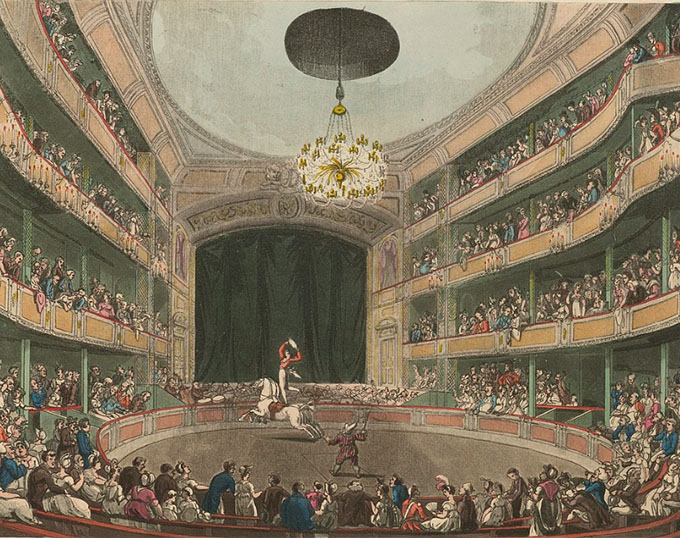 However, the circus how we know it only dates back to the 18th century. In 1767 the first circus "manège" was built in Paris and three years later the first tent (of linen) was erected in London. And from the beginning horses played an important if not decisive role.
Dominique Denis wrote in his article "Le Cheval au Cirque" that for a long time the circus was "the temple of the horse". Indeed the circus became the place where non-military riders could present their riding skills long before equestrian competitions, like we know them nowadays, were in existence.
The first to make himself a name in the circus, after an illustrious career in the cavalry, was the Englishman Philip Astley (1742-1814). Born in Newcastle, he founded a circus in London where he showed horses in different ways: From trick riding to horses showing tricks. Later Ashley went to Paris where he caused a stir by showing 12 horses and riders in a 'minuet".
The French capital became the heart of the European circus world in the 19th century with circus in permanent buildings.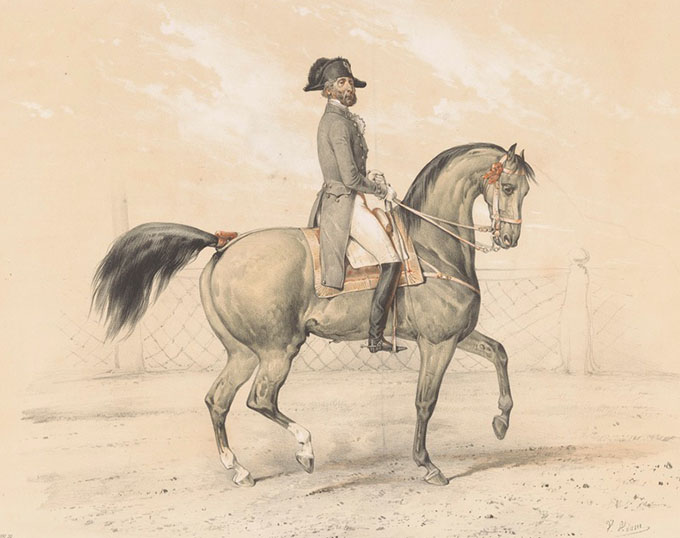 In 1783 the Italian Antonio Franconi (1738-1836) came to Paris to work with Philip Astley. Later he founded his own circus with his sons Laurent (1776-1849) and Henri (1779-1849) in which horses and equitation played a major role.
The Franconis became true pioneers of manège riding, over all Laurent who was called "majesty on horse-back" by contemporaries. He presented numerous horses in High School movements and that way introduced them into the circus world. Before these movements could only be admired at the courts in Europe, most notably the so-called "School of Versailles" near Paris.
Baucher and Fillis in the 19th Century
The 19th century also saw two of the most famous circus riders of all times stunning the spectators, who at that time were mainly from the higher society and often expert horsemen not as easily satisfied as laymen.
In Paris a certain Francois Baucher (1796-1873) appeared. Having been rejected at France's cavalry school of Saumur, he was a circus celebrity and at the same time one of the most disputed horseman of the century in Europe. Not only because of the (new) methods he applied - and which still cause discussions up until in our days - but also because of the spectacular movements his horses showed and of many had never been shown before.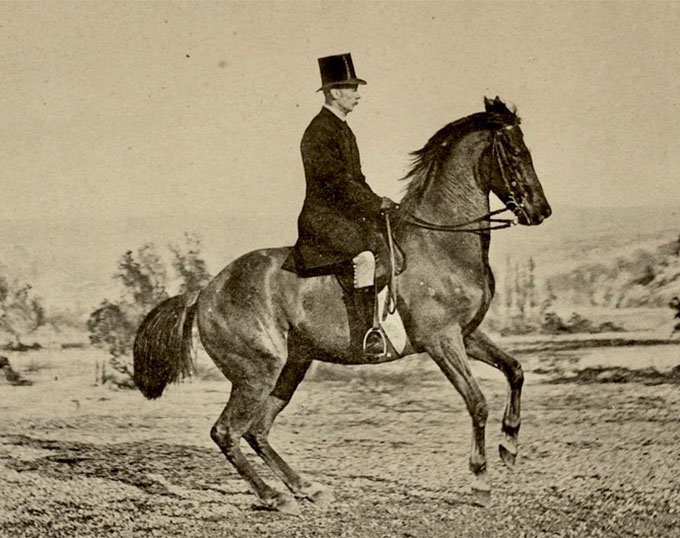 Among them the one-time flying changes which were considered a completely unnatural movement. Rejected, for example, by the Spanish Riding School in Vienna for a long time, this circus born movement became an FEI movement for the Olympic Games in 1932 in Los Angeles for the first time. Since then, with the exception of 1948, it is firmly established at international championships for seniors.
While Baucher's ideas continue to be controversial into present times, the same can be said about the movements which English born Frenchman James Fillis (*1834-1913) showed, who followed Baucher not long after to became a similar sensation of the circus world.
Although Fillis had followed Baucher abroad, he never trained with him. Instead he mainly trained with Baucher's disciple Francois Caron from 1855 on. Just like Baucher before, he was rejected to enter the crown of equitation in France at that time, which meant becoming chief rider in Saumur. Fillis showed decades in the best circus in Paris, before he went to Germany where he rode exhibitions between 1892 and 1897. His presentations became a stir in the country of Steinbrecht. With extremely high elevation, Fillis' horses showed movements which could certainly be considered far from natural, like canter on three legs or backwards, see-sawing-piaffe, Spanish trot or change of leg in place to name only a few, which he showed and of which some were also described in his book "Breaking and Riding". He was the first to show a half pass in passage in the circus, a movement which is now well established in FEI dressage competitions when it comes to the freestyle at Grand Prix-level.
Natural or Artificial?
Baucher and Fillis, also because they were accomplished authors as well, raised the question about what is natural and correct and what is to be rejected as not natural for the horse.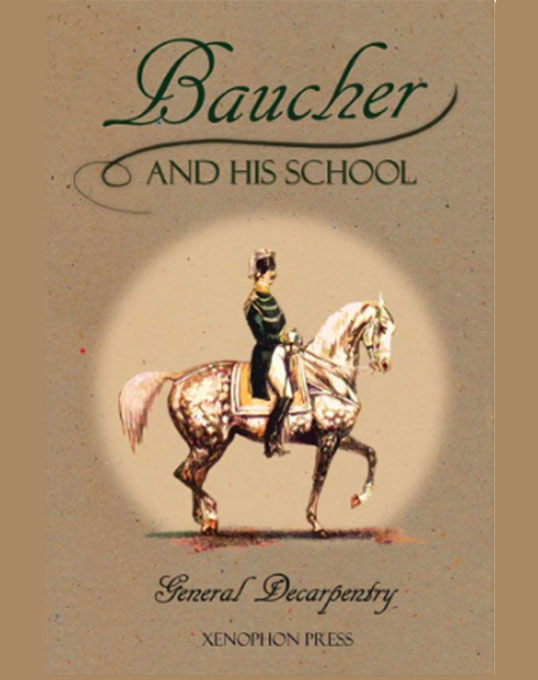 A question which is fundamental when working with horses, but also regarding equitation in the circus which until today includes a few of these artificial movements. It is as valid for the circus as for modern dressage competition.
A visit to the circus in the 19th century, over all in Paris, was a social event like a visit to the opera or to one of the renowned theaters of the town. The circus had their own permanent buildings with glorious interiors and were visited by the pretty folk. The audience was demanding and required not only top performances, but also spectacular inventions to be satisfied.
This in turn put famous circus riders like Baucher and Fillis under enormous pressure not only to show the horses to the best of their abilities day in day out, it also lead to them inventing ever new movements which were premieres in the horse world and spectacular at the same time, but not necessarily natural.
French General Albert Decarpentry (1878-1956), one of the two main authors of the original FEI dressage rules, multiple Olympic dressage judge and author of several renowned books, elaborated on this quandary: "It is of no concern to the circus rider if a few connoisseurs are saddened by the perversion of their art as displayed in his presentations. The circus rider must arouse the enthusiasm of the philistines by his stunts, acrobatics and airs of bravura. Extravagance of movements, sometimes even frenzy, are necessary to enchant the audience, rather than purity of style."
In principle Fillis had already admitted the same earlier by once saying that for the circus one needed more than piaffe and passage.
Ecuyères at the Circus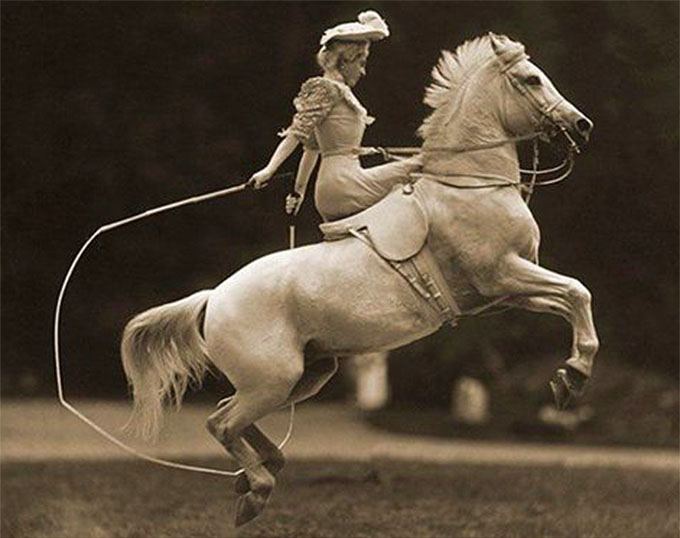 When the circus was the place to showcase one's riding skills in the 18th and 19th century, this was especially valid for women who at that time had no chance to enter the cavalries or academic schools of equitation such as Vienna or Saumur.
They were considered a sensation of their own kind.  One of those female celebrities was the sensational circus rider Therese Renz (1859-1938). Born in Brussels, she left her home at just 13 years of age and was trained in the Swiss Circus Wulff where she debuted at age 15. She married into the then famous Circus Renz for which Gustav Steinbrecht regularly trained horses.
Renz showed all High School movements including the classical airs above the ground known from Vienna and became world famous as "dame blanche". Dressed completely in white she was showing her greys in the High School movements and "rope skipping" , with her sitting side-saddle and by using airs above the ground.
Circus and Dressage Competition
The circus offered a chance to present horses and one's own skills to a wider public and make oneself a name as a rider. Because the circus had a high social reputation at that time, it was usually a great honour to show horses at a renowned one or train horses for that purpose.
Training a horse to "High School" was and remains a time consuming affair and often it was not possible to be executed in a circus manège of about 13 m diameters because a young horse always needs to be able go on straight lines which a circus manège cannot offer. So renowned trainers like, for example, Gustav Steinbrecht in the 19th century or Gustav Stensbeck in the first decades of the 20th century trained horses for German circus. Stensbeck himself was celebrated for his apparently fabulous rides in the German Circus Busch on his horse Ten Drugi between the wars.
However, with dressage sport becoming Olympic in 1912 and the foundation of the FEI a mere decade later, cavalry and gentlemen riders got the opportunity to show themselves to the public and contest with each other. Trainers like Germans Otto Lörke or Oscar Maria Stensbeck (brother to Gustav) trained horses for clients who competed them or later prepared them for the German Cavalry School's dressage stable.
High School riding at the circus and dressage competition seemed to be two different disciplines which had not many interference points other than both required a well trained horse to be successful. One focused on showing a horse's individual talents and the movements themselves, the other required a certain set program with movements in all three basic gaits. The one judged by the more or less critical audience measured in applause, the other by a jury of experts measured in marks.
Fillis and the Soviet Union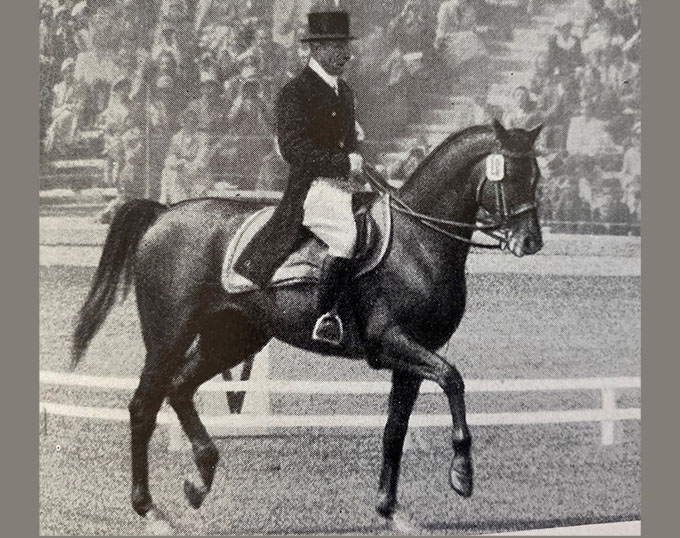 There still seemed little direct resemblance between circus and dressage competition until in 1952 the first Soviet dressage riders appeared back on the international dressage scene at the Olympic Games in Helsinki 1952 after a break of 40 years.
About 50 years before, James Fillis finished his illustrious career as a circus rider and became the chief rider of the Russian Cavalry School in St. Petersburg where he worked from 1889 to 1909. During that time the Russian officers, for the first time, got true knowledge about training horses in High School.  It is undisputed that Fillis and his methods had an undeniable influence on Soviet dressage riding even decades later.  The1902 born Gregory Anastasiev as well as later Nikolai Sitko (1914-1995) were influenced by students of Fillis and in turn influenced their students during their time of being dressage coaches of the Soviet Union.
German magazine St. Georg wrote in their report about the Olympic dressage competition in 1952 in which Sitko impressed overall with the grey, Russian bred Arab Cesar: "The influence of Fillis (…) was still detectable in the delicate activity of the riders' hands. All horses were soft mouthed. It is most interesting to note that their best movements were piaffe and passage at which (…) Fillis was a great master."
The generation of Soviet riders who had the greatest successes up to Olympic gold medals in the 1960s and 1970s was still riding in a style which could not deny the Fillis influence their elder trainers had received and passed on to them.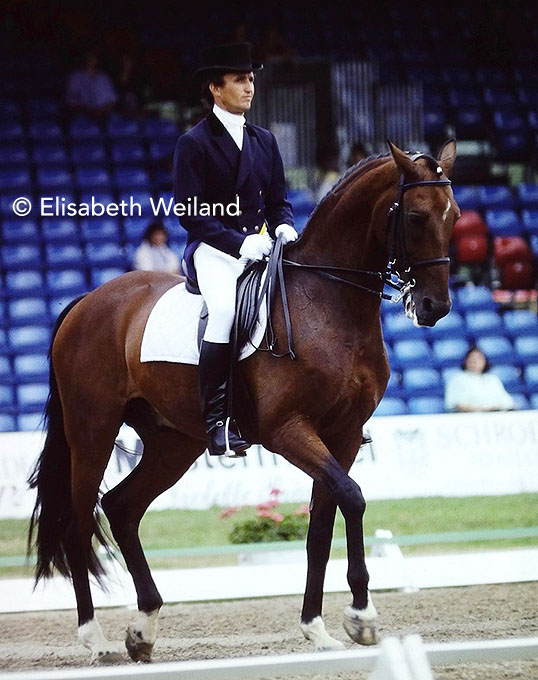 Even into the 1990s some of the top Soviet riders still hold the reins Fillis style and during the third season of the newly founded World Cup well known team rider Yuri Kovshov even showed a see-sawing piaffe on Buket which included a piaffe backwards, winning the qualifier in Boulogne-Billancourt in autumn 1987.
Dressage Competitors Meet the Circus
This caused a subsequent animated discussion among members of the FEI Dressage Committee, resulting in a new rule banning all non-classical movements.
In Germany Circus Krone was, for example, the place where after the war High School riding was upheld by the late Christl Sembach-Krone (1936-2017)  and where top dressage riders like Josef Neckermann or Dr. Reiner Klimke exhibited their international Grand Prix horses like Mariano and Fabian in unique appearances on occasion of the TV format "Stars in the Manège", proving their horses' correct training and outstanding balance by being able to show the Grand Prix movements on the circle line that was the circus manège.
British team member of the late 1970s and early 1980s, Tanya Larrigan, descended from a circus family which trained horses for the renowned Chipperfield circus in Great Britain. Tanya rode at the 1978 World Championships in Goodwood and was British traveling reserve for the 1984 Olympics in Los Angeles, both times with the Hanoverian Salute.
Annie van Doorne (1930-2004) from The Netherlands also started her career as a High School rider in the Dutch circus `t Hoefke. There she and her twin sister Tiny presented horses which had been trained at her family's yard Doornehof by former chief rider of the Spanish Riding School, Franz Rochowanksy. After the circus closed, Anne became a competition rider under the Austrian's expert tutelage and represented her country at the 1972 Olympic Games in Munich with the grey Pericles (by Pokal) after having been Dutch dressage champion three times (1962, 1966, 1967).
Fredy Knie senior: Classical Dressage at the Circus
However, it was Switzerland where the circus became the place for top dressage riders to turn to for help.
Renowned German classical trainer Anja Beran, who showrf self-trained horses at Circus Krone, stressed in a 2018 article for German magazine FEINE HILFEN that "many circus riders are very competent with in-hand training. They have a very precise and unobtrusive use of the whip."
It was exactly his unparalleled mastership in this regard that made Swiss dressage riders turn to Fredy Knie senior from the 1960s onwards for three decades.
Knie, who descended from a circus dynasty, became world famous for his non-violent way of training horses: in liberty, teaching them tricks, and for his outstanding High School riding, including the classical airs above the ground. Renowned animal behaviorists followed his work with great interest to study his method and the public has always been welcome to follow the training in the morning since 1938!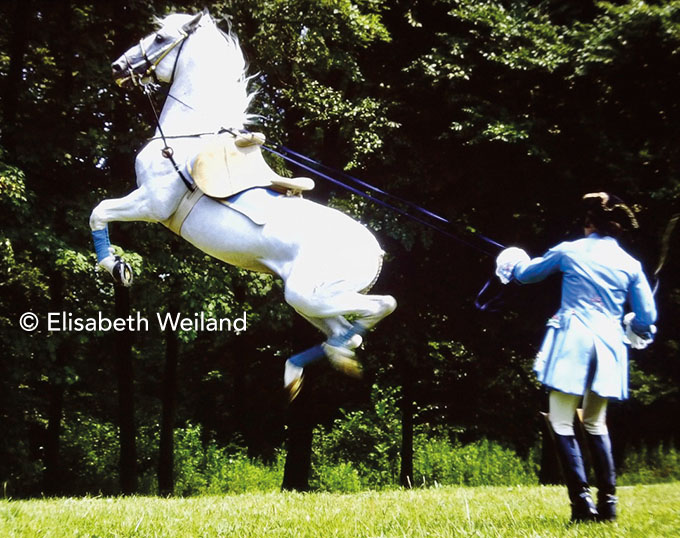 Horses from Knie's circus stood out with their correct classical dressage training. The airs above the ground that some of their horses showed equalled those of the academic schools. This was confirmed by nobody less than Alois Podhajsky, the Spanish Riding School's legendary leader who loved to watch the morning training at Knie in his retirement. It was Fredy Knie senior and his family who proved over decades that High School at the circus should be the result of classical dressage training which takes each horse's individual talents and temperament into consideration and which makes the horses supple and light on the aids.
Nowhere more than in the circus, with its small circular manège, High School horses have to be more forward, have to be more supple, have to be more on the slightest of aids and have to remain motivated if the work should not become the infamous travesty to which people refer to as "circus riding" in the blasphemous sense to describe impure gaits in modern day dressage competition. Article 419 of the FEI dressage rules states that dressage competition was once "established (…) in order to preserve the Equestrian Art from the abuses to which it can be exposed and to preserve it in the purity of its principle."
Continue reading: Part II - "Dressage Needs to be Visualised Love"
By Silke Rottermann for eurodressage.com
Photos by Elisabeth Weiland and archive of St. Georg magazine
References for this circus series
Books
"Der französische Zirkus" (pages 45-58), "Der englische Zirkus" (page 58), "James Fillis und die Hohe Schule" (pages 137-141), in: Joseph Halperson, Das Buch vom Zirkus, Reprintverlag, Leipzig 1990.
Sylvia Loch, Die Kunst der klassischen Reitweise, Kosmos-Verlag, Stuttgart 2010, p. 103 (Francois Baucher), pages 107/108 (James Fillis).
Hilda Nelson, Alexis-Francois L'Hotte-The Quest for Lightness in Equitation, J.A.Allen, London 1997, pages 111-134 ("Amazones and Écuyères of the 19th Century").
Franz-Rudolf Bissiger (publisher), ST. GEORG Almanach 1952, Olympia 1952, Verlag Sankt Georg, Neuss am Rhein 1952, pages 31 - 33.
Siegried Eicher / Elisabeth Weiland, Fredy Knie - Die sanfte Art, mit Pferden umzugehen, Franckh-Kosmos-Verlah, Stuttgart 1994.
Klaus Zeeb, Pferde - dressiert von Fredy Knie-Eine Verhaltensstudie, Rowohlt-Verlag, Hamburg 1975.
Fredy Knie junior, Mein Leben - Meine Pferde, Gebrüder Knie- Schweizer Nationalzirkus AG, Rapperswil 2014.
Joel Bartels, The World Cup Dressage - The First Ten Years, BCM Holland 1995, page 42.
James Fillis, Breaking and Riding, J.A.Allen, London 1969, pages 236-331.
Magazines
W. Klapp, James Fillis zu seinem 15. Todestag am 3. Mai 1928, excerpt of: Die Ausbildung des Reitpferdes, eine Fillis-Studie, in: ST. GEORG, 2nd June issue, Berlin 1928, pages 9 / 10.
Oscar Fritz, Geschichte der deutschen Reitkunst - Zirkuskünste und Hohe Schule, in: ST. GEORG, 3rd March issue, Berlin 1928, page 16.
Anja Beran, Klassische Reiterei im Zirkus - Ein Widerspruch, in: Feine Hilfen Magazin, Ausgabe 30, August / April 2018, pages 4-13.
Colonel Gabriel Cortès,L'influence de l'equitation française en Russie, in: La revue des Amis du Cadre Noir, No. 93, Saumur 2020, pages 71/72.
Internet
Sylke Kirschnick, Zirkuspantomimen von Astley in London bis zu den Franconis in Paris, in: www.sylke-kirschnick.de
Dominique Denis, Le Cheval au Cirque, in: www.circus-parade.com
https://cirque-cnac.bnf.fr/fr/acrobatie/equestre/les-jeux-equestres
(17th August 2022)
https://www.horsenation.com/2016/06/02/horses-in-history-therese-renz-equine-circus-performer-extraordinaire/
(17th August 2022)
https://inside.fei.org/sites/default/files/FEI_Dressage_Rules_2022_Clean_Version_V2.pdf
(27th August 2022)
https://deurnewiki.nl/wiki/index.php?title=Johanna_Wilhelmina_Theresia_van_Doorne_(1930-2004)
(29th August 2022)
Interviews
Antonella Joannou, Nyon (Switzerland), on 18th August 2021.
Pierre-Eric Jaquerod and Ulrich Lehmann, Berne (Switzerland), on 7th September 2021.
Christine Stückelberger, Heimsheim (Germany), on 27th March 2022.
Fredy Knie junior, Berne (Switzerland), on 10th August 2022.
Angelika Frömming, on 20th August 2022