History & Education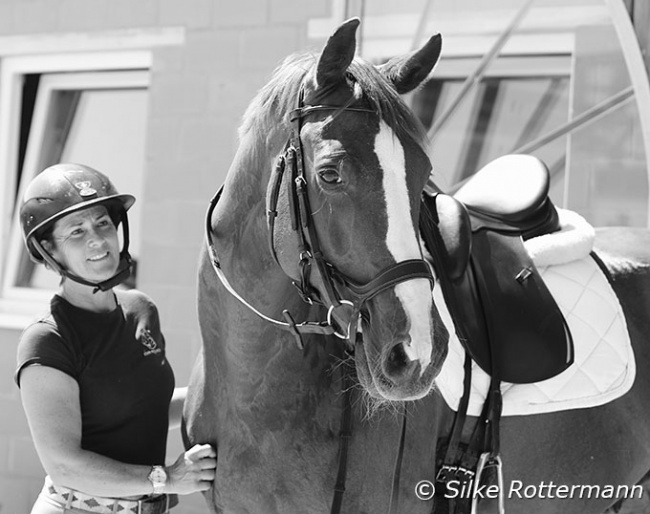 This article is a continuation of "Welcome to the Circus" - A New Series on Classical Dressage and the Circus with Part II - "Dressage Needs to be Visualised Love" and Part III - Georg Wahl: From the Spanish Riding School to the Circus
Swiss Antonella Joannou (*1967) is well known to the international dressage scene for many years now. With the Swiss bred chestnut geldings Wantino CH (by Wandango) and Dandy de la Roche CH (by Dressage Royal) the Founex based rider has competed internationally all over Europe. With the home trained Dandy de la Roche CH she made the Swiss dressage team which took part at European and World Championships on several occasions the past years.
A daughter of two professional riders, Antonella has ridden all her life and is known  for her happy go lucky attitude and classical approach to riding, That she were to follow in her parents' footsteps, is nothing surprising. More surprising is that her mother chose the circus as the place for Antonella to go for an after-school apprenticeship.
From a Winter Apprenticeship to Touring with Circus Knie
ED: Who had the idea that you go to the circus directly after you finished school?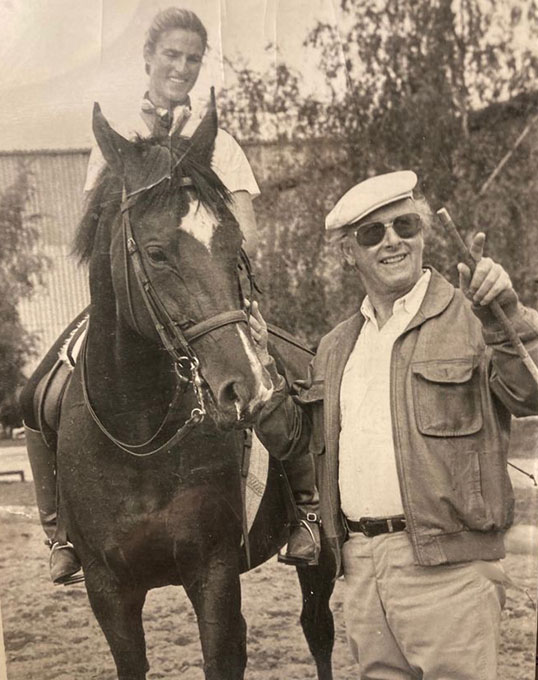 AJ: When I finished school at 15 years of age, my mother contacted Fredy Knie senior who was in Geneva with his circus. Fredy said I should ride my mother's horse and then worked a few times with me. Then we did the same when the circus moved to Lausanne.
Afterwards Fredy said if I wanted I could come to their winter base in Rapperswil (near Zurich) next winter and work with him. So I joined the circus over winter. I was still very young, just 16. The next spring Fredy offered me to come with the circus on tour. After the first year he said I can stay which I did until I was 19. In between I once stayed three months at Jean Bemelmans and his then wife Heidi in Germany.
ED: Was it your goal to become a professional rider?
AJ: My stay at the circus was considered a kind of apprenticeship; not in the sense of an apprenticeship like in Germany or which is now also possible in Switzerland with the goal to become a certified riding instructor. It was a kind of free apprenticeship. I rode three to four horses daily, almost always under the supervision of Fredy Knie senior.
In my first year at the circus his son Fredy junior had an engagement at another circus, so I only rode with the senior. It was a very, very classical training which followed the High School of the Spanish Riding SchooI in Vienna. He had a few Lipizzans, for example the famous Primo who was very nervous and not easy.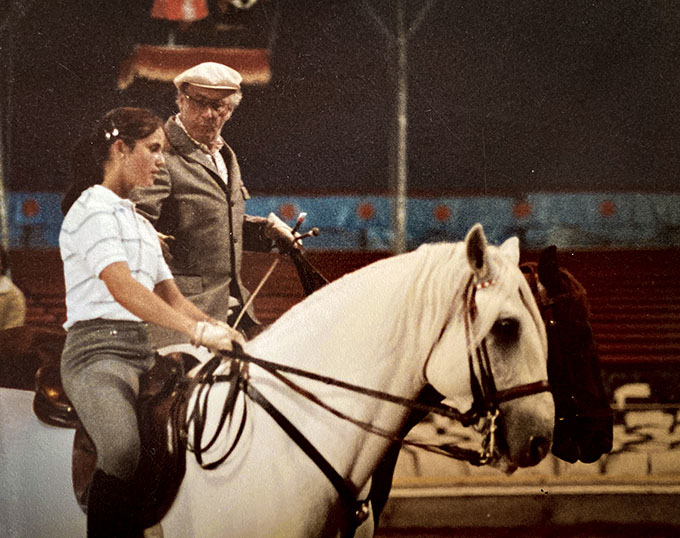 With Fredy senior I rode movements of the High School for the first time in my life, for example piaffe and passage. I had before ridden the horse of my mother, Chante d'Arome, but he was only trained to PSG level. So it was through Fredy I learnt a lot about these higher movements.
A Lasting Impression
ED: What was the most important thing you learnt about training horses during your time at the circus?
AJ: Fredy worked a lot with repetition and extremely much praise if a horse understood something correctly. Everything was done with plenty of calmness, patience and serenity, but also with extreme consistency for horse and rider alike. If I was riding, he expected complete focus on the horse. As long as I sat on the horse, there was nothing else. I was never afraid of Fredy, but he could tickle you with the whip and say "longer leg".
ED: Is the training you received at the circus still present in the daily work with your horses?
AJ: Yes, for sure. Fredy suppled the horses through much lateral work, like shoulder-in, renvers, travers and I still begin many training sessions like that.
Circus Riding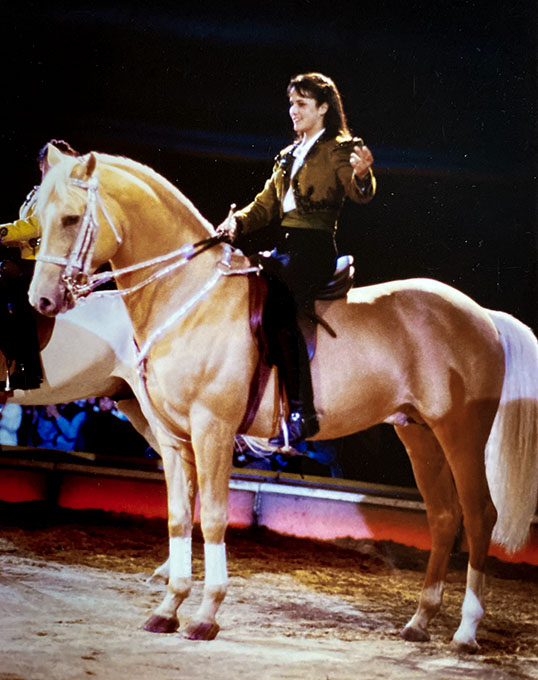 ED: When the spectacular in dressage competition prevails or is successful, one often hears "That is circus riding." Is circus so far away from a classical approach?
AJ: That is funny! At least it absolutely doesn't apply to circus Knie. Fredy senior based his work on the work of the SRS in Vienna. Of course you cannot generalize it. There is good and bad circus riding and it is the same in dressage competition. Circus is not playing around, it is real work, and at Knie's it's classical work. Flying changes in a manège of 13 diameters was really difficult. Because the manège is so small, the horses have to be truly collected and carry themselves. It is extremely difficult to show High School on a small circle like that. This might be the reason why today we rather see liberty work which is what perhaps is most associated with circus and horses. For me the experience to show horses in movements of the High School in such a small space was very interesting.
The Circle is Complete
ED: During Fredy Knie senior's time circus Knie was one of few places to go for Swiss dressage riders when they sought help for piaffe and passage. Does his son Fredy junior continues this tradition?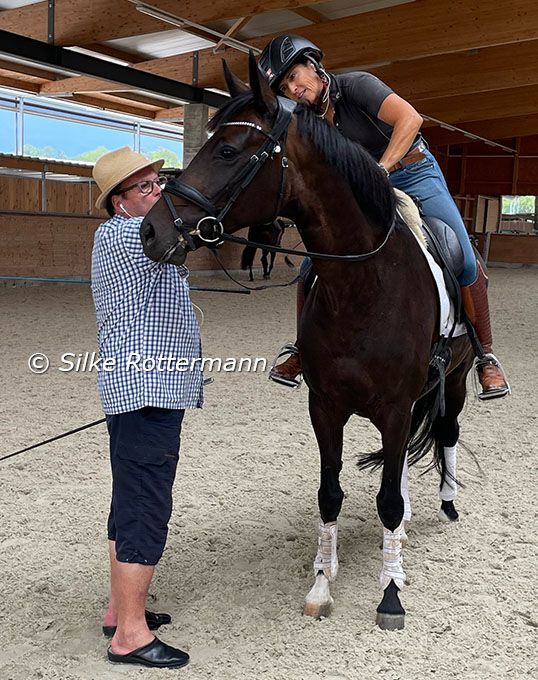 AJ: Fredy junior is very, very good at liberty work. So far he did not have big connections with the competition scene here, but now that he retired from the active life in the manège he has begun to give lessons and help dressage riders. The tradition in the circus is successfully continued by his daughter Geraldine and her son Ivan. This autumn he has begun to help me with my mare, a work we continue whenever the circus is near and so the circle is complete.
Silke Rottermann interviewed Antonella Joannou for Eurodressage in Founex on 18 August 2021. Photos: Private collection Antonella Joannou, Silke Rottermann
Related Links
"Welcome to the Circus" - Part I - A New Series on Classical Dressage and the Circus
Welcome to the Circus - Part II - "Dressage Needs to be Visualised Love"
Welcome to the Circus - Part III - Georg Wahl: From the Spanish Riding School to the Circus