2023 CDI Ocala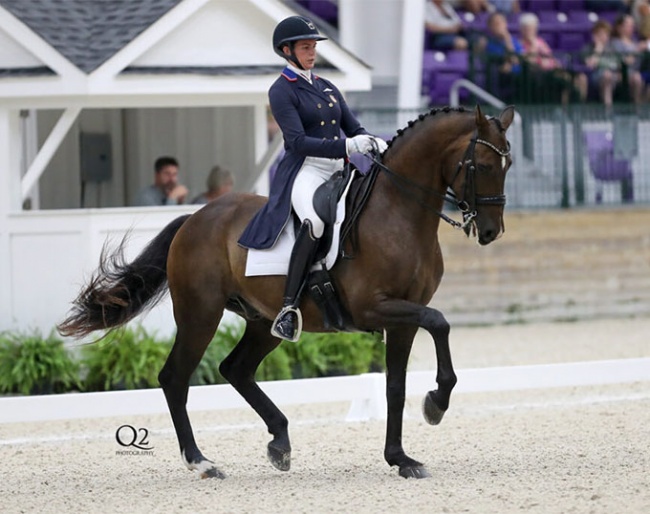 International dressage resumed at the World Equestrian Center in Ocala, FL, with a CDI 3* competition on 14 - 17 September 2023. Although the starters' field was rather small across the levels, interesting results were produced. 
Anna Marek (USA) booked a triple win in the big tour, taking the Grand Prix Freestyle CDI3* victory with Cynthia Davila's Fayvel and the Grand Prix for Special and Special 3* on Janet Simile's Fire Fly. Stephanie Pair-Kavitz (USA) and her own I Crack de la Vigne posted a win in the Intermediate I 1*, while a contingent of Central and Latin American riders filled the Prix St Georges in the lead-up to the Pan American Games.
Pan Am Preparation for Marek
After a nearly four-month break from FEI competition, the 13-year-old KWPN gelding Fire Fly (by Briar Junior x 00 Seven) returned to the winner's circle with rider Anna Marek of Dunnellon, FL. They topped the Grand Prix for Special CDI3* on 69.652% from the judging panel of Jane Weatherwax (USA), Alban Tissot (FRA), Sandra Hotz (USA), Knut Danzberg (GER) and Hans Christian Matthiesen (DEN).
Fire Fly and Marek last competed in Ocala in May before heading to the U.S. Dressage Festival of Champions three weeks ago. They were named to the U.S. Dressage team one week ago for the 2023 Pan American Games in Santiago, Chile, which will be held in October. 
This show marks their final outing before Santiago, and it was one where Marek wanted to perform fault-free tests. Marek noted, "His owner Janet said, 'I think you should go to WEC and just work some stuff out and have clean rides.' That was my favorite part of the ride – I could push him in the piaffes a bit, and it was mistake free. He had so much energy in there, and he was excited about the crowd. He went for the extensions and then he came back to me; he was great."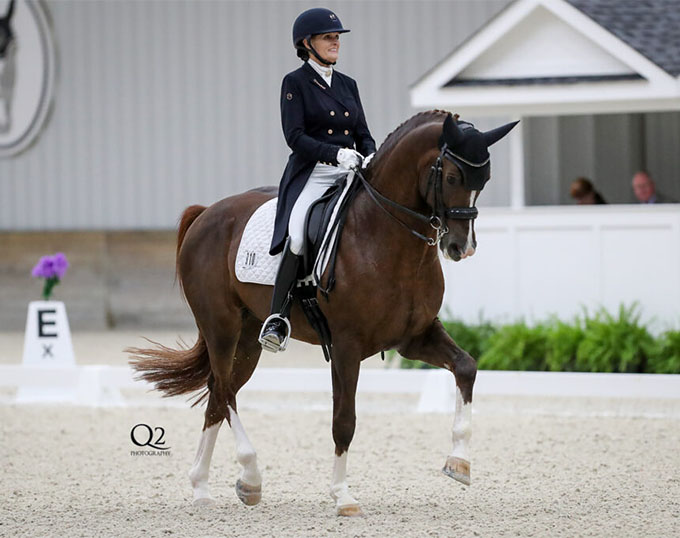 Being named to her first championship team fulfilled a long-held goal for Marek.
"We have been working for it all year and hoping," she acknowledged. "It's the biggest thing in my career. Fire Fly has been so great and so consistent, getting better and better. It was the biggest reward of all being named to the team."
Ashley Holzer (USA) and her U.S. Team horse for the 2022 World Championships, Valentine, her own 13-year-old Hanoverian mare by Sir Donnerhall I x Ragazzo, followed far in the distance with a score of 63.674%. Patricia Ferrando (VEN) and Honnaisseur SJ, her own 11-year-old KWPN gelding by Connaisseur x Jazz, scored 62.283% for third place.
Continued Success on the Weekend
Marek went on to perform a Grand Prix Special test where they worked on improving certain movements from Friday, like the pirouettes and half passes. The judging panel of Alban Tissot (FRA), Sandra Hotz (USA), Knut Danzberg (GER), Jane Weatherwax (USA) and Hans Christian Matthiesen (DEN) gave a total score of 68.979. Second place went to Patricia Ferrando (VEN) and her own Honnaisseur SJ, an 11-year-old KWPN gelding by Connaisseur x Jazz, with 64.021%.
"Today I did have a couple of mistakes," said Marek. "At the end of the two tempis, I had a little blip which is so unfortunate, because he's so good at his changes. In between the pirouettes I made a little mistake, but the things that my trainer Anne Gribbons wanted me to clean up from my ride yesterday, we did do. We had piaffes in one spot and the trot half passes are a work in progress, and they were better today."
Marek has ridden Fire Fly for almost two years. While the gelding had already shown at the grand prix level, he needed work to keep his nerves calm.
Marek recalled, "I couldn't pressure him into certain things. It's not that he doesn't want to do it, but it's that he gets scared he's not going to do it well. I was so proud of him today because he was able to piaffe on the spot. It doesn't scare him anymore. It's so fun now because it's a partnership. He wants to go in there and wants us to do it right."
Fayvel Wins GP Kur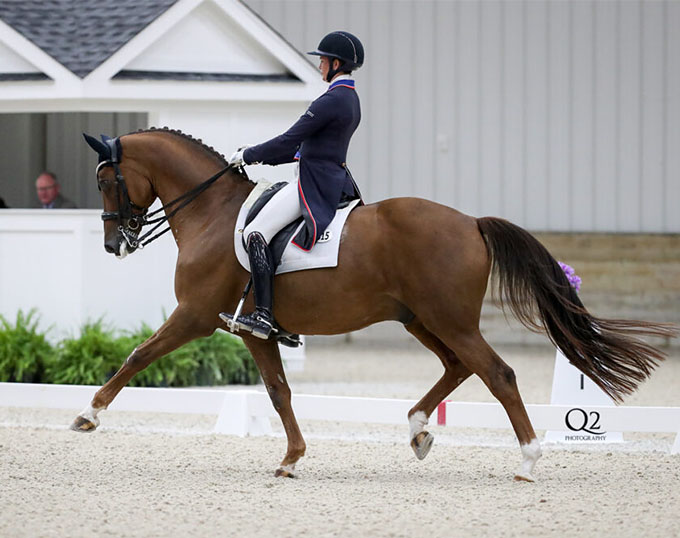 In their first CDI outing together, Marek and Fayvel, a 13-year-old KWPN gelding by Zizi Top x Houston, scored 71.985% for the win in the Grand Prix Freestyle CDI3*. Thursday's Grand Prix winner Hansel, a 10-year-old KWPN gelding by Don Olymbrio x Metall owned by PJ Rizvi, was just behind in second place with 71.665% with Ashley Holzer (USA). Aquamarijn, an 18-year-old KWPN mare by United x I.P.S. Gribaldi ridden and owned by Yvonne Losos de Muñiz (DOM), placed third with 70.335%. The judge's panel included Knut Danzberg (GER), Alban Tissot (FRA), Hans Christian Matthiesen (DEN) at C, Sandra Hotz (USA) and Jane Weatherwax (USA).
Since Davila purchased Fayvel and began showing at the FEI level in November 2020, she has been the only rider to compete the talented chestnut gelding in CDI competitions. When Davila was injured in April, Marek took over the ride full time.
Marek described, "It's her horse to ride, but I train him a lot. I ride Fayvel a couple times a week and warm him up for her, but she had never shown grand prix before. We trained him up through the grand prix together. She did his first national grand prix here at WEC – Ocala about a year ago. Off and on I will show him at a national show in grand prix.
"I told Cynthia he's a little bit of a freak of a horse," she continued. "I taught him how to piaffe and passage, and she herself had never done it before. She gets right on and in a couple months she does it just as well as he does it with me. I told her this isn't normal. This horse is exceptional in terms of his mind and the way he does things."
Marek and Fayvel rode to a test that was choreographed and arranged by Karen Robinson that featured music by X Ambassadors as well as the song "Coincidance" by the aptly named Handsome Dancer, which was a viral sensation on TikTok. 
Marek laughed, "My favourite part that makes me chuckle every time is during the trot half passes, where it says 'Wow! You can really dance. What a coincidance.' Cynthia really wanted me to do the freestyle and said it would be so fun, and I won't admit it to her, but it was a lot of fun."
Davila celebrated her birthday a day early with Fayvel's victory as well as a coveted World Equestrian Center winner's blanket.
Intermediaire I and Inter I Kur Win for Pair-Kavitz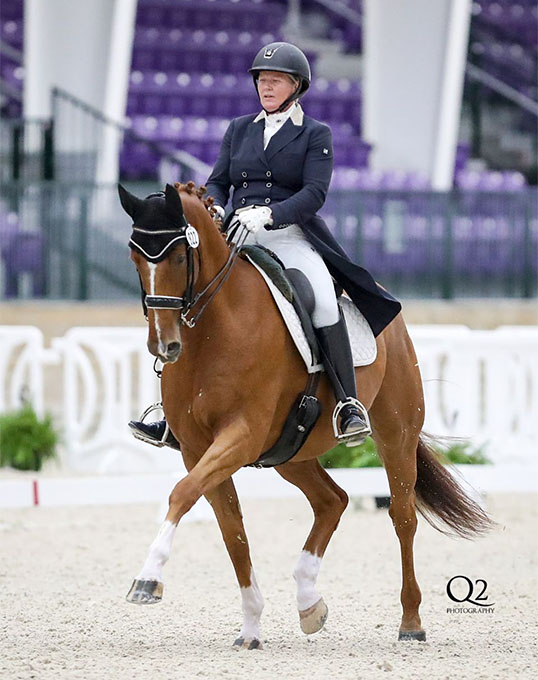 The Prix St Georges was won by Mexican Irvin Leiva Guillermo aboard Aguila Real SDN, his own 11-year-old German born and imported gelding (pedigree not filed with the FEI by the Mexican Equestrian Federation, but he's by Bretton Woods x Warkant),  on 66.618%, ahead of Stephanie Pair-Kavitz on I Crack de la Vigne with 65.618%. 
Pair-Kavitz (USA) and I Crack de la Vigne, her own 10-year-old KWPN gelding by Bon Bravour x Jazz, turned the tables in the Intermediate I 1* and won with 65.765%. Coming in a close second with 65.676% was  Irvin Leiva Guillermo (MEX) on Aguila Real SDN. Krystalann Shingler (CAN) and Noortje Van't Rommersum, her own 10-year-old BWP mare, by Special Agent Amour x Voltaire, placed third with 64.206%.
After buying "Vinnie" off of a video from friends in Holland 18 months ago, Pair-Kavitz initially did not have grand expectations for the chestnut gelding. "He was a Third Level horse when we imported him, and he just keeps going up the levels," said Pair-Kavitz, who runs a sales horse business out of her barn in Williston, FL. "Hopefully he'll come out this winter in the grand prix. He's the world's best horse. I trust him so much. I thought he was going to be an amateur's Prix St. Georges horse. That is what we bought him for. He just keeps exceeding all of our expectations. I had no idea he would end up like this. It's been a fun surprise."
After winning Friday's Intermediate 1, Pair-Kavitz and I Crack de la Vigne returned to the show ring for their freestyle, as sole competitors in the class. Her Kur was designed by Kristin Scott-Crocker, featured music from the Harry Potter movies, and scored a 66.458%.
Due to a technological issue with the sound of her music causing tension with "Vinnie," Pair-Kavitz did not reach the score she had been hoping for, but she still found highlights in the test and in Vinnie's demeanor.
"I'm so grateful to Shelly for working with us," said Pair-Kavitz, who plans to move Vinnie up to the grand prix level. "She is always in my ear in the ring, and I hear her voice all the time. She's so good for little tips in freestyle because she's so good at them herself. Up until last year, I had done one CDI and that's it. I love doing them, and they are so much fun. We had a lot of things that were really good that make me excited to move up to the next level."
Gundersen Wins Inter A
As the sole competitor in the Intermediaire A class, Philippine born and Wellington based Ellesse Gundersen and Quinessential 4, known as "Q" in the barn and owned with Marcia Radosevich, completed their 2* test to a score of 69.706%. It was a successful ride for Gundersen, who has been working to manage Q's personality and energy in competition.
While many riders have to work to perfect a partnership, Gundersen has been lucky enough to know Q since the horse was born. The nine-year-old Hanoverian gelding is by Quaterback and out of Corlette (Cordoba), a horse that Gundersen rode at the young rider level. When Corlette was injured, they decided to breed her and she had three babies, the last being Q.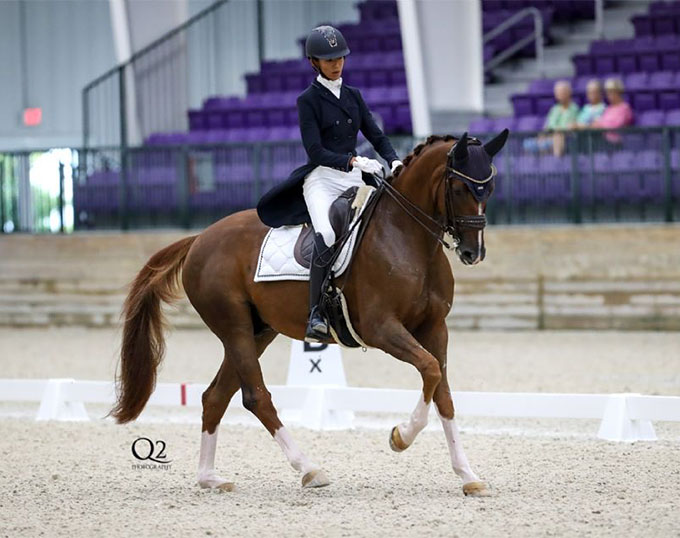 "He turned out way better than anyone I think expected," admitted Gundersen. "I was there for his birth, and when he was breaking in. I rode him as a three-year-old and four-year-old. We had amazing help from a friend in Denmark, a jumping rider, then a dressage rider friend. So, it's really been a family cooperative and collaborative effort to bring this horse along. We have big dreams and big goals for him, and I think we are on the right track. He has a big personality, so that might be the challenge of it, but all great horses have big personalities.
"He's a unicorn we've always wanted," she continued. "I actually own him with a longtime client of mine; she's like a second mom to me now, and her company is actually called Unicorn Landing. We said he's the unicorn we have all been waiting for."
Gundersen describes Q as sensitive and understanding of when it's show time. "He was on fire today," she smiled. "I thought he would be tired by today, but he clearly wasn't. But I am really glad we are learning how to manage that power. You don't ever want to lose that power because that's what makes a great championship horse, to have that all three days, but now its learning how to harmonize that and keep the confidence in the ring so he continues to like the job."
This was Q's second CDI competition, and Gundersen plans to return for CDI competition at WEC – Ocala this fall.
Osborne Wins Amateur Small Tour
British Charlotte  Osborne and Korano, an eight-year-old KWPN gelding by Well Done x Zeoliet, scored 64.792% in the Intermediate I Freestyle CDIAM Bronze Tour class to music and freestyle designed by Karen Robinson. It was Korano's first CDI competition and Osborne's second, but they leaned on their five-year relationship to put in a solid performance.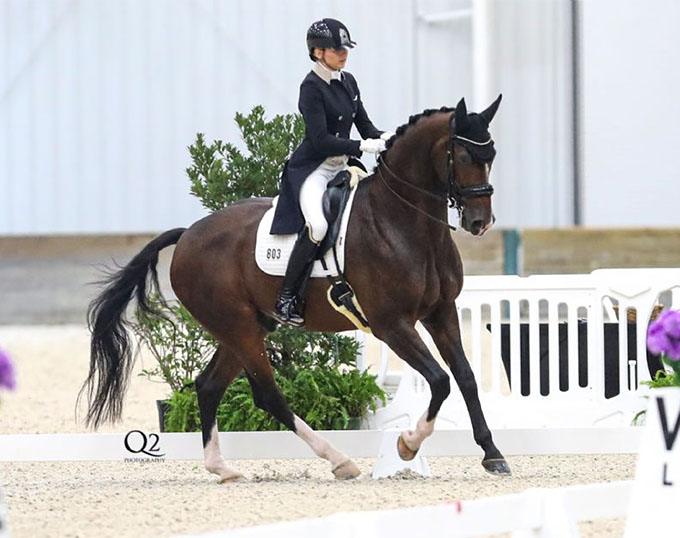 While working at a horse auction in the Netherlands, Osborne rode Korano and realized that she wanted him for herself, so she and a friend purchased him from the auction and brought him to the U.S. Osborne moved to the U.S. six years ago and is based in Alpharetta, GA, where she imports horses for sale. Osborne started out as an eventing rider, but after graduating from university with an equine degree, she moved to the Netherlands to improve her dressage skills. After sitting on grand prix dressage horses, she changed her focus.
"I thought, 'I know what I want to do for rest of my life,' and I never went back to eventing," said Osborne.
As she improved in dressage and found Korano, she made the decision to aim for CDI competitions. "It's really something that I want to start being a part of," she remarked. "It's the next level, and it's amazing being around the lovely riders here."
In Korano, Osborne has found the perfect partner both in and out of the saddle.
"In the barn, he's got no vices," she described. "He will come up to you and rest his lip on your shoulder. My kids sit on him bareback. He's not silly or unsafe at all. He's one of those that's a pet and an athlete. It's not too often you get those. Usually, athletes are more on the edge. He's like an overgrown poodle and is so lovely. You get on him and warmup and he's like, 'Okay, showtime!'"
Photos © MegMcGuire for Q2 Photography
Related Links
Scores: 2023 CDI Ocala
Eurodressage Coverage of the 2023 Pan American Games
U.S. Team Announced for 2023 Pan American Games