1999 European Dressage Championships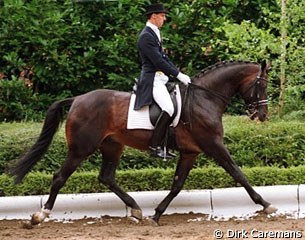 At the 1999 Danish Horse Festival in Copenhagen, Denmark, Belgian Grand Prix rider Stefan van Ingelgem secured the entry of the Belgian Dressage team for the 1999 European Championships in Arnhem, The Netherlands.
Stefan had to receive once more at least 62.00% of one O-judge to meet with the standards of the Belgian Equestrian Federation. His Grand Prix test in Copenhagen produced a score of 61.84%, yet the English Stephan Clark and the Australian Mary Seefried estimated his performance higher and honoured him with approximately 64.2% and 63.2%. Belgium will now be sending Arlette Holsters, Ann D'Ieteren and Stefan van Ingelgem to Arnhem. Join horsesdaily.com and Junior-riders.com right at the championships from till 4th June 1999. Live coverage guaranteed on both sites.
In the Prix St. Georges stefan opted for the Kur to Music instead of the Inter I. A good choice it later appeared to be. In the PSG the chestnut gelding by Rubinstein gathered a score of 65.27%, placing second behind the Danish Anne van Olst who also rode a Rubinstein descendant: Rafurstinels. In the Kur to Music (Inter I level) Remy Martin showed great tact and impression. With 69.38% he led leaving the British Peter Storr and Trapani behind him.
CDI Copenhagen Scores online
Pictured Stefan with Bravurnik - Image by Dirk Caremans