Eurodressage F.O.C.U.S.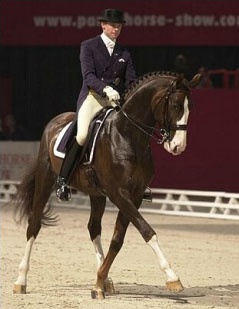 42-year old Jan Brink and his 11-year old Swedish stallion Bjorsells Briar are an outsider's pair for a top placing at the 2002-2003 World Cup Dressage Finals. Although their chance for the trophy is slim, Brink and Briar will definitely be up for a good fight and will probably end in the top five at the finals in Gotheborg, Sweden in April 2003.
Jan Brink and Bjorsells Briar have always been an undercover pair, slowly but steadily collecting higher scores throughout the seasons. His career started with 2nd and 3rd placing at the 5 and 6-year-old Swedish Breeders Trophy. He placed 2nd in the 7-year old championships. From there his career progressed tremendously. He was the youngest horse to compete in the Sydney 2000 Olympic Games, in what was only his fifth start at Grand Prix. Competing at Grand Prix level since 1999, Jan Brink and Briar gained valuable experience on the World Cup scene, but also became the current strongest Swedish pair. Member of the Swedish team at the 2000 Olympic Games and 2002 World Equestrian Games in Jerez finishing 13th overall, Brink is a key member of the Swedish dressage team.
Albeit, their 2002/2003 World Cup Qualifying season seems to become an apex in their career. With a second place at the CDI-W Berlin and two victories at the CDI Stockholm, Brink leads the World Cup Western League Standing aboard his Swedish licensed stallion.
Bjorsells Briar is by Magini out of Charis by Krocket and is bred and owned by Hans-Yngve Göransson, Trelleborg. Briar has been steadily trained by Jan Brink at Tullstorp Dressage Stable in Hassleholm, Sweden. Briar has two approved sons to date, Berlioz and Biggles who are both in training at Tullstorp.
Image copyrighted: Dirk Caremans
Related Links
Scores CDI Stockholm 2002
Scores CDI Berlin 2002