2003 CDIO Aachen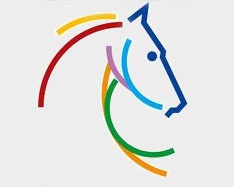 It's been since 2002 Dressage at Devon that Eurodressage and Horsesdaily have worked together, and today we finally reunited again in the flesh.
With an early morning dose of horse love from my mare Grace, who is a recent colic surgery survivor and who daily fills me with incredible bliss, and with a long distance recognition gaze from my early retired New Forest Pony Didi, who was grazing far away in the fields, I was ready to leave for an exhilarating week of live show coverage for the websites.
Packed and ready to go at 10 AM in the morning, I waited for a silver mini van with French license plate to appear at the door. Taxi JJ was supposed to pick me up then, but he didn't appear. One hour and a half later, after updating three websites, it dawned on me that I had to check my mail for a note from Mary.
"We are doing the Americans at the vet check. They are supposed to go at 11 AM. JJ will be later," Mary wrote. I decided to mellow out under a brilliant sun and I counted the minutes while reading my book "Significant Others" by Armistead Maupin (hey, it doesn't always have to be Joyce). Round 3.30 PM both Mary and JJ arrived at my house in Mol (Belgium). A quick drink in the garden, saying goodbye to my mom and my friends, and I was off for the Aachen experience.
A small one-hour drive later we arrived at the Van der Valk in Heerlen, the same hotel Mary, JJ and I stayed at three years ago for 2000 CDIO Aachen. I didn't recognize the inside of the hotel anymore, and thus reminded me of my long-time absence from this show. For young people, June means only one thing: end of the year exams. Graduating from college in 2002, this was my very first year without June exams. I never before felt so un-stressed in June. Quickly dropping off my some suitcases, we drove further to the Aachen show grounds to get my press credentials. Fixed in a minute by Belgian country mate Edith de Reys, my press pass was ready to give me access to the show.
So, I was officially registered to start my work for Mary and JJ. What was the first thing we did on my first workday? A visit to the picturesque village of Valkenburg, Holland, where we walked near ancient Roman ruins and had a nice dinner on the terrace of 't Hemeltje. After a meal, we took the vista route to Heerlen, for a late-night drink in the bar of Kasteel Ter Worm. They have a beautiful black swan over there, whose mate got killed last year by an over-eager gun dog. After two drinks and a piece of raspberry bavarois pie, we were satisfied and ready to return to the hotel.
I just saw "North and South" on Channel Net. This drama series taught me my very first lessons about American History and located the United States on my mental geographic map of the world. I am now gathered again with my American partners who mapped out the United States for me in real life by visiting equestrian shows from the East to the West Coast.
Back to the 2003 CDIO Aachen Index