2004 Swedish Dressage Championships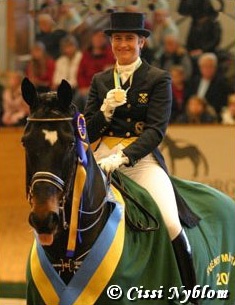 The combination Tinne Vilhelmson and Just Mickey have captured their second national Grand Prix title at the 2004 Swedish Dressage Championships, which were held in Helsingborg, Sweden, November 5 to 7, 2004.
In the absence of Jan Brink and Björsells Briar 899, Sweden's most successful horse and rider the last years, the competition was a quite open affair. Before the final kur to music, the Olympic competitor Louise Nathhorst had to withdraw her stallion Guinness 888, who turned out to have a sore neck and fever after the Grand Prix Special.
The Championships were primarily contested between remaining half of Sweden's Olympic team riders, which took the gold and silver medal in the Championships: The gold medal went to Tinne Vilhelmson riding Lövsta Stuteri's Dutch bred gelding Just Mickey (Michelangelo – Ulster), while Minna Telde got the silver riding her own stallion Björsells Sack 907 (Kaliber – Ceylon). Another stallion, Corrado WL 919 (Cortez – Dragon), ridden by Helena Larson, got the bronze (pictured below).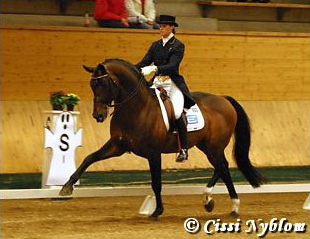 Fourth place went to Kristian von Krusenstierna and the gelding Wilson. Lotta Wallin, from the organising club Helsingborg, was the most busy rider in the Grand Prix with three horses in the starting list. The 10-year-old mare La Fleurette was the youngest horse in the final, while her older brother Lafayette won the B-final. Lotta's third mount Ellis finished second in the B-final.
Helsingborg also had three small tour classes; Prix St Georges, Intermediaire I and Intermediare I kur to music. All were won by Minna Telde riding the very promising 7-year-old Hanoverian stallion EMV Don Charly 1052 (Don Gregory – Inschallah x). The Intermediaire I also included the final of Agria Dressyrryttare, which was won by Louise Nathhorst and her huge (about 17.3) Holsteiner gelding Leonardo (Lord Calypso – Calando I).
Swedish Title, Icing on the Cake for Vilhelmson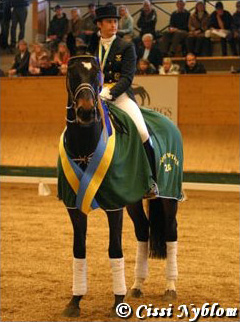 Tinne Vilhelmson, 37, won her second Swedish Championship on November 7th, this time with Just Mickey. She got her first gold medal in 1993, riding the Holsteiner mare Caprice. Just Mickey won all three starts in Helsingborg; the Grand Prix with 69,96 percent, the Grand Prix Special with 69,20 percent and the Grand Prix kur to music with 73,35 percent.
The pair did a very good kur ride to music from the movie Grease. "This kur was actually made for my old Grand Prix horse Cezar, years ago. Right now we are working on a new kur for him though," Tinne said.
Just Mickey is a 13-year-old Dutch bred gelding by the Trakehner Elite stallion Michelangelo (Pasteur xx – Matador) out of the highly graded (keur, pref, prest) mare Dolly by Ulster (by Nimmerdor).
"His strengths are more or less that he does not really have any weak points. He is also very soft and smooth," Tinne explained.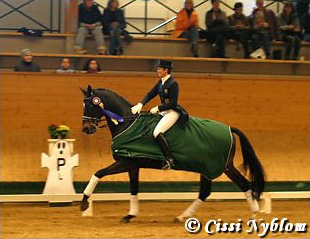 It has been a quite good year for Tinne and her international Grand Prix horses Just Mickey and Solos Carex. Winning the national title was, therefore, the icing on the cake. Just Mickey has been placed in Amsterdam, Neumunster, Dusseldorf, Wiesbaden, Aachen and won in Falsterbo. He was also Tinne's mount at the 2004 Olympics in Athens, where they were the second best Swedish pair. Solos Carex has been placed in Nörten-Hardenberg, Falsterbo and Aachen. Due to an infection, Solos Carex did not start in Helsingborg.
Tinne also showed the youngster Weltman 975 in the small tour with a 5th place in the Prix St Georges, the pair was just outside the placings in the other classes. Weltman is a 9-year-old licensed stallion by Weltruhm – Ecuador xx, bred in Hannover and as Just Mickey and Solos Carex owned by Lövsta Stuteri in Sweden.
Minna Telde and Sack Claim Silver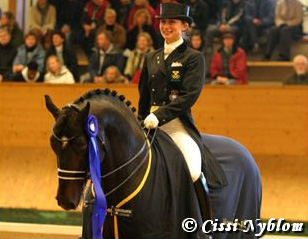 When Minna Telde and her sponsor Åke Björsell bought the licensed stallion Sack 907 three years ago, the goals were to be in the Swedish team at the 2003 European Championships and at the 2004 Olympics in Athens. Both of these dreams were fulfilled, and at November 7th they got a silver medal at the 2004 Swedish Championships.
"Now we have found real harmony, many pieces have fallen into place," said Minna Telde who would have liked to continue riding the wonderful stallion. It was agreed with the sponsor that Sack would be sold after the Olympics and Minna will most likely lose the ride over Sack.
Minna and Sack were 3rd in the Grand Prix with 67,58%, 3rd in Grand Prix Special with 67,36% and second in the Grand Prix kur to music with 72,83%
"Our music, 'The concert for Sack,' is specially made for Sack by Helene Lindqvist who also makes the music for Briar," Minna explained. Minna and Sack have their strength in the trot and passage, but the other parts are constantly improving.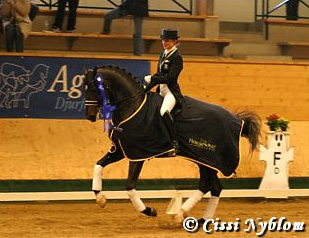 Björsells Sack 907 is a licensed stallion born 1991 by Elite stallion Kaliber (by the Hanoverian Utrillo, who has had such an influence on Swedish breeding) with the leading dressage sire Ceylon as damsire. The combination of Utrillo and Jovial (sire of Ceylon) has proven very successful for top competitors in every discipline. Sack is graded A due to his very good progeny.
Minna, who runs Tullstorp Dressage Stable together with her fiance Jan Brink, had a horrible accident just before the Championships. A young horse reared with Minna in the saddle, flipped over and Minna injured her neck and shoulder, as the horse landed on her. She did not see a doctor until after the Championships – fortunately there was no bone damage, only strained muscles and bleeding in the ligaments. Minna is already back in the saddle.
Björsells Briar 899, the star of Jan Brink, injured his knee in the stable at the WC-competitions in Århus, Denmark. He did not start in Helsingborg, and will not start in Stockholm. Even if he is back in training, it would be too early with a competition so soon after his injury.
Minna Telde and Don Charly Dazzle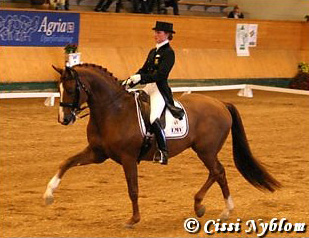 Keep your eyes on EMV Don Charly 1052 in the future! The licensed 7-year-old stallion dominated the small tour, winning all three classes -- Prix St Georges, Intermediaire I and Intermediaire I kur to music- in the small tour in Helsingborg, Sweden.
"I have him on contract with the owners Birgitta Kjellin Häst AB until 2010," says the happy rider. Don Charly is a fantastic horse, with three very good gaits and a wonderful attitude for dressage. "I have not found any weaknesses yet, everything is easy for him. He is doing a fabulous piaffe and one-time changes, one has to think about not going too fast with him as he is only 7 years old," Minna said.
EMV Don Charly 1052 is a Hanoverian stallion, bought in Germany as a foal by his current owners. He is by the Donnerhall-son Don Gregory with the wellknown French Anglo-Arab Inschallah x as dam sire.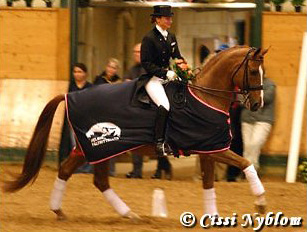 "Don Charly is an extraordinary horse to ride. He is so positive, he always wants to work. In Helsingborg, he was almost too eager to work in the Prix St Georges but won any way," Minna added.
Without a doubt, Minna is very fond of her lovely stallion. Who would not be? EMV Don Charly 1052 is standing at stud at Tullstorp Dressage stable, together with Björsells Briar 899 and many promising young stallions.
Text and Photos by Cissi Nyblom - copyright Eurodressage.com
Cissi took many photos at the Swedish Championships which can be viewed and ordered at her website www.ponyprod.com