Eurodressage F.O.C.U.S.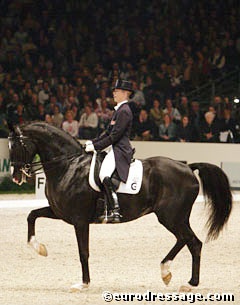 Lightness, suspension, electricity, harmony, emotion. These are the keywords that highlight an Anky van Grunsven ridden freestyle. Aboard her 11-year old Hanoverian gelding Salinero (by Salieri x Lungau x Pik Bube II) Dutch team rider Van Grunsven has been undefeated in the kur to music ever since her Grand Prix debut in 2003. At the 2003 Mechelen World Cup Qualifier in December 2003 she scored 80.825% for her freestyle. One and a half years later that percentage has oscillated between 83.450 % (2004 World Cup Finals), 83.650% (2004 CDIO Aachen), 85.825% (2004 Olympic Games) and 83.600% at her last world cup qualifier in 's Hertogenbosch, The Netherlands, in March 2005.
The secret to her perpetual success can not simply be that she has qualitatively the best dressage horse, or that her training system of using the 'roll kur' (overbending of the neck and topline) has made her horse a better gymnast. Anky has dominated the dance floor ever since the 1996 Olympic Games, because she is performing to the best composed musical freestyles in the world that trigger emotion through beautiful and graceful riding. The melodic genius behind the scene are Dutch composers Cees Slings and Victor Kerkhof.
The musical duo Slings and Kerkhof have been Anky's in-house freestyle team for almost ten years. When in 1996 they heard about freestyle dressage and listened to the unprofessional hodgepodge some riders rode to, they decided to take the initiative and design a kur for their national dressage champion Anky van Grunsven. Slings and Kerkhof sent a fax to Anky's stable in Erp, The Netherlands, explaining their business and their eagerness to make a world-class musical composition for dressage. "It was a pretty arrogant fax they sent me," said Van Grunsven, "but I invited them over so that they could show me what they got." The result of this aggressive introduction was "Bonfire's Symphony," Anky's silver medal winning freestyle at the 1996 Olympic Games in Atlanta .
"Bonfire's Symphony" was the first in a series of six freestyles that Slings and Kerkhof composed for Van Grunsven. Known as the 'Queen of the Kur,' van Grunsven won double Olympic gold in 2000 and 2004 and became the 1999 European Championships riding to their music. She also performed at several international exhibitions with a live orchestra.
The Ingredients of the Recipe
Slings and Kerkhof are two very approachable, level-headed Dutch musicians who are based with their studio in Leersum, The Netherlands. The pair is very willing to share their recipe for a winning freestyle. Composing a world-class kur is an extremely labor-intensive process that requires advanced knowledge of music and computer skills. They approach a freestyle like a TV-show. "It has to be drama, suspense, a show that is captivating," said Slings. "It has to be one piece of music with a broadcast quality standard."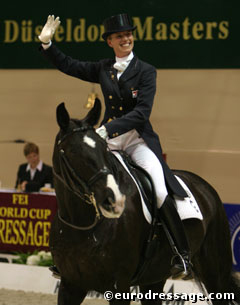 Their most recent artistic collaboration with Anky van Grunsven resulted in Anky's latest hit kur, "L'Esprit Chanson," that earned her the 2004 World Cup Finals' title and the Olympic individual gold medal. In 2003, Anky asked her composers to make a "Salinero's Suite" in the line of "Bonfire's Symphony." During a brainstorm session in the car, Slings and Kerkhof came up with the idea to use French Chansons for the new freestyle. "Victor thought that Lac du Connemara had an excellent forward thrusting tempo for flying changes and I said that Je ne regrette rien and Poupée de cirewould make a good string of French melodies for a unified freestyle," Slings explained.
With a French mood set, Slings and Kerkhof started working on the new composition. Step one in creating a freestyle is designing the choreography. "A kur has to be as difficult as possible, but within the ability of the horse," Janssen stated, so he designed a very symmetrical choreography, which Slings and Kerkhof videotaped at their barn. The duo made movie clips from different angles in order to transfer the ideal clip onto the computer as ground material.
The next phase was making the "click track." Kerkhof reviewed the video clips and recorded 'clicks' to the rhythm of the horse. These clicks differ in walk, trot, canter, piaffe and passage, but are vital to getting an overview of the complete rhythm of the horse.
Slings and Kerkhof then created different layers of music to that rhythm. Because Kerkhof is the main keyboard player and a skilled computer technician, he first added a piano layer of Edith Piaff's Je ne Regrette Rien to the draft track. Then he gave the music more body by adding a drum beat and a horn melody.
When the first layers of music were finished, the duo went back to Anky's to try out the first, rough version of the freestyle. "It's very hard to practise it. I'm wearing a head set and am trying to listen to the music, but Sjef is screaming in training instructions in one ear and Victor is helping me with the timing in the other. It drives me nuts," Anky joked.
With a large list of revisions at hand, Slings and Kerkhof headed back home for the fourth phase in the design of the kur, the coring of the music. They "cored" the musical layers into a MIDI file (Musical Instrument Digital Interface). Because Slings and Kerkhof like vocals, they came up with the idea to add Anky's voice to the kur. Anky went to the studio to sing Belle Histoire for the canter zig zag. "We are very fond of vocals, for instance, in Carmina Burana [Rusty's kur] there is a whole orchestra. The voice works as an instrument," Slings stated.
The composers' duo had to do endless visions and revisions of the freestyle and was constantly faced with new problems. Salinero was rapidly improving over the months as he was getting stronger and more confirmed in the Grand Prix movements. This constantly changed the rhythm of his gaits. Anky rode "L'Esprit Chanson" for the first time at the CDI-W Maastricht in December 2003, but the kur changed seven more times before its final version for Olympics in Athens.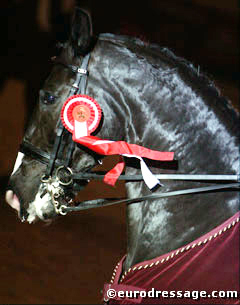 "We want to have broadcast quality, so knowing that Athens was going to be outside with lots of wind, we chose for a flugelhorn (a low key-trumpet) for the walk. This sound of the flugelhorn is carried by the wind, while a flute or oboe, for instance, stops dead," Slings declared. The duo considers the walk part a phase in which rider and horse can take a deep breath and start again for the final part of the kur. For "L'Esprit Chanson," they used real instruments to give the kur more body. "Real instruments have more depth and vibration and come to life in a freestyle," Slings said.
The end result after more than one year of tinkering with French melodies was "L'Esprit Chanson," a truly elegant, energetic, yet emotional freestyle that captivates judge and spectator with its 5-minutes of sublimely flowing music. Of course, it is not only the perfectly composed kur that thrusts Anky into the number one position on the leader board, it is also her truly refined feeling as a rider and her impeccable timing for freestyle riding that make her the Queen of the Kur.
All text and photos copyrighted: Astrid Appels
By Astrid Appels/Eurodressage.com, written exclusively for The Chronicle of the Horse