2006 World Cup Finals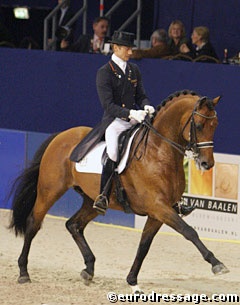 Edward Gal's disappointing Grand Prix ride at the 2006 World Cup Finals in Amsterdam, can be attributed to a small injury that Lingh sustained in the show ring. The pair scored 71.916% and placed sixth after a mistake filled test
. After their ride, Edward discovered a bruise underneath the girth on Lingh's right side.
"Before I entered the ring, nothing was wrong with him and the FEI steward had checked everything," a disappointed Gal explained. In the first half pass to the left, Gal put pressure on the right side and unknowingly pressed on the sore spot. In the transition from walk to passage, Lingh break into canter and responded heftily to any leg aids. "I think all the mistakes I made in the test were because I noticed something was wrong and was afraid to ask anything from Lingh," he said.
In the stable area, the sore spot was cooled with ice. Hopefully the bruise will be gone by Friday evening so that Gal can train his horse normally and compete in the kur on Saturday. However, it is possible that Gal will have to withdraw.
Back to the 2006 World Cup Finals Index