2006 Equine Elite Auction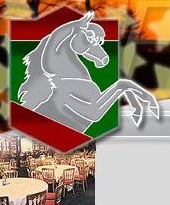 Top young dressage horses will be auctioned at the 2006 Equine Elite auction taking place this Saturday October 28, 2006 at the Bartels Academy in Hooge Mierde, The Netherlands. Yesterday a well attended first public presentation took place at the Academy. The horses can still be tried out until Saturday morning. The auction starts at 18.30h.
Some of the highlights in the collection of outstanding dressage horses are Riva (pictured), Detroit, Worker and Willow. The 8-year old Dutch warmblood mare Riva (Flemmingh x Nimmerdor) was the 2002 European Champion at the European mare Championships in Brussels. Under the name Rilena, she also captured the title of Dutch Foal Champion as well as Dutch Reserve Mare Champion. At the mare test (comparable to the 100 day test for stallions) she acheived the following scores - Trot 8, Canter 8, Walk 8 and talent as a dressage horse 8. On top of this she scored a 10 for her talent as a jumper.
Two licensed stallions are included in the collection. Detroit is an Oldenburg, NRPS and AES licensed breeding stallion by Danny Wilde x Rohdiamant. Worker is a grey AES licensed stallion by Rhodium x Junior with extravagant gaits. The 3-year old Willow (Florett As x Lux) is true eye candy. The bay mare has phenomenal gaits and a great work ethic.
Riva, Detroit, Worker and Willow are only four horses out of a collection of 37 dressage stars which were selected by a group of professionals representing every angle of the dressage sport. The selection committee is one of the most diverse groups of professionals imaginable, combining International and Olympic level Judges, International riders, trainers and International Dealers.
For more info about the Equine Elite auction, visit the official website