2007 Young Riders World Cup Final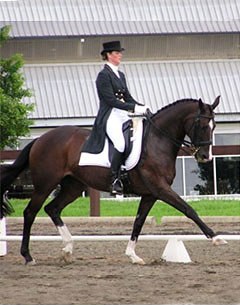 Twenty-one old Australian young rider Alycia Targa and Neversfelde Kudu will fly out of Sydney on 7 November for Frankfurt in Germany to compete at the 2007 FEI Young Rider World Cup Dressage Final in December.
This will be the first time Australia has had a representative compete at the event.
Alycia and Kudu qualified for the event with wins in the CDI-Y Freestyle at the Victorian Dressage Festival in April and the Sydney CDI-Y Freestyle in May.
It has been a very tense time for Alycia, her mother Robyn, who will be her groom, and Kudu's owner Jane Bruce since her selection was announced because the equine influenza outbreak looked set to prevent Kudu leaving Australia. It was a huge relief when they were advised last week that Kudu was cleared to fly.
The FEI organises sponsorship to meet the cost of transport for international horses and riders and also covers the cost the cost of horse, rider and groom accommodation during the competition. Without this sponsorship Alycia almost certainly would not have been able to compete. Even with these costs covered Alycia will still have to find about $20,000 to meet other expenses. EFA has provided $5000 in International Competition Development funds, which will assist in accommodation and board expenses for Alycia and Kudu prior to the competition, coaching fees and some transportation costs in Germany.
Alycia and the South Coast Equestrian Club have been very active in raising additional funds, with Jennifer and Doug Symes (Club president) organizing a fashion show and luncheon at Bomaderry Bowling Club.  Shoalhaven Dressage Club is running a Melbourne Cup Sweep with a $1000 trifecta prize. Huskisson's Gunyah Restaurant is also hosting a Melbourne Cup day luncheon as a fundraiser. Nowra Saddleworld is running a raffle which has as its prize an Anky Salinero saddle and bridle valued at over $3000 donated by Saddleworld. Tickets in the sweep can be obtained from Robyn Targa (02 4447 7142) and raffle tickets are available from Nowra Saddleworld (02 4421 3366). Sweep tickets are $2 each and raffle tickets $5. 
In Germany Alycia and Kudu will be based in Johann Hinnemann's stable and will train with him in the weeks leading up to the event. Alycia has already had the opportunity to train with him in July this year after winning a trip to Aachen as the prize for the Aachen Challenge at the Victorian Dressage Festival. 
Alycia hopes that in the weeks she trains with Johann she will be able to achieve a bit more engagement from Kudu and more accuracy in her own riding. She says, 'My problem is that I tend to over-ride sometimes. There's a fine line between getting really good movement from Kudu and pushing her too hard. She does suffer from competition nerves and I know my big job is to keep her calm but still sparkling.' 
Equine Influenza has left Alycia and Kudu very short on match fitness. They haven't competed since the New South Wales State Young Rider Championships in June, so Alycia is hoping that they will get entry into at least one competition in Germany prior to the World Cup Final. 
Jane Bruce says that she's confident that Alycia and Kudu will represent Australia very well in Germany. 'They are a good partnership', she says. 'Alycia has been riding Kudu for two years now. Initially I shared the ride with her but since the 2006 Young Rider Championships she's been Kudu's only rider.
'As Kudu's breeder and owner I'm really hoping she'll be a good representative for Australia. She was short-listed for the 2000 Olympics and it was disappointing to us that she missed out. I'm thrilled that she has this chance to compete for Australia at this level.'  
Back to the 2007 CDI-W Frankfurt/Young Rider World Cup Final index