American Dressage News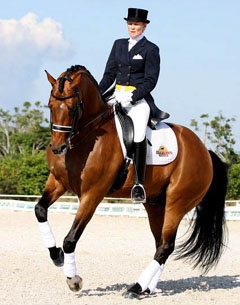 American Grand Prix rider Karin Offield saw her European summer short circuited due to an injured Lingh. Offield travelled to The Netherlands to train with Anky van Grunsven this summer and compete at the European international shows
, but her 15-year old Dutch warmblood stallion Lingh sustained an injury and is sidelined for the moment. Offield had planned to compete at the CDIO Rotterdam, June 18-22, 2008.
"I am disappointed to have to tell you that Lingh will not be fit to show at Rotterdam this summer. He will be resting and walking to allow an injury time to heal," Offield explained. "Since arriving in Holland I suspected that there was something not correct, but he is tricky because he gives you 120% of himself, every time, no matter what. He had a lot of easy days until I took him for diagnostics. We are all very very disappointed. As usual he is happy as a horse can be and not in any pain."
Offield is now on the lookout for a new horse. "I personally can't commit to another great, great horse. My Lingh is a once in a lifetime horse," Offield told Eurodressage. "It's time to ride new horses while Lingh gets better. I want to make the most of my time in Europe and get out there and compete," she added.
Photo copyrighted: Susan J Stickle
Related Links
Karin Offield Wins Lawsuit over Frozen Semen of Lingh 
Lingh Sold to the United States