Oldenburg Breeding News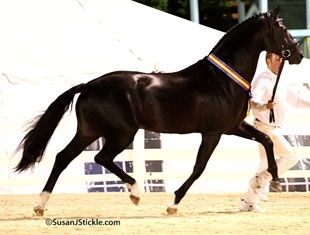 Rick Silvia's Oldenburg stallion Starlight won the Grand Championship at 2008 Dressage at Devon's Breed Show on September 25, 2008.
The stunning black Oldenburg (by Sandro Hit x Cordeur x Argentinus) strutted around the world famous Dixon Oval with an air of supreme confidence, this combined with his expressive movement and correct conformation made him an easy choice for Grand Champion Stallion at Devon!
Photo credit: Susan J. Stickle

As handler, Jens Richter lead Starlight out under the bright lights for the nighttime championship, the stallion's black coat glistened like onyx. "He seemed to know it was his night," said owner Rick Silvia, and the judges agreed posting a winning score of 86.75% - the highest score of Starlight's career.

"The crowd was wild for him," said an excited Silvia. "It was undeniable that Starlight was the best horse!" The judges' unanimous decision made it crystal clear they were impressed with Silvia's stallion. When Silvia arrived to collect his awards, judge Carter Bass told him, "Your horse's performance was hair-raising."

Silvia imported the black stallion 4 years ago as a prospect for his budding breeding operation, Dream Street Stallions. Starlight has an outstanding combination of several highly sought-after European bloodlines including Sandro Hit, Corduer and Argentinus. Silvia was captured by Starlight's spectacular gaits and uphill build. "It was kind of like the black beauty syndrome when I first laid eyes on him," said Silvia, "I decided to take a chance on him."


It turned out to be the chance of a lifetime. Their successes mounted each year. Last year, Starlight won the United States Dressage Federation's (USDF) 2007 All-Breeds Dressage Sport Horse Breeding 'Horse of the Year honors. In the same year, Starlight proved he was also a capable young performance horse and captured the Reserve Champion spot in the Open Prix St. Georges for the German Oldenburg Verband last year. This was after he had won the German Oldenburg Verband Mature Stallion 'Horse of the Year' and the German Oldenburg Verband Dressage Sport Horse Breeding 'Horse of the Year' Honors. The German Oldenburg Verband has provided incredible support to Silvia in his quest to promote Starlight in the US.

For Silvia, 2008 has been a year of challenges, so the win at Devon was "just what he needed." Although he is considered a "small breeder" there is nothing diminished about the approach and devotion Silvia brings to his breeding program and the sport of dressage. The Grand Champion Stallion win is not only a welcome victory for Silvia but sends out a message of hope to small sport horse breeders throughout the country. 
Photo copyrighted: Mary Phelps/Phelpsphotos.com
Related Link
United States Dressage Federation's (USDF) 2007 All-Breeds Dressage Sport Horse Breeding 'Horse of the Year