What's Happening in the Dressage World?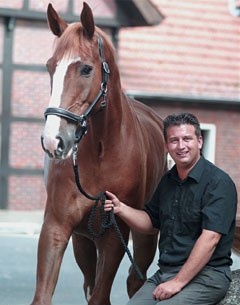 Susanne Miesner and Fabian Scholz are organizing an auction Classic Sales Warendorf for classically trained horses on April 11, 2009. Classical Sales is an auction made up of a select group of talented horses chosen from breeders and owners known for following guidelines based on good care and training methods and sound horsemanship. The horses are not trained with draw reins and have been turned out in the paddock daily. The auction will be preceded by a seminar with former Dance World champion Michael Hull.
The board of Dressage Ireland has decided to cancel the CDI3* at Cavan Equestrian Centre 30 April to 3 May 2009. Unfortunately due to the global credit crunch and a deepening domestic recession in Ireland it proved impossible to secure the necessary sponsorship required to run the CDI3* this year. However Dressage Ireland confirmed that the dressage festival will go ahead at Cavan Equestrian Centre from 1st to 3rd May 2009. Each year pony, junior and young rider teams from England, Scotland and Wales have traveled over to compete at the festival and we look forward to extending a warm Irish welcome to them once again in 2009. For the first time this year we have been awarded a 'Dressage Masters at Hickstead' qualifier.The top four riders in each class from novice level will qualify to compete at the 'Dressage Masters at Hickstead' final which will be held at the famous Hickstead show grounds in August.
Dutch kur composer Cees Slings made headlines again by being interviewed by the Dutch newspaper de Volkskrant. Cees claims he can end all discussion in the judging of Kurs to Music with a new programme her has developed called "EQ-Musync". Slings' system will measure the synchronicity between the music and the hoof beat of the horse. It can be compared to the "Hawk-eye" programme used to decide if a ball is in or out in tennis matches. Slings claims he will need up to 3,4 million euro to develop this programme entirely so it can be used by judges.
Denmark is investing millions to improve the quality of their stallion and dressage stock. Latest acquisition by a Dane is L'Espoir. Ridehesten reported thatLotte and Per Skjærbæk of Priess Stable purchased half of the licensed bay stallion L'Espoir (by Lord Loxley x Warkant) from Paul Schockemohle. The stallion is the reserve champion of the Mecklenburg licensing and was proclaimed the best moving stallion of the collection.
Anna Blomgren has been hired as a rider at Helgstrand Dressage. Blomgren has been riding at Blue Hors stud for four years, one year at Rudolf Zeilinger's and five year with Swedish Louise Nathhorst. She has trained horses up to Grand Prix level, competed at the World Young Horse Championships and she won team bonze at the European Young Riders Championships. One of the horses Blomgren is currently riding at Helgstrand Dressage is the Hanoverian premium stallion Wilkens (by Waterford x Falkland x Lanthan), which sold to Denmark at the 2006 Hanoverian Stallion Licensing.
The new Australian Dressage Judges Committee will be: Mary Seefried (FEIO), Virginia Creed (FEII), Sue Bright , Jan Geary, and Joanne Fowler. Their term commenced on 1 January 2009. At the first meeting of the ADJC Mary Seefried was elected Chairman.
The Connomara stallion Brolotens Grafit (by Lambay Inver x Finney Master) has passed away. The 21-year old gray stallion was found dead in his stable at Johanna Dahlberg's place in Handen, Sweden. Dahlberg bought the pony from a Swedish person who had leased Grafit from the Brolin family and wanted to put down the stallion. Under Emilie Brolin, Grafit won three gold medals and the bronze at the Swedish FEI Pony Championships and team silver at the 2000 Nordic Championships. He represented Sweden at the European Pony Championships.
Anky van Grunsven and O-judge Jan Peeters were honoured at the Dutch Equestrian Federation's annual award ceremony at the national equestrian centre Papendal on Tuesday January 13, 2009. Dutch riders are usually decorated with a golden pin on their lapel for their performances achieved in that the year, but Anky van Grunsven has received so many already that the Dutch Federation had a platinum version especially designed especially for her. Jan Peeters received the golden pin for his dedication and commitment to the promotion of Dutch dressage. The award ceremony was presented by Dutch sport news anchor Humberto Tan.
Salinero's return to the show ring is planned for the CDI-W 's Hertogenbosch. Anky van Grunsven announced that Salinero's first competition since the Olympics will be in Den Bosch. Her goal is to ride the World Cup Finals in Las Vegas with him (she is automatically qualified as winner of last year's Finals) and the 2009 European Championships. However, because Miss Van Grunsven has filled up her schedule so much, she 'forgot' about the rule that she has to compete Salinero in two World Cup qualifiers if she wants to go to Las Vegas. She hopes to receive a wild card to compete at the 2009 World Cup Finals.
I was googling the product Ventipulmin for equine respiratory problems and stumbled upon a forum for bodybuilders. They were discussing taking this product (which is clenbuterol) because according to them it improves the burning of fat and the buildup of muscles. I could not believe that people were actually swallowing veterinary medicine. Freaky!
Paul Schockemohle's Oldenburg stallion Sunny Boy (by Sandro Hit x Donnerhall) has been sold to Denmark. Jørgen Ravn from Gørklintgaard has purchased the stallion.
British Dressage acted all surprised when John Terry, the captain of England and Chelsea Football Club, appeared as the unexpected star of the British Dressage Supporter Club's (BDSC) annual fundraising ball at the SAS Radisson Portman Hotel in London, 24 January 2009.A guest of Oldencraig Equestrian Centre owner Ian Winfield, Terry generously provided two signed Chelsea football shirts for the auction, raising £1,000 each. Terry's connection to dressage is through his wife, Toni Poole, a Wonderbra model. The gorgeous blonde Poole is a dressage rider and Terry recently bought two horses from Tony Pidgley for her: the small tour schoolmasterDiamond Fritz, previously owned by Lana de Savery, and the licensed stallionBeltoni (by Belissimo M x Rubinstein).