What's Happening in the Dressage World?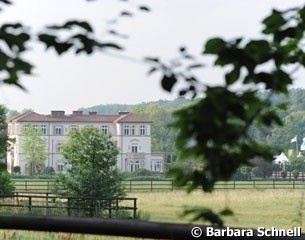 The news that the 2010 European Junior and Young Riders Championships have been allocated to Germany is nil novum sub sole, but the location of the event has also been decided upon. The show will be hosted at Ann Kathrin Linsenhoff's Schafhof in Kronberg near Frankfurt, Germany.
Dressage Canada announced the selection criteria for the 2010 World Equestrian Games (WEG). The qualification period runs from July 1, 2009 to July 31, 2010. During this time, athletes must achieve four Grand Prix scores of 65% or higher at four different CDI3* or higher competitions. The sum of these four scores when averaged together must equal 66% or greater. All scores must be achieved from a full panel of five FEI judges, and each judging panel must be non-identical. Only one of the scores submitted may be from the period of July 1 –December 31, 2009. The top four ranked rider/horse combinations that meet the criteria in all respects will be selected in descending order based on their qualifying average scores. The team to represent Canada at the 2010 World Equestrian Games will be chosen on or before August 6, 2010. All riders wishing to be considered for selection to the 2010 World Equestrian Games must declare their interest to the Equine Canada Dressage Office by March 12, 2010, in accordance with the selection criteria.
Edward Gal's sponsor Moorland Investments (Kees and Tosca Visser) acquired half of the ownership of KWPN licensing stallion Bodyguard. The other owners are Ad Valk and Stable van de Sande. The black stallion by Gribaldi x Negro will become one of Gal's future talents and is already called "Botilas" in the barn. "Bodyguard is a horse with enormous potential," Gal told Horses.nl. "When you sit on him, you only feel how loose he is. I'm very happy with this horse but we'll take it very easy. We don't want to rush him and he has to combine everything with being a breeding stallion."
Dutch Junior Rider Lars op 't Hoog, Majos Cannon's initial rider who took the pony to fame by winning the 6-year old Pony Championships with him, has a new horse at his disposal. Wendy van Vliet-Van der Helmhas given her horse Diamond (by Diamond Hit x Rohdiamant) to Lars to train and compete. The 26-year old Van der Helm is currently pregnant and is due to give birth in July.
Crime Control at Horse Shows!!!! The newspaper Gelderlander reported that the Dutch IRS (tax collector) invaded the international show jumping and national dressage competition Outdoor Gelderland in De Steeg, The Netherlands, to claim taxes from people who have refused to pay them. They confiscated 170,000 euro worth of goods. People who still needed to pay taxes were forced to pay them instantly on the scene (one person paid more than 4,000 euro cash). If they couldn't do so, goods were confiscated worth the money of what they owed the Dutch government. Sixteen people were arrested fordriving under the influence, three people still had to pay a traffic fine and two were arrested for breaking into a car.
Anky van Grunsven's confidence and motivation problems to continue her competition career became ever more obvious in her weekly column in the Dutch newspaper De Telegraaf. She wrote: "It's getting harder to stay motivated. After the Olympics in Hong Kong I had lost my drive," she admitted. "At the Dutch Championships I noticed I was in a different place than what I am used of myself. I wasn't going for the title. Count in the lack of show routine and you have all the ingredients to rule out a top performance. The first days of the Championship I wasn't even shocked. Edward Gal beat me. Bad luck." Van Grunsven thinks the crowds are tired of watching her and Salinero in the show ring. I think this is far from the truth. Salinero has been better than ever before. I thought his performances were much less when he was a tense, spooky horse at the beginning of his Grand Prix career and at 2004 Olympic Games. Now Salinero has come of age and seems to be like good red wine, better with age. Anky admitted that she's sticking to her initial plan to keep on riding Salinero until the 2010 World Equestrian Games in Kentucky. "I have been doing a lot of thinking lately," said Van Grunsven, "I was doubting whether I would still compete Salinero. But I've made up my mind. I'm not riding Salinero for the rest of the world, but for myself. It's a joy to train him each day. So the egotistical top athlete in me has won again. I will focus myself on Salinero for minimally one more year."
Starlight, the black Oldenburg stallion owned by Rick Rockefeller-Silvia's Dream Street Stallions, is now in Europe under the tutelage of Karin Rehbein. Prior to returning to Europe, Starlight won rave reviews from judges at Devon when he was crowned Devon's Grand Champion Stallion in 2008. "Starlight has had an illustrious career so far: multiple Horse of The Year titles, the Championship at Devon, numerous FEI level championships, and two outstanding foal crops that have both received great praise, including a 100% premium rating (German Oldenburg Verband). All of this at the ripe old age of eight," said Rockefeller-Silvia. "Starlight is now in Europe being trained and ridden by Karin Rehbein who is known for her ability to bring out the best in the stallions she trains and competes." Rockefeller-Silvia, who balances his time between training horses at Dream Street Stallions in Wellington and an active modeling career in Miami, Florida, plans on being in the stands this summer when Rehbein rides Starlight down the centerline in the Grand Prix arena in Germany.
Brentina, one of America's most successful dressage horses, had been bred to U.S. team horse Kingston by embryo transfer.Brentina, the mare who retired from competition, and the stallion Kingston have been mated by embryo transfer to produce what Debbie McDonald and Leslie Morse hope will be a baby reflecting the best of America's dressage development. Brentina isan 18-year old Hanoverian mare by Brentano II x Lungau owned by Perry Thomas and ridden by Debbie McDonald. The mare was retired from competition at the 2009 World Cup Finals in Las Vegas. Leslie Morse's Kingston is a 17-year old Dutch warmblood stallion by Voltaire. He is a former U.S. dressage champion.
The Flyinge owned licensed stallionBelamour 1151 (by Belissimo M x ) has injured himself breaking out of his paddock last Tuesday. Flyinge breeding director Karl-Henrik Heimdal confirmed that it's nothing serious but he can't breed the next few weeks. Belamour is in the running for Swedish selection for the 2009 World Young Horse Championships in Verden. The stallion is scheduled to compete at the Falsterbo selection trial. Hopefully he will be fit by then.