Greatest Oldies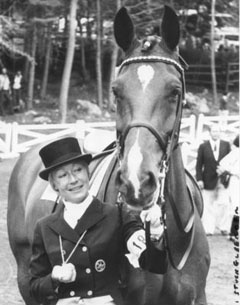 When Christine Stückelberger discovered Granat in 1969 she was at the beginning of a promising career and when she retired him 14 years later he had made her the most successful dressage rider to date: The huge Holsteiner gelding is one of the best dressage horses of all time
and his story isn't only one of success, but also one of how classical dressage training can transform an ugly heavy horse into an outstanding dancer.
Granat was originally named Cognac and was bred by Ernst Otto Lill in Holstein. The bay colt was foaled in 1965 and was by the influential sire Consul, whose father Cottage Son xx with Ladykiller xx and Marlon xx was one of the meaningful English thoroughbreds, which improved Holstein breeding much after World War II. Cognac's dam Salmei went back to good old Holsteiner bloodlines like that of Heintze. So he had the body, the power and the health of the old Holsteiner horses and the sensitivity and the eagerness of the thoroughbred.
Cognac was sold as a weanling to "Gut Ising" in Bavaria and as a 3-year old was offered for sale by his rearer Fürst Magalow at the Bavarian auction, then located in Landshut. He found new owners from Italy. But Cognac never went there as he got a cold shortly after the auction and the buyers refused to take him anymore in that condition.
Not long after two interested people stood in the indoor arena of "Gut Ising" and watched the young Holstein gelding move. It were Georg Wahl, already then a renowned trainer and Oberbereiter of the Spanish Riding School in Vienna, and his faithful young pupil of 8 years, Christine Stückelberger.
Christine was an upcoming dressage rider and had impressed at Aachen in 1967 with her Irish horse Merry Boy as a 20-year old. She was looking for a young horse to follow in Merry Boy's footsteps one day. Cognac was ugly looking, heavy boned and with a giant head, but he had a trot rarely to be seen, full of rhythm and with great cadence. Wahl and Christine decided to give it a try and bought the bay gelding with the characteristic white heart on his face. He was renamed Granat as all their horses were named after precious stones.
But Granat was far from being a jewel first. He soon proved to be an extremely difficult horse to train and ride and obviously much too strong for a woman, let alone such a tiny one like 1,60 m small Christine. Whenever an exercise took him too long Granat would show his displeasure by bucking, rearing or taking off. Mr. Wahl saw no chance how Christine should handle such a strong and at that time still growing horse. Apart from that problem both had discovered by chance that Granat was totally blind on the right eye, which was confirmed by the diagnosis of a veterinarian professor. So Christine went to see Fürst Magalow in Bavaria and explained the situation. He hadn't known about Granat's blind eye and generously returned her all her money she had paid for the horse, but Granat remained her own. So he had cost nothing at all!
Because of all the trouble Granat caused, he was sold to Mr. Wahl's hairdresser in Vienna, who trained with Wahl every week. So Granat stayed in Wahl's stable and still was trained by him daily. During the 18 months the gelding wasn't theirs he improved and showed tremendous talent, starting soon at M- level in Austria. Wahl und Christine thought they should have him back and Mr. Wahl's hairdresser was willing to sell him back, so Granat was Christine's again, but the problems hadn't been completely solved. The Holsteiner gelding still was very strong and definitely had a mind of his own, but only under the saddle. In the stable he was very different. "Granat was such a lovely horse to have around. He was totally uncomplicated to look after and one could have slept in his stable, he wouldn't have done any harm," Stuckelberger reminisced.
The question about selling him again arose when Granat competed at the CDI Frankfurt at small tour level and his bad behaviour forced Christine to retire in her test. Nearly 40 years have gone by, but Mr. Wahl still grins when he recalls his famous conversation with German trainer George Theodorescu about his "problem child": "I told Theodorescu that Granat obviously is rather a man's horse. He answered that Granat isn't a man's, but a two men's horse." Wahl doesn't know how often he had told people about that particular conversation because it so clearly showed the main problem with this horse. And although Wahl rode and worked Granat much at home, it was Christine who had to be able to ride and compete him.
The first time to do it on Grand Prix level came much earlier than expected and on an occasion nobody would think of doing it. In 1972 Granat was 7 and could do all the Grand Prix movements, excepting the 15 one time changes. Piaffe and passage he had learned quite early within 3 weeks. Christine had qualified to compete her experienced horse Merry Boy in her first Olympic Games in Munich. The travel from Wahl's stable "Wiesenhof" near Salzburg in Austria to the capital of Bavaria was a very short one and as no qualifications were asked for the Olympics Christine took young Granat as reserve horse to Munich, though she never intended to start him there.
Of course she preferred to compete the matured Merry Boy, but the Swiss chef d'equipe wanted her to ride Granat. "Even 37 years later I don't know really why," Christine still wonders. Granat never did a Grand Prix before and he still had to learn the 15 changes.
Mr. Wahl took him and Christine to the big racetrack in Munich-Riem, where the equestrian games were located and there they practiced the changes several times.
"He sometimes took off there, but it didn't matter. There was so much space," Christine remembered." Granat's Grand Prix debut was also his Olympic debut and though he wasn't matured he showed perfect one time changes and a good piaffe-passage- tour to finish 15th out of 33 starters—not a bad result under these circumstances.
Christine and her trainer were sure they had an outstanding horse but the judges weren't that convinced first. Granat was a completely different type of horse compared to those which had dominated in the 1960s and the beginning of the 1970s. They had been rather blood influenced or were very handsome horses like Absent, Mariano, Ikhor, Antoinette, Wolfdietrich, Pepel, Liostro or Piaff. Granat was much heavier, some said like a carriage horse, and very powerful.
But the judge's attitude towards him changed and in 1974 Granat was among the favourites at the World Championships in Copenhagen, even for the Germans who bet a box of champagne on her victory as Christine recalls. Granat came 2nd in the Grand Prix which was set in front of the beautiful castle. She helped the Swiss team, in which Granat's stable mate Merry Boy was ridden by Regula Pfrunder (today Strautmann), to win a bronze medal. But before the Spécial Christine practiced the vicious flying changes a little bit too long and competed on a tired horse to finish only in 5th place.
Not long after Granat started a reign that no horse has ever achieved since. In Aachen he won all classes entered, beating the new World Champions Dr. Reiner Klimke and his Hanoverian Mehmed and the Holsteiner remained unbeaten for nearly five years until the 1979 European Championships.
After their expected victory in the 1975 European Championships in Kiev the Olympic season of 1976 brought great hopes, of course. The public pressure was limitless, but luckily Christine has the talent to ignore it more or less and completely forgets it as soon as she sits on the horse. It was no different when she was 29 years of age. Wahl and she discussed a while if they should start Granat again at Aachen, where he had won in 1974 and 1975 and this time would meet the assembled German team for the Olympics. It was a high risk with a danger of losing shortly before Montréal, but they took it and succeeded.
So Granat was the undoubted hot favourite to win Olympic gold, but it still was a proverbial long way to it. It was decided that Mr. Wahl should accompany Granat on the long flight over the Atlantic together with the team vet. Christine came with her horse to the airport. There the horses had to wait in the lorry which was parked in a hangar next to the runway. The extremely loud noise of the planes that took off regularly frightened Granat and he went berserk, but fortunately didn't injure himself on that dangerous occasion. He was flown once before (to Kiev a year earlier) and was accustomed to it so nobody was too worried. But during the flight to Montréal the plane once came into turbulence. Mr. Wahl, the vet and a third person were needed to prevent Granat to fall– a critical situation, but finally they landed safely on Canadian soil about three weeks before the competition started.
Granat got time to overcome his jetlag, but was difficult to train. "He was really wild. He became so excited during that 3 kilometres hack from the stables to the outdoor arena. I didn't know what to do and Mr. Wahl got more worried each day," Christine said. "In Bromont we had a kind of training competition at M-level before the Olympics to get the horses used to the stadium. Granat didn't like it too much as it was so huge, just like an amphitheatre with a hill as the main stand. Well, Granat twice took off in this training competition and we finished only third. But the Germans thought it was only a tactic of mine which wasn't."
However Granat, according to both his rider and trainer, was an incredibly intelligent and clever horse. "He exactly knew when it counted and when he had to take it seriously and behave and so it was in Bromont, too. This was the reason why I wasn't too nervous about his training escapades and had faith in him."
Granat won the Grand Prix only 6 points ahead of his most serious rival, Harry Boldt's Hanoverian gelding Woyzeck, so the Germans hoped to stop Granat's reign in the individual final. They weren't able to, not because they rode badly, but because Granat was exceptional in his usual way. His half passes were the absolute epitome of cadence, the extensions powerful from behind and his piaffe one of a kind, so rhythmical and settled.
His gold medal was more than justified and made Christine the youngest Olympic champion at the time.
Of course the hype after Montréal was the usual one for an Olympic Champion, let alone in such a small country like Switzerland: interviews, press conferences, invitations. Whereas Granat enjoyed his well earned holiday his rider had to do a marathon of public duties, but she did it with her typical patience and friendliness.
Granat's reign continued the next two years. He defended his European title on home turf in St. Gallen in 1977 and won the 1978 World Championships in Goodwood, though it was quite a close decision between him and the Hanoverian gelding Slibowitz ridden by Dr. Uwe Schulten-Baumer junior.
In 1979 great Granat was as good as ever, but was beaten for the first time since 1974 by the 21 years young Austrian Elisabeth "Sissi" Theurer on her grey Oldenburg gelding Mon Cherie, who became the new European Champions. Funnily Theurer had also trained with Wahl for some time.
In 1980 the 15-year old Granat should start at his third Olympics, but the Soviet invasion in Afghanistan led to a boycott of the Games in Moscow. Chistine was one of the first in her country to support it in public, though it meant losing a medal. Instead all the dressage nations of the Western world met for the "Olympic Festival", some kind of alternative Games, held in Goodwood. Only Elisabeth Theurer decided to compete in Moscow and got an easy victory in a very reduced field, in which she had no serious rivals.
In the familiar Goodwood surroundings Granat showed wonderful rides, his usual self, to win the individual gold ahead of Schulten-Baumer Jr. on Slibowitz and Dr. Reiner Klimke on the young Ahlerich. For Christine "this medal has the same value like the one from Bromont, because Granat had won it against the world elite." Wahl remembers that he walked Granat for hours every morning to show the sensitive gelding every corner of the show ground. Because of his blind eye Granat had to know everything, otherwise explosions were possible.
Granat's extremely good health, heritage of his bloodlines and the skilful training, allowed him to compete until his 17th year. In 1981 he was beaten by Dr. Uwe Schulten-Baumer Jr. on his new horse Madras, who was Isabell Werth's schoolmaster years later, at the European Championships in Austria, where Granat hated the deep sandy footing after days of torrential rain.
In 1982 everybody in Switzerland hoped he would defend his World Championship title in his very last show on home turf in Chalet á Gobet near Lausanne. Granat was fit and showed his good condition by winning the Grand Prix, which raised the Swiss hope even more. But in the end it was not to be and Granat found a dignified successor: the sparkling 11-years old Westfalian Ahlerich couldn't be beaten on that day. Granat got the silver medal. What a high note to retire on after an international career that spanned over a decade.
For the next years Granat was taken care off by young Swiss Christa Rutishauser, who formed a strong bond with the famous horse. Christa, who still lives in the same village as Wahl und Christine, describes her huge friend as "totally uncomplicated to groom. He never bit or kicked." In his last lap of honour she had to lead him like a victorious thoroughbred after a race because he was so very excited. Granat was known for a lot of good things but also for his sometimes infamous behaviour during prize givings and laps of honour, mainly caused by the fact that he heard the applause, but couldn't see it.
The blind eye stayed a secret throughout his career since Christine and Mr. Wahl were afraid of the judge's reactions and expected it to be a disadvantage. Only after Granat's retirement it became obvious why he had been led around for hours at every show ground and why he sometimes reacted that explosive in noisy situations.
Granat's retirement was an active one until his very last day. He was ridden daily and served as schoolmaster for the many working students over the years. But even then he remained the horse he had always been: one moment he would do piaffe for a ten and thrill a young pupil, the next he would buck her off like a 4 year old. After his daily rides Granat was turned out to the pasture next to the barn.
At the beginning of 1989 he was 24 years old and his legs didn't show a sign of wear, but one day Granat suffered a minor stroke. He recovered soon and was carefully handled first, but could be ridden again, which he loved and demanded even at such a progressed age. In May 1989 the great horse suffered a second stroke and this time his legs were too weak to enable him to stand up, so Christine's and Georg Wahl's partner for 21 years was sent to heaven in the pasture.
Today, more than 20 years after Granat's death, Christine still speaks about him, whom she affectionately called "Granny", with the greatest respect and affection. "He was a once in a life-time horse, of course. But not only for all his success, but mainly because of his exceptional personality. I had many other great horses, none had Granny's unique personality, which was one of a friend and professor."
The public will remember Granat for all his success and the high quality of many movements he performed, which set new standards for his successors. But a few people who followed his career from the first day on, like Swiss journalist Elisabeth Weiland among others, will remember Granat as the prime example how classical training can transform an ugly duck into a beautiful swan.
Article by Silke Rottermann
The author likes to thank Christine Stückelberger and Georg Wahl for their enormous support in writing this article.
Photos courtesy: Elisabeth Weiland - Sally Anne Thompson - R T Willbie
Related Links 
Training With a Master: Georg Wahl
Georg Wahl, 80 years old
Christine Stückelberger: From Equestrian Super Star to Ambassador of Classical Dressage
History of the European Dressage Championships - The Winners