What's Happening in the Dressage World?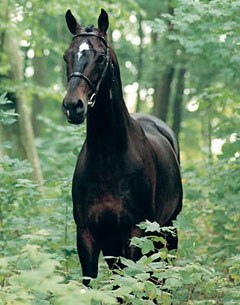 Swedish warmblood elite stallion Master is back in Sweden. The 21-year old highly decorated Grand Prix stallion (by Ceylon x Iran) stood at stud in England for quite some time, close to his rider Kyra Kyrklund's place. But Master has returned to Sweden for the 2010 breeding season and fresh semen will be available via Flyinge State Stud. Master is Sweden's most successful breeding stallion so far.
Horses of the Dutch reported that the KWPN Stallion Performance Testing committee has been applying "new ideas" to test the character of the stallions at the 2009 Autumn 50-day Stallion Testing in Stegeren. This character test has been set up by behavioural expert Kathalijne Visser and involves the horse's exposure to umbrellas, plastic, etc. For the first test the stallions had to walk in hand over an orange plastic on the floor. For the second test the stallion was running around in freedom in the ring when an umbrella fell from the ceiling. "Stallions reacted differently to it. Some stallions walked over the plastic, others were afraid and some jumped. With the umbrellas some stood in a corner, others were approaching and smelling it and others grabbed it with the teeth," said Wim Versteeg. Stallion committee inspector Arie Hamoen said none of the committee members were present during this test and the results did not affect their judgment of the stallion. The behavioural experts will be following the stallion's career and watch closely on how they are performing in the future.
KWPN inspector Jacques Verkerk has handed in his resignation with the KWPN. Verkerk was a regional inspector for Guelderland and Overijssel as well as chair of the inspection panel for the KWPN-NA. He has worked for KWPN for 15 years and traveled regularly to the States since 1999. Following a conflict with KWPN director Johan Knaap (according to Horsetelex), Verkerk called it quits. The official, published reason for his resignation is "a difference in opinion" between KWPN and Verkerk. It is the sixth time in three years that a KWPN official resigned or was fired.Horsetelex is very outspoken in point the finger at Knaap as the reason for so much dissatisfaction amongst KWPN officers.
The British Sport Horse licensed stallion Catherston Dazzler has passed away at age 25. Catherston Dazzler was the leading British Event Sire according to the World Breeding Federation Rankings 2000. By Jennie Loriston-Clarke's World Bronze Medal Winning dressage horse Dutch Courage and out of advanced event mare Welton Gazelle, Dazzler competed internationally at Grand Prix level under Loriston-Clarke as well as under her daughter Lizzie Murray. The last six years of Dazzler's stud career were spent at Charles Upham's Langaller Farm in Devon.
The Swedish warmblood Wennica (by Longchamp x Master) has moved to Ebba von Essen's stable. Stutteri Stubbang, breeder and owner of Wennica, decided to switch riders because Pernille Andre-Hokfelt, long time rider and trainer of the bay mare, is pregnant. Wennica and Andre competed at the 2007 and 2008 World Championships for Young Dressage Horses in Verden, Germany.
A new horse for American Olympian Courtney King-Dye. Chiropractor Cetty Weiss has offered the ride on her small tour horse, the Westfalian branded S Infinity(by Sandro Hit x Lados). The dark bay gelding was previously trained and competed at Intermediaire I level by Canadian born and U.S. based Shannon Dueck. S Infinity has also been ridden by Kathy Priest, Nancy Later, Christopher Hickey, Brooke Doss, Cetty's daughter Arianne (when the horse was 6) and last by Dueck, who decided to ride for Canada again after having been briefly declared for the U.S.A. Dueck trained S Infinity up to Grand Prix level.
A scholarship in honour of Patrick Swayze and his wife, Lisa Niemi, has been established by the Arabian Horse Foundation (AHF), which is based in Denver, CO. Swayze and Niemi have had close ties to the Arabian horse breed and owned Arabian horses for many years. The Foundation is the charitable arm of the Arabian Horse Association (AHA), also based in Denver. Announcement of the scholarship was made at the association's annual convention in Reno, NV, November 19-21. The scholarship will be awarded annually in the spring to a youth who is involved with Arabian horses and aspires to a career in the performing arts. Scholarship applications are available online. The scholarship was launched with an initial pledge by Iron Horse Farms and Trisha Phelan of Canton, GA.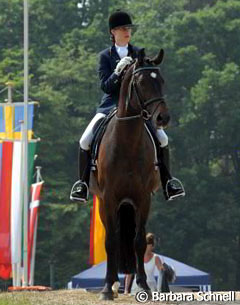 The FEI Dressage Pony stallionKeep Cool has been retired to stud. The gorgeous dark bay stallion . Keep Cool (by Kastellano) was the Hanoverian Stallion Licensing Champion and Performance Test winner. He won the 5 year old Dressage Pony Stallion Champion Class under Julia Katharina von Platen at became the 1999 Bundeschampion. Keep Cool is bred by Charlotte Friedrich and in the late 1990s owned by Dirk Viebrock. As a 6-year old he became Bundeschampion under Anna Katharine Luttgen. With Carde Meyer he won the individual silver medal at the 2001 European Pony Championships. Later on he sold to Louisa Luttgen who competed him intermittently in the 2004 and 2007 Preis der Besten, for instance. His breeder Charlotte Friedrich from Rehburg-Loccum will now be standing this drop dead gorgeous stallion at stud. (Photo copyrighted: Barbara Schnell)
The 2010 schedule of the World Dressage Masters, the globe's richest line up of competitions each with €100,000 in prize money, was announced last week. A WDM Rider Ranking award of €25,000 (US$37,000) is also offered by Nürnberger Versicherungsgruppe at WDM in Munich in 2010. Munich will also be the venue for a WDM gala celebration. The 2010 schedule of confirmed competitions , is:
* Feb. 4-6 - Palm Beach, Florida, USA
* May 13-16 - Munich, Germany
* July 29-Aug. 1, Hickstead, England
The 2010 WDM events all have been designated with the highest rating of CDI5* by the International Equestrian Federation (FEI). All three venues hosted an World Dressage Masters in its inaugural year in 2009. The City of Cannes, on the French Riviera, was also among the 2009 shows. As the date in 2010 places it amidst the national championships in both The Netherlands and Germany, participation in 2010 is being reviewed. Each competition consists of a Grand Prix with prize money of €10,000 of up to 20 riders from the top of the FEI Rider Rankings List, qualifyingthrough a CDI3* or by special invitation.
By the way, check out this funny video of an orphaned Regazzoni foal enjoying the company of two goats, named Anky and Kyra.