2010 Equine Elite Young Stars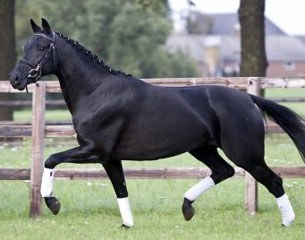 In just 2 weeks time the first Equine Elite Young Stars Auction will take place in Stable Korenbloem in Weert, The Netherlands. Organized by stallion King Joop van Uytert and Equine Elite
this new auction has a very special horse in its collection: a jet-black, 5-year old mare by the name "A Special Pöetin".
She is the ONLY foal the phenomenal World Champion Pöetin ever produced and is sired by the the world's most successful dressage breeding stallion Jazz. As if this isn't enough: this stunning black mare is in foal to the incredible champion of champions, Totilas!
Pöetin, also known as the wonder mare, shook the dressage World to its foundations with her incredible performance at the World Young Horse Championships in Verden. After winning the Bundeschampionate with historic record scores as well, she was eventually sold at the PSI auction in Germany for 2.5 Million, which made her the most expensive auction horse ever.
In 2005 the ING bank seized the mare in a dispute with the owners and she was eventually auctioned and sold to Frenchman Xavier Marie. During the auction Pöetin was not completely sound and, just 100 days after the purchase, the decision was made to end her suffering and Pöetin was euthanised at the age of just 8.
Young Stars is an initiative of Equine Elite and Studfarm Joop Van Uytert and will comprise a collection of 35 horses made up mostly of 2-year old stallion prospects, all of which have gone through a selection process headed by Joop van Uytert.  The collection also includes some broodmares and several stallions and mares under saddle.
For more info visit www.equineeliteyoungstars.nl