A Walk on the Premises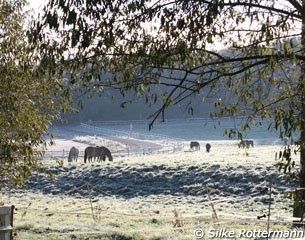 On the way to my destination Kirchheimbolanden in Rhineland–Pfalz -- an hour drive from Heidelberg --  I start complaining about the awful fog which was so thick that I had to lower my speed on the motorway.
This area of South Germany is well known for its vineyards, but there little is to see of that because all is covered with a cloudy white curtain.
Just when my GPS tells me I am already there the fog disappears as if by witchcraft and makes way for a sunny blue sky. A minute later the forest I've been driving through ends and gives way to a valley. It is as if I enter a different world. In the midst of an autumn coloured hilly wood lies Uta Gräf and Stefan Schneider's property "Gut Rothenkircher Hof" in the midst of extensive fields.
The white fenced fields are still covered with frost and the horses in the big colourful herd breathe clouds of smoke. It is a truly magnificent picture which sets the heart of every horse lover aflutter!
Planning the day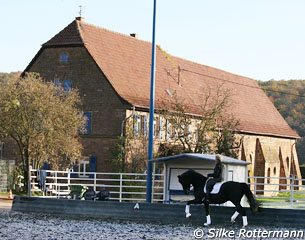 I park my car in front of an old stone building which looks like it has a history. It now serves as the home of Uta Gräf, her partner Stefan Schneider and some of the girls I get to know later. An old German shepherd greets me friendly on my way over cobbled stones to a big open hall which looks like the barn. A second later I discover Uta Gräf is changing spurs in the stable corridor.
The German with her wild blond mane greets me cheerfully and suggests having a coffee in the house to hear my plans. "My plans," I wonder. I am a bit baffled because usually I am not asked about my plans on visits like this but get told what I'm presented with for the day.
The sandstone house with blue framed windows is hundreds of years old and has actually been a monastery once. Uta leads me to the living room, serves me a cappuccino and we immediately start talking, but not about my plans. Instead we immediately crack the topic of "dressage today" and there's plenty to talk about. Stefan Schneider, Uta's partner and a veterinary surgeon specialised in equine dentistry, joins us and we are soon stuck in a lively discussion.
Finally we make "plans". Of course I want to see Uta's star horses: the 10-year old Grand Prix stallion Le Noir and the 5-year old Rhinelander stallion Damon Jerome H, who enthused everybody at the 2010 World Championships for Young Dressage Horses.
"You might also like to see an extremely talented 8-year old we picked up from Martin Schaudt's yard two weeks ago and which we train for its new Swedish owner. Or should we first take a look at the stables or should we visit the herd?"
There is so much to discover on this beautiful piece of earth, but as Uta's stable manager Jasmin is already warming up Le Noir outside so we decide to start with the riding.
Le Noir, Cool as a Cucumber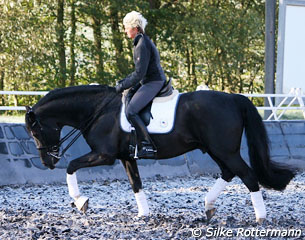 The outdoor arena is next to a big hall which has two open sides with giant stalls for the horses. I admit it is a bit unconventional, but I soon learn that nothing is conventional at "Gut Rothenkircher Hof," where everything is done in the horse's best interest.
The whole arena is fenced with askew white railings on which rubber mats are placed at the bottom to prevent the horses from putting a leg on it. Big mirrors are placed on the short side, but they are covered in frost this morning. The ground consists of a mixture of carpet chips and is quite dark, but very comfortable to walk on!
There is no indoor arena available, only a small part of the stable hall next to the outdoor arena can be used to ride under a roof. But as it is very small and three bars are in its middle "I only use it when there is lots of snow outside. We can do the most important exercises in there, but usually we always ride in the outdoor arena because it has an all-weather- surface," Gräf explains.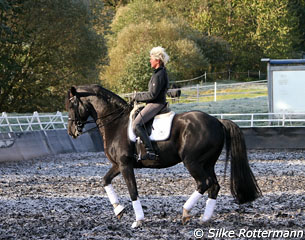 On this swinging surface Le Noir, a black Holsteiner stallion by Leandro and Uta's top horse, is warmed- up by Uta's Bereiter Jasmin. Uta is all smiles: "Isn't he beautiful?! It always gives Jasmin happiness hormones when she sits on him, and for me too!"
Jasmin Simon had finished her apprenticeship at Uta and stayed there ever since. The quiet young woman well deserves sitting on the Holsteiner now as she is the motor of the stable and very good with the horses.
Le Noir is an impressive horse standing over 170 cm and as a licensed stallion he covers regularly. One can assume he might be a handful to handle but instead he is as calm and relaxed as a horse can be and I will soon find out that all of Uta Gräf and Stefan Schneider's horses are similar in this aspect
"Isn't he just cool? He is so relaxed in all he is doing, it is such a joy riding and training a horse like him," Uta beams.
The training session starts with working in a stretched position in all three gaits. Le Noir snorts with contentment and his tail swings in the rhythm of his ground covering movements. I am a bit confused discovering a double horse's head on his right hindquarter. What's this? Uta laughs: "Oh, this is our emblem and my girls have clipped it on Le Noir's bum. I do not like clipping horses at all, but we are allowed to start at Stuttgart German Masters in November and so the girls have clipped him just a day ago. We cannot go there with a teddy bear, can't we?"
What follows next is absolutely outstanding. All I am looking for in pure classical dressage is displayed by Uta and her massive stallion in a way which is more than exemplary. It looks like she is just playing with a horse, not working at all. This is when dressage actually becomes an art. Le Noir's passage blows me away. Uta has a smile from ear to ear again: "Oh yes, we even got 9s for it this year. It's not bad, eh?"
His classical sitting and rhythmical piaffe, the settled pirouettes and straightforward flying changes are no weaknesses. "This is his strength. He has no real weak spot and he just does it all naturally," Uta comments when she seems my astonished face.
She pats Le Noir, hugs him and takes the reins again to continue her session.
Even after 20 minutes on this first horse one can recognise the hallmarks of Uta's riding: Pure pleasure on both sides, an excellent seat and the finest of aids to communicate with the horse.
Le Noir is so relaxed and supple that his whole body swings from neck to hoof. I have to think hard to remember when I have seen a Grand Prix horse like that the last time. A horse which executes all these difficult collected movements without being tense for a second, without swooshing the tail at any time… Le Noir piaffes 30 steps or more with the utmost relaxation, gets the long reins again and just rubs his head like nothing has happened before!
Uta's way of training is dominated by the constant change of asking the required movements and loosening the horse immediately by allowing him to stretch or take a breather on long reins. The quality of the 40-year old's riding is characterised in her horses being so relaxed and content in their work that she can switch them on and off like a light. Even after a while on the long rein she is able to concentrate the horse immediately on her again.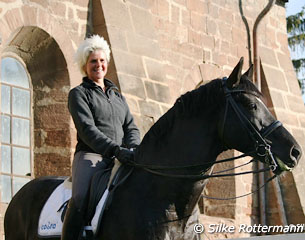 Le Noir has finished his daily exercise and I ask Uta if she can pose  in front of the beautiful monastery walls for some pictures. The black beauty does not bat an eyelid when he observes the big herd in the field where some horses play happily. The Holsteiner is cool as a cucumber and a pleasant poster boy, looking in the distance with his ears pricked.
I ask Uta about the covering rates while she walks him back to the stable: "Well, he is only available on frozen semen because of his sport career and has already sired very talented offsprings."
It was one of Le Noir's young offsprings which brought him and Uta together some years ago. "I was looking at a youngster by Le Noir and so I got to know his owners, the Herzog couple. They asked me to continue Le Noir's training and he has been with me ever since! His owners are remarkable people. They support my way of training and keeping horses and they have already refused large sums so that they can keep him. I am most grateful and aware that this is very exceptional. As a professional dressage rider I must deal with the sale of good horses. Moreover it is really special that his owners want to concentrate on the sport and do not want Le Noir to cover often to collect fresh semen."
Magical Damon Jerome H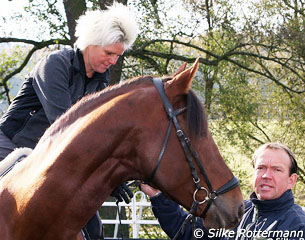 After Le Noir is pampered and guided to his private field Uta leads me to the horse walker behind the stable complex. It is opposite a big paddock with three big hay racks. "This is where we keep the herd in the winter during the day,'" Uta explains.
The horse walker seems to be the usual type at first look. However, then I see that (frozen) water is covering the ground. "The horses walk in the water. We can differ the height of the water, from fetlock to almost breast height. Everything's possible. Stefan uses it for curing horses with inflammation in the legs or as part of a rehab programme for horses with leg problems. We use it for our horses as an addition to the training after work. It is fetlock high now and we put them in for about 20 minutes daily. It is quite demanding", Uta explicates.
In the meantime Uta's future champion Damon Jerome has been made ready for his training. I am surprised to find him so dark in colour, his mane and tail almost black.
"Yes, he gets darker and darker. Of course he is in his winter coat now, but the owner of his sire Damon Hill has told us also Damon Hill has become darker with the years. And look, Damon Jerome has also several dark spots on his body, just like his father."
Uta's partner Stefan Schneider helps her to adjust the saddle on the young Rhinelander stallion who looks really cheeky this morning.
Schneider confirms my observation. "Oh yes, he is not ill-natured at all, but cheeky. I have to work with him regularly from the ground so he knows who is the boss. He and horses in general need to know who is their "herd leader". It gives them security and if a horse is secure it will concentrate on you in every surrounding, no matter if it is at home or at a show or in the forest," Schnaider opines. Uta laughs and adds: "Absolutely right. Damon Jerome is highly talented and needs to be occupied and challenged all the time, otherwise he gets bored."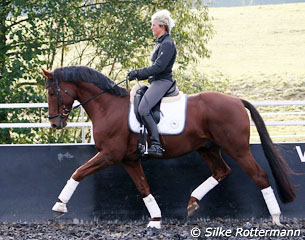 Though I have already read much about this 5-year old (by Damon Hill x Guy Laroche/Trak) and have watched video clips in the internet I am blown away by a horse like never before in my life!
Damon Jerome moves with such quality that every horse lover would be gobsmacked. Uta takes a look at me and says:" He is unique! There isn't another Damon Jerome elsewhere. It is a gift to be allowed to ride such a horse. He makes me happy every day!" I have never seen a horse swinging in a way like this liver chestnut. His shoulder freedom makes him move in an extravagant way in trot, but it's much more than that. There is not the slightest tension and he expresses a genuine joy of moving. Uta rides him with invisible aids and the finest contact with the bit. To me, this horse moves as natural and supple under a rider as if only horses do in freedom in a field. This kind of beauty truly hits me. I am not the most emotional person, but here I fight back the tears as I shake my head in surprise.
Stefan Schneider as well as Uta Gräf are not surprised by my reactions, they have witnessed it many times before. While Uta continues training the long legged stallion I ask Stefan Schneider about the Bundeschampionate, where high hopes were dashed as Damon Jerome spooked and hurtled sideways.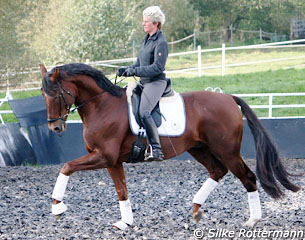 "At shows it is important Damon knows I am there. I work him from the ground from time to time and he is aware nothing unusual happens when I am with him. It was the same in Warendorf which was quite a witche's cauldron. Before the final I told Uta to ride like always, like at home. On the other hand she had been advised after the qualification to ride him a bit more electric. She told me to decide how to present him by intuition. The aim to present him a bit more lively may have been too much for Damon Jerome. But never mind, there's a new year coming up in 2011."
After his training Damon Jerome gets some exercise in the horse walker. He knows it very well and enters the water without hesitation. "It is much better than a horse walker where the horse stands in a container and walks on the spot on a belt. Often the horses put their heads high and hollow the back. An aqua horse walker like ours encourages the horses to stretch their topline and use their backs effeciently", Schneider explains.
The Man Behind Uta's Success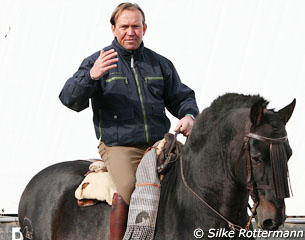 While Damon Jerome and some fellows circle in the horse walker I ask Schneider about his passion "Working Equitation". This is a fairly new equestrian discipline in which contains elements of the traditional Spanish "doma vaquera," such as separating a calf from the herd, opening gates, jumping small fences or turning the horses on their hind legs and stopping them from one second to another.
Schneider, who comes from a horsey family, is a kind of skilled "allrounder". He has started with jumping as a young man and went on to train with western riding legend Jean-Claude Dysli. Schneider competed in reining competitions, but detested the way some horses in this discipline are trained and ruined at an early age.
His heart beats for the Spanish horse and Spanish riding style. Schneider owns several Cruzado horses and regularly competes a string of horses in working equitation shows.
He asks Birte Ostfeld to catch his best horse from the field. Birte is a young student who trains with Stefan Schneider and helps with the horses whenever her time allows it.
Humero is a compact Cruzado stallion, 18-years young and boss of the big herd which runs in the field.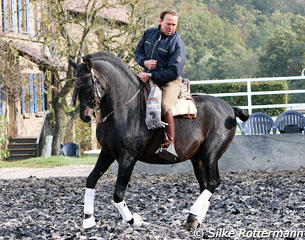 Though not being ridden for 6 weeks the horse is with Schneider from the first second on. Schneider demonstrates the work with the garrocha, fast turnarounds and explains the aids in this riding style, where the rider is riding with pure curb in one hand and directs the horse by shifting weight. His passion for the Spanish horses is obvious and he beams when talking about Juan Manuel Munoz Diaz and Fuego's performances in Kentucky.
Stefan Schneider is not only a very good rider in his own right, but plays an important role in the success his partner Uta enjoys. All the young horses are worked on the ground first to establish respect and faith for the rider. "I use Monty Roberts' dually halter and a lead chain. The horses soon learn that they have heaven on earth if they follow me. It is so important to establish a good relationship and respect on the ground before mounting a horse. All our horses go on the trailer  auto-pilot. I also work with older horses we get in training."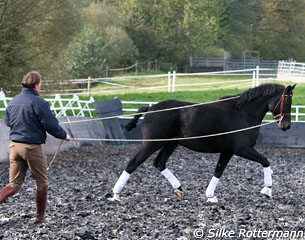 Moreover Schneider is responsible for training horses in long reins and piaffe in hand. When practising the piaffe in-hand he only has the horse in a snaffle and uses a birch whip like the riders at the Spanish Riding School traditionally do.
Like his life partner Schneider uses the slightest of aids in the saddle to communicate with the horse. His achievements are visible in the black Grand Prix gelding Worldclass.
Schneider demonstrates me how he only tickles the willing horse and Worldclass shows a most classical piaffe honouring his name!
In the meantime Uta has mounted a fuzzy bay gelding. This 8-year old recently come from Olympic Champion Martin Schaudt's stable. The horse has a winter coat like a teddy bear, but both Schaudt and Gräf are known for keeping their horses outside in fields during the day. The Swedish owned gelding has tremendous abilities and is a most willing type of horse. Uta pays much attention to him staying calm and relaxed in the flying changes.
Natural Horsemanship for Top Horses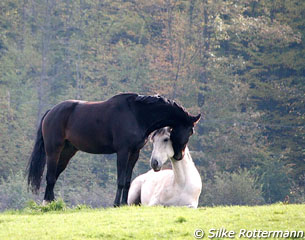 After the work is done and the horse is dried up Uta brings the bay to the herd. Now the talented valuable gelding is nothing else but a real horse, cantering to his friends ears pricked and welcoming a grey lying in the grass enjoying the sunshine.
Uta seems to be as happy as me observing the horses like they were born: Free in a herd. "I am so very happy that I have owners who totally agree with our approach of keeping top class dressage horses as naturally as possible. I would not take a horse which owners want inside all the time. It is so important for the horses to be amongst their companions, relaxed and happy. Then they will be willing to work even more and have the relaxed attitude they need to listen to us."
Uta points at a little river crossing the field: "Look, we fenced the field this way so the horses can drink from the river. That reminds me of a funny story. A pupil of mine was riding in a seminar with a very renowned international dressage judge. After the ride he approached her with the question why the hairs of the horse have such a strange colour and she answered that he is kept outside the whole day and the sun had bleached it. The judge then asked why the horse is kept in such an alternative way and my pupil didn't even dare telling him her horse drinks from a river!"
Still I am wondering if nobody is afraid of injuries as none of the horses wear protective boots or a blanket. Uta immediately denies my concerns. "No. Look, we have such big fields. They can avoid each other if they do not like each other. And they are used to standing outside the whole day which gives them plenty of natural exercise and healthy food. The worst injury we ever had here was in the box."
Uta admits that her partner has initiated this way of keeping top class horses. "I have done my apprenticeship at Franz-Josef Dahmen's stable in Aachen. It was a great time and I have learned a lot there. Later I got a scholarship and rode with Ellen Bontje. But keeping horses the natural way and the importance of training horses from the ground I learnt from Stefan."
They now have the opportunity to fulfil their life-long dream of having a yard of their own, meeting their very own requirements. "We bought the estate 'Rothenkircher Hof' 11 years ago from the town of Kirchheimbolanden. Before it belonged to the big BASF company which kept a herd of cows here to try out their fertiliser products. When we went here for the first time there was nothing than the old monastery house, the barn, and all the fields. We loved it from the beginning. Stefan always says that God must have had his thumb on it here in the middle of a forest. We built the boxes in the barn and the outdoor arena as well as a round pen. Only later we installed the watered horse walker."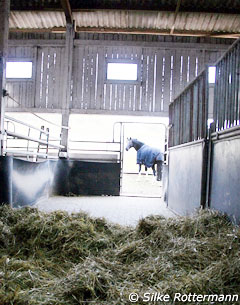 For a professional dressage stable the one of "Rothenkircher Hof" is wonderfully simple without glamour. Simple panels separate the giant boxes of 3 metres width and 10 metres length. Rubber mats hang from the panels to prevents the horses from injury. Only a part of each box has a deep straw bed which the horses uses to lie down on. Every box leads to a big grassy paddock which ends at the edge of the forest.
This is a luxury every horse dreams of, especially valuable dressage horses who very deliberately seem to prefer a bath in the mud outside much more than an expensive thermo rug or magnetic blanket. Horses of all breeds and sizes share the stable. Gräf and Schneider have some retired horses, "but only a few and those we have now for a long time".
A friendly liver chestnut Quarter Horse looks out of the first box. He ha the broadest cheeks I have ever seen on a horse! Damon Jerome has finished his aqua-treadmill and wanders around his field like the king of the property. He has rolled in some mud and looks rough and wild all over his body. "He has a practical colour, just like the mud", Uta jokes.
Seeing this highly talented horse without tack in the field one would never believe him to be Damon Jerome. He looks what he is: A young playful horse enjoying life. I feel sad when thinking of some of his competition mates which probably do not lead the same wonderful life simply because of their exceptional talent. In a field nearby Le Noir is grazing peacefully until we come. I want to take another photo of him with the autumn woods in the background. Uta pushes him gently and Le Noir gives in. His exceptional character once more shines through. After several clicks of the camera he has enough and canters downhill, turns around and storms back uphill with pure joie-de-vivre.
The Secret of Success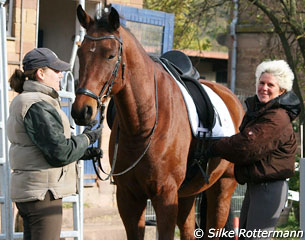 Lunch awaits and we turn back to the cosy house. Winter is knocking at the door outside as a cold wind blows and the sun disappears behind the clouds. Usually Uta Gräf and Stefan Schneider have a housekeeper who is responsible for the cooking, but as she is ill one of the girls has stepped in and serves us a delicious meal with salad, lasagne al forno and caramel crème as dessert. The girls are obviously not only talented with horses. Two of them are present that day, the third is away in Münster for the master's exam.
As Uta has the master title she is allowed to teach apprentices and usually there is one at the yard. The girls are entirely responsible for the training and grooming of the horses. Stable work like feeding, mucking out, bringing the horses to the field and back in again, as well as delivering hay to the fields are done by two men.
While the staffers disappear to have their well-earned lunch break I continue chatting with Uta and Stefan. The first of two unavoidable questions arises: how long will Le Noir and Damon Jerome stay in their stable? With increasing success their value on the market might reach astronomical sums one day.
Uta explains that Le Noir's owners had already got several very lucrative offers for their stallion, but have refused to sell him so far. Of course she hopes to keep Le Noir in her barn, but Schneider adds: "If there is an offer one day which could change the life of the owners one must absolutely understand that they want to sell. For me it is the fascinating aspect about training horses: Get a new horse and train it up the levels, see how far it can get."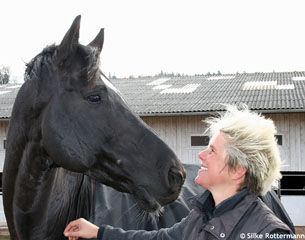 Uta has similar views, but hopes that she and Le Noir will stay together in the future. Like his companion Damon Jerome he has drawn much attention over the year and offers have come and gone so far. The liver chestnut is owned by Prof. Dr. Hitschold whose daughter Valerie competes herself. Uta has known him from almost the beginning. When the Rhineland branded stallion did his 30-days- stallion- test Uta was one of the test riders.
His breeder was absolutely convinced that he owned a special horse and Uta took him in her stable where Prof.Dr. Hitschold saw and bought him for her to ride. When I ask Uta if she dreams of representing Germany one day, maybe with Le Noir in one or two years, she smiles: "Who knows. It would be very nice, but if not I still enjoy my riding every day."
Now she looks very much forward to representing Germany in the Stuttgart German Masters indoor show mid November. Le Noir is allowed to start in the "German Masters"- tour and Uta does not speak about her chances, only adding how happy she is to take part.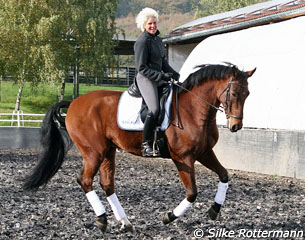 The second unavoidable question is the one about the reasons behind their increasing success. Schneider becomes serious: "For me personally success is built on three fundaments: good training, natural horse–keeping and talented horses. If a horse has talent, gets good training and is kept the natural way it is a question of time that it gets honoured one day!"
After eight amazing hours and having observed every kind of activity at "Rothenkircher Hof" I say goodbye to Uta and Stefan and last but not least the herd which grazes peacefully outside. Driving along the fenced field heading back towards the forest I take one last look at this peaceful scenery. If there is a kingdom for dressage horses it is here!
Article and Photos © Silke Rottermann for Eurodressage.com
Related Links
Uta Gräf and Damon Jerome Finish Fourth at 2010 WCYH
DJ One More Time
Damon Jerome Ties for Second Place in First Round 2010 WCYH
Hubertus Schmidt wins 2004 German Professional Dressage Riders Championship