Swedish Dressage News
On Saturday 9 April 2011 Edward Gal and business partner Nicole Werner traveled to Hälsingland, Sweden, to conduct a clinic at Bergåkra Gård. Thanks to the commitment of dressage rider Sigrid Bergåkra and some sponsors
, a few of Sweden's top dressage riders were able to tap into the pool of knowledge of World Champion Gal and Werner, who is Edward's pair of eyes on the ground.
The day started with Sigrid Bergåkra and announcer Li Skarin entering the arena on Bergåkra's Friesian stallions to welcome the clinicians. "The guests on the stands were able to follow all combinations and ask questions to both riders and trainers," said Mia Hed of Bergåkra Gård.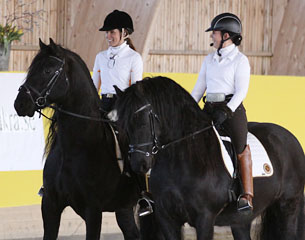 The participants in the clinic were Mads Hendeliowitz (Jimmie Choo SEQ), Jeanna Högberg (Liza Minelli and Wellington), Sigrid Bergåkra (I Do Kiss and Primavera),  Gunilla Byström (Wilton), Emma Byström (Don Q), Jennie Larsson (Zircoon Spring Flower),  Maria Eriksson (Jig),  Magdalena Skatt (Sir Dee),  Kristian von Krusenstierna (April 4cible), and Emilie Nyreröd (Zofie).
The entire clinic was taped by Swedish television which will make a tv-production of the day and after the lunch buffet Hendeliowitz presented under saddle Clever Hill Q, the winner of the Swedish Stallion performance Testing.
The clinic involved normal training sessions in good harmony between rider and horse. It was not just an educational session for the audience.
Edward and Nicole were very clear in the set up of each session. They asked the riders what they expected from the training session and not only focused on the weaker parts but also on the strengths.
"Firstly they all had to ride the horse forward from the aids and keep contact with the reins," said Hed. "Then they continued with the forward feeling in the collection and relaxation of the neck. They worked like this with every horse of any level."
The audience in the galleries witnessed the improving harmony of each combination. "At the end, each rider was happily tired, but truly relaxed in their body," Hed explained.
"It was the best training ever and I just want more," Jeanne Hogberg commented about the clinic. "Both Edward and Nicole helped me and my horses to improve." Gunilla Bystrom praised Edward's help in solving tension in her horse. "It was the best spent 45-minutes ever," she said. "My horse moved fantastically in the end."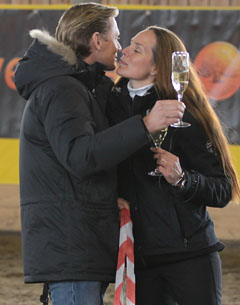 Kristian von Krusenstierna recently spent two weeks in The Netherlands training with Nicole Werner. She said that she hardly recognized the horse and that Kristian had "done his home work". Kristian's April4 Cible was more relaxed and forward. Organizer Sigrid Bergåkra experienced improved contact and straightness in her horses, which have big gaits. "I had a super feeling and felt good rhythm," she commented.
As a grand final of the day Sigrid and her three daughters were assisted by Edward and Nicole for the opening cermony of the brand new indoor arena at Bergåkra Gård by having a toast with champagne.
Sigrid and her staff are planning to have Hans Peter Minderhoud as a guest trainer in June.
Text by Mia Hed for Eurodressage
Photos © Björn Sedwall
Related Links
Edward Gal and Nicole Werner at the 2010 Global Dressage Forum
Master class Edward Gal and Nicole Werner at Global Dressage Forum
International Stars Coming to the 2011 Danish Warmblood Stallion Licensing in Herning