2011 European Pony Championships
The German pony team was untouchable in the team championship test and nations' cup at the 2011 European Pony Championships in Jaszkowo, Poland. Even though the competition was delayed by a day because the arenas were not ready on the show grounds, the riders remained focused and especially at the top some high 70% scores were put on the board. Last year's gold medal winning Dutch team was back to silver, while Denmark reconquered bronze.
Grete Linnemann and her gorgeous dark bay German Riding pony mare Cinderella M (by Constantin x Donnerhall) topped the leader board with a massive 77.972% score. German team trainer and chef d'equipe Connie Endres described the ride as "spectacular". Last year's individual test gold medal winning Jessica Krieg now finished second on Danilo (by Dornik B) with 76,222%. Small mistakes in the halt and reinback kept her from the lead. Another German finished third, Lena Charlotte Walterscheidt on the Bavarian riding pony Lord Champion (by Le Champion). She received 76,139% from the panel of judges which consisted of Mouw (NED), Baarup (DEN), Wust (GER), Loriston-Clarke (GBR), and Markowski (POL). Germany's scratch score was a 72,139% (!!!) achieved by 11-year old Semmieke Rothenberger on Domino Dancing. Germany achieved a team total of 230.333 points.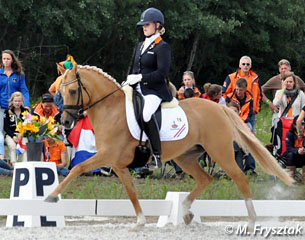 The Dutch team finished in silver medal position with a leading ride from Dana van Lierop aboard Belgian Lavinia Arl's German Riding Pony mare Day of Diva (by Don't Worry). Van Lierop and her palomino mare scored 75.028%. Dutch Sanna Vos and her 7-year old German Riding pony mare Champ of Class (by Champion de Luxe) were fifth with 73.750%. The third best Dutch ride came from Febe van Zwambagt on her refined New Forest pony Prince Z (by Make my Day). She finished 10th with 70.889. Sanne Gilbers and her German mare Daylight (by Don't Worry) were 14th with 68.778% and were the drop score.
"Last year in the autumn three of our four ponies sold abroad. That was already competition without us having successors," said Dutch chef d'equipe Tineke Bartels. "Daylight was only back in shape in the winter and both Prince Z and Champ of Class are very young ponies. Also Dana's Day of Diva is a new comer. Last week with the juniors and young riders we made a lot of mistakes in the team test but that was not the case today. All four of them showed what we had hoped for. They were on best form. I'm very happy this young team got silver."
Dramatic Medal Ceremony - Denmark or Great Britain??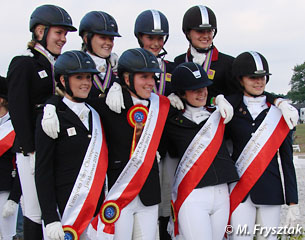 The British pony team was on remarkable form with two top riders: Maisie Scruton and Erin Williams. Aboard the German riding pony stallion Rembrandt (by Renoir), Scruton scored 72.250% to finish sixth, while Williams and her German riding pony gelding Danny Boy B (by Flying Dream) were 12th with 69.722%. Aimee Witkin and Jane Gill's Danish bred pony Ferrari (by Malibu II) put in Britain's third score: 66.917%. Great Britain totalled 208,889 points, though it was initially announced that they had 209,000 points by the show organization.
For team Denmark, Emilie Holm Toft and HB Dreamgirl (by Don't Worry) rose to the occasion by finishing 8th with 71.889%. The expected anchor, Caroline Bording Smidt and Campari W (by Champagner), was 13th with 68.833% while Caroline Aarosin and SL Lucci (by Lukas) were 15th with 68.278%. They totalled 209.000 points, good for bronze.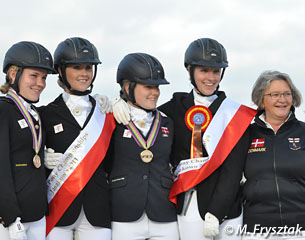 The medal ceremony was filled with much drama as the show organization had announced Great Britain and Denmark tying for bronze. The all-girl British team as well as the Danes were invited to the podium to receive their medals. There was major jubilation in the British camp as they were back on the podium after several years of struggling to regain a team medal. Unfortunately the show organizers had made a  calculation error in the scores (just adding two digits after the comma) and team Denmark was the only bronze medalist with 209 points, while Britain had just 208,889 points. In tears the British girls were told of this heart-breaking news and had to give their medal back to the Danes on Friday morning.
This was yet another blunder in the sloppy organization of these FEI endorsed European Championships. It is a brave effort for Eastern European countries to host major championships in order to attract more interest to the sport, but at such a high level these mistakes cannot be made.
Scoring Problems on All Levels
Though no scores have been published on the official website, scores came through to the press via riders who took photos of the monitors on the show grounds.  Furthermore, if one looks at the break down of the scores it's baffling to notice how British judge Jennie Loriston-Clarke felt no scruples to assist her country's riders in giving them high scores.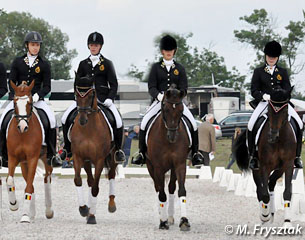 Of course the riders take no blame in this, but this case of mind-blowing judging has to be pointed out. Maisie Scruton scored 70.556, 72.222, 71.806 and 72.639 from the four other judges (Mouw, Baarup, Wust, Markowski), but Loriston Clarke gave her 74.028%. Same with Erin Williams: 68.333 twice, 69.306 and 67.472 but Loriston-Clarke saw something totally different and awarded the test 74.167%. Same thing happened with Britain's third rider Aimee Witkin. Aboard Ferrari, Witkin got 64.028, 64.861, 66.111 and 68.611. Loriston-Clarke gave her 70.972%. Loriston-Clarke was consistently higher on most riders, which in itself is not a problem, but are we the only ones noticing a pattern here of nationalistic promotion? Even for the fourth British rider (Gabrielle Lucas) she was the high scoring judge, though the discrepancy with the other judges was less. We are always surprised that this nationalistic judging seems to happen year after year at the European Pony Championships. With the Grand Prix level judging finally finding an excellent stride and unison amongst the judging corps, this major structure and co-operation seems to crumble as soon as we drop down the levels.
More staggering judging cases happened with Danish Caroline Aarosin and Swedish Amanda Svanberg. Aarosin's overall total is 68.167% but she got 70.000% from the judge at H and 71.667 from the judge at C. The judge at B however thought the test was only worth 62.778%. A difference of 8.889%. And what about Amanda Svanberg. Her high score was 72.083% (M: Loriston-Clarke) and her low score was 64.167% (E: Els Mouw). A difference of 7.916%.  FEI score analyst David Stickland will be busy processing these team test scores!!
The Individual test is on Saturday as well as the medal ceremony
Photos © Malgorzata Frysztak - NO REPRODUCTION ALLOWED
Back to the 2011 European Pony Championship index