What's Happening in the Dressage World?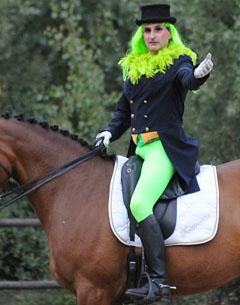 All work and no play makes Jack a dull boy! At the national dressage competition in Castres, France, on 13 - 15 August 2011, French dressage riders Didier Ferrer (show director of the CDI Biarritz and Vidauban) and Lydie Karoutchi decided it was time for some fun.
The duo  transformed into two famous dressage riders "Isabell Verte" (verte = green in French) and "Bernadette Noire" and gave a hilarious pas de deux. 
Norwegian young rider Hannah Hurvenes Clarke got herself a new horse. You will no longer see her just riding Look Alike, but she also found herself a new 6-year old stallion in Denmark, named Riccley. This licensed Oldenburg stallion is by Riccio out of Wolke (by Sandro Hit x Woermann).
British pony team rider turned junior, Claire Gallimore, has finally found her horse for the future. The 17-year old former British pony team anchorn will be seen soon in the junior riders' show ring aboard the 6-year old Annette Ballerina. This Dutch warmblood mare (by Scandic x Jazz) was discovered by Rebecca and Gareht Hughes at the Equine Elite Auction in The Netherlands. Rebecca won the 6-year old Shearwater Championship at Harpury and 6-year old Championship at Hickstead this year. "I've only done four classes on her. Two qualifiers and the 2 Championships all with over 80%," a proud Rebecca told Eurodressage. "She was my dream horse and I was very sad to see her leave, but at least she is staying in the UK and will be with a talented young rider like Claire who is sure to fill her potential."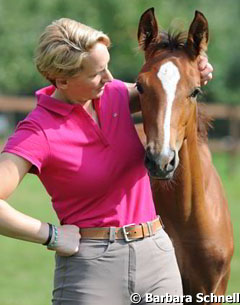 Anabel Balkenhol's long-time competition horse Easy is now proud first-time mom to a foal by Belissimo. The foal was appropriately bamed "Beezie".  Since people keep asking what happened to former European pony champion Dulcia: Her owners, the Camp family, whose daughter Helena also rode Voyager to Double Bundeschampionate Gold in 2006, have always promised her that when she retires, she'll have a foal by Voyager. She's been out in the field since last winter and she's in foal since April.
Jörg Jacobs has been appointed the new manager of the training centre of the Hanoverian society. The 34-year old Jacobs has been trained by show jumper Holger Hetzel and dressage master Klaus Balkenhol and worked independently at Nathalie zu Sayn-Wittgenstein's stable in Bad Berleburg. He will be in charge of the dressage and show jumping training of the horses as well as be responsible for the coaching of the riders. Jorg will start his job at the beginning of 2012.
German stallion mogul Paul Schockemohle has now been officially diagnosed with Dutch fever. It's a condition mostly found in Western Europe but also in the United States and Europe and exposes itself by an incontrollable addiction to buy anything that is Dutch, hyped and popular. The early signs with Schockemohle were seen a couple of years ago, when he bought the KWPN licensing stallion Bordeaux (by United) but the "desire" gained ground when he started to co-operate with Dutch agent Joop van Uytert and contracted Dutch owned Trakehner stallion Gribaldi. The climax of the fever came last year when Totilas was acquired and it didn't lose its momentum with the quick acquisitions of Bretton Woods and Metall in one month time this August. Latest rumours are that World Young Horse champion Astrix is also moving to Germany (or Denmark). While in principle it is certainly not a bad idea to cross the old-fashioned German lines with some spunky Dutch blood,  it is staggering that popularity instead of ground quality is the driving force behind this pathology. Spanish website Top Iberian had an interesting interview with Paul Schockemohle in Rotterdam. See the video embedded above in the top right corner.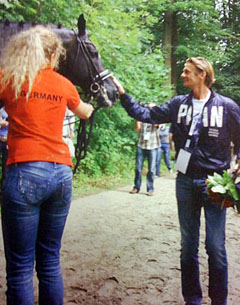 To many dressage fans THE photo of the 2011 European Dressage Championships is the one where Edward Gal is patting Totilas on the nose. A brief encounter between two dressage heroes. The name of the photographer is not known but the images has spread all over the internet.
By the way, talk about making money with stallions. Fuego, the legendary Andalusian stallion which Juan Manuel Munoz Diaz rides, is also up for stud for an impressive fee. His stud fee is 3,000 euro (more than Sandro Hit, but apparently a standard rate for PRE Grand Prix stallions in Spain) for frozen semen (no fresh available). And, while vacuuming the house today, I was wondering why Carl Hester and Sasha Stewart are not asking 4,000 euro for a breeding to Uthopia. The black stallion is the hottest cake of the market at the moment and approved for the KWPN and Oldenburg society. In that way they can make plenty of money with the breeding of his stallion and don't be so quickly tempted to sell him for the big bucks after the 2012 Olympic Games. They can keep the horse preserved for Great Britain and recover more than the costs of keeping and training it. Voila. La Solution!
The man behind the sound-mixing at the international dressage competitions, Gunther Alberding, explained that he was not the one pumping the volume in the stadium. Many spectators complained that the background music during the Grand Prix and Special was actually too loud and distracting. Alberding, who has been professionally arranging the music for Aachen, the 2010 WEG and many more shows, was not the final man in the line. Because television was involved and they were recording the sound, they wanted extra volume and the final mixer pushed the buttons to increase it to unpleasant proportions. Glad that's been cleared now. Next time no more disco in the technical section of a dressage competition please.
Australian dressage rider Jodie Newall lost her Danish warmblood gelding Kragelunds Donovan (by Davignon I x Diamond) on Sunday 7 August 2011. The Grand Prix competed black succumbed to an acute colitis. Read a tribute here