Young Guns in Dressage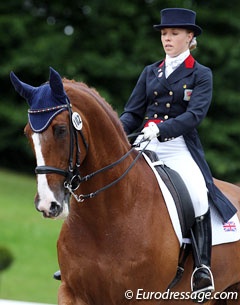 Sixty years ago competitive dressage riding for disabled people was absolutely non-existent, so Lis Hartel, a brave young lady from Denmark who suffered from polio, had to take her chance against the able-bodied dressage riders and succeeded in a tremendous way. The now Legendary Hartel became the first woman to win an Olympic medal in dressage in the 1950s and the few time witnesses still alive do not remember her disability, but her grace and finesse in the saddle.
Fast forward to the 21st century disabled riders compete in their own Paralympics, divided in different grades, taking the severity of their disabilities in account. There is no longer a need to compete against able-bodied riders anymore, but with the quality of riding and horses in the Para- divisions rising all the time it holds a certain fascination for those riders to measure themselves in the regular dressage sport. In this sport able-bodied and disabled can ride against each other in the same class up to highest levels.
One rider doing these very rare splits between both camps is Sophie Wells from Great Britain. She managed the seemingly impossible in 2010: Become World Champion in Para-dressage grade IV at the WEG in Kentucky and being the first British para-rider to join a Young Rider dressage squad at the 2010 European Young Riders Championships in Kronberg, Germany. Her partner in crime is the KWPN gelding Pinocchio.
Sticking to Horses

Sophie grew up on the farm of her parents Mervyn and Nicola in Nottinghamshire together with her brother Luke. Sophie's Dad is an arable farmer and used to have cattle until the BSE outbreak before foot and mouth. From a toddler on Sophie always helped her father with the cattle and crops and loved going to the market with her granddad. So it could have been the most natural thing that horses were part of her life ever since, but they hadn't.
"I do not come from a horsey family. My dad is a farmer, but when we were young my brother and me were always given possibilities to try out a lot of different sports like gymnastics, swimming, riding. I was so allergic to horses, but that was what I wanted to stick with," Sophie recalled.
She was 7 years old when her parents allowed her start riding at a local riding school and soon after Sophie got her first pony with whom she participated in all the usual Pony Club activities. One could assume that with her kind of disability, which affects her strength in her hands and lower legs, Sophie was a dressage rider from the beginning, but actually she tried out almost everything.
"With my first horse, Crystal, I did showing, jumping and cross-country. But she always bucked and I kept falling off. One time I fell into a cross country fence with her and moved a rib, but the doctors thought I had a tumor on my liver!"
With three years of riding experience the 10-year-old girl started having lessons with Vicki Thompson once a month and that was when Sophie turned to dressage and took a more serious approach to her riding. Thompson is an accomplished British dressage rider, a student of the late Franz Rochowansky from the Spanish Riding School and a 1996 Olympic dressage rider.
So Sophie was lucky "to have had the opportunity to have a great start to my dressage career and thats down to my parents." A career that split in two parts quite from the beginning because when Sophie was spotted by David Hamer for the World Class Para Programme with her dressage pony she began a two-pronged show career.
A Career in Two Camps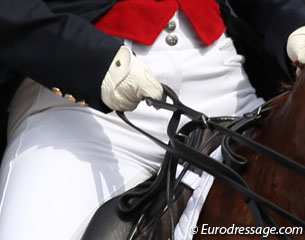 While most of the Para-riders start their careers in the Para-competitions and maybe switch to able-bodied competitions after some time, it was the other way around in Sophie's case. She started competing in the usual dressage competitions at the age of 12 before she was spotted at a talent competition a year later by the discipline co-ordinator for British Para- dressage and started her second career path.
Depending on the degree of their physical disability Para-riders are classified from Grade I to IV and depending on this different programmes are required in the competitions.
Sophie, who is classified grade IV, was born with the Amniotic Band Syndrome, caused by fibrous band of tissue originating from the amniotic sac encircling and thereby constricting foetal areas. "I lost a fair amount of fingers on both hands at birth and nearly lost my feet, but the doctors managed to save them. I have limited movement in my ankles and I cannot feel my feet and below my scars ¼ of the way up my leg," Sophie explained.
Due to her surgery she also suffers from nerve problems which cause her legs go into spasm on bad days, making her unable to walk. "I used to play netball to keep me fit for riding, but my legs deteriorated and I can't do it anymore. I am on medication and have soft tissue work on my lower legs to help prevent attacks, but I always go everywhere with my crutches just in case."
In the Para dressage competitions Sophie soon proved herself to be one of the best and most talented riders in Great Britain and abroad  setting her own records. From 2005 on she placed highly nationally and internationally which earned her the 2012 TASS (Talented Athlete Scholarship Scheme) for the first time in 2005 as youngest rider to receive it. In 2006 she placed in the top 3 at the CPEDI shows in Mannheim (Germany) and Saint Lo (France) and won a freestyle to music with almost 80%!
Her real breakthrough came a year after when Sophie participated in her first Para World championships on home turf when she finished 6th in Hartpury.
Though Sophie's talent and detemination was obvious also in able-bodied competitions as well, she did not make a British pony or juniors squad: "After my first dressage pony which was just not good enough for the team we got an unbroken mare which I trained up to medium, but then it was too late for ponies. I dipped in and out of juniors with several horses, but none of which were good enough until I got Touchdown when I was 18. It was too late for team selection, but we won the Hickstead Junior International."
Touchdown, a smaller framed KWPN bred gelding by Jazz and owned by Sophie's mother Nicola wrote history in carrying his rider to victory in the junior class on the Hickstead showgrounds in 2008. It was the first win of a Para-rider in an able-bodied class and it marked the beginning of Sophie splitting her time between both camps at the highest levels.
It was a real blow when "Touchy" went lame in the qualifications for the Paralympics in2008. "This was my biggest disappointment so far. Later it was discovered he had a tumor in his foot. He was an amazing horse, so talented and he loved his work. He was operated, but the tumor came back. I'm still gutted he ended his dressage career so early, but I still have him at home."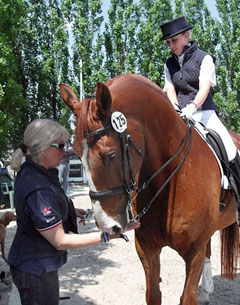 Two major contributors to success came into her life at that time: Pinocchio and Angela Weiss. Very rarely a rider improves without a trainer and in Sophie's case it became of paramount importance. Wells started training with Weiss about 8 years ago and has stayed under her tutelage ever since.
"Angela is my role model, not just in riding, but in coping with all the other stresses around horses. She's taught me how to deal with everything in the best way as I've grown up," said Sophie.
Weiss, who also trains other Paralympic dressage riders in Great Britain, has trained with Ferdi Eilberg and competed up to Grand Prix dressage herself. She runs Papplewick Equestrian Centre not far from Sophie's home. Her trainer is also coach of the World Class Development and Foundation Squads, which are constituted by young talents with a perspective to become a Paralympic rider, supported in many different ways and funded by the UK Lottery through UK Sport.
Angela Weiss had undoubtedly been the decisive factor when Sophie was given perhaps the horse of a lifetime, Pinocchio, at the beginning of 2009. The 17.2 hh KWPN bred gelding might raise doubts if this giant of a warmblood suits a rider with weak hand and leg aids. In fact the huge chestnut by Landeur I, foaled in 1997, is a strong horse and when he came to Sophie he was already competed up to small tour level by former British team rider Peter Storr and by Pippa Fisher.
Noki, as he's affectionately called, is owned by Dr. Jacqueline Walker since he was a five year old, but was considered not to make Grand Prix level und subsequently given to Sophie to compete. Actually it took the horse some time to get accustomed to his rather petite new rider. "Noki is quite strong so it took a lot of work with Angela to get us to the point where we both could understand and work together. With him I have to rely more on my other aids."
As Sophie does not have all 10 fingers she rides with special tack. "I have to ride with special loop reins as I cannot hold and grip normal reins. I really struggle holding double bridle reins, so I always train in a snaffle. As Noki is very strong nobody thought I would prefer riding him in a snaffle. I hold the snaffle reins just with one finger on each hand. I think for Noki first it was a different feeling in the mouth when being ridden with the rein length fixed and the rein going through one finger instead of a hand that can move."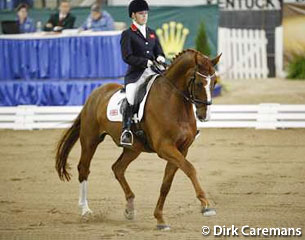 While in para classes it is allowed to ride the horse in a simple snaffle, in the young riders competitions Sophie has to ride Noki in a traditional double bridle, no matter how difficult this turns out to be: "When riding in a double bridle the curb rein just lays over my hand. I can't hold the curb rein in a way to really use it. Another possibility would be to use split reins where the curb rein attaches to the snaffle with a buckle, but it becomes even more fixed than my loop reins and I don't think it's very fair on the horse as with split reins both bits work with the same pressure at the same time. As long as my curb rein isn't too loopy the judges don't seem to mind. I think you see so much riding with a very strong contact on the curb that it is more rare to see a loose contact like mine."
Though Sophie had already proven her exceptional talent with different horses before, it was Noki who carried her to incredible success in the para-riders division as well as in the Young riders section. As soon as both came on one wavelength they had been and still are very hard to beat in the para-dressage competitions and serious contenders for victory and high placings in the Young Riders camp where an S- level test is required.
A Historical 2010

2010 had been the most amazing year for the partnership so far, representing Great Britain at the WEG in Kentucky in the Para- dressage competitions grade IV and before becoming the very first Para-rider to represent the country in at the 2010 European Young Riders Championships in Kronberg.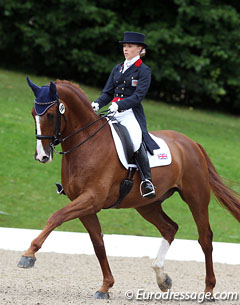 What sounds like a wonderful fishing in two ponds means extreme hard work and determination to get it all organised. Sophie confirmed that: "It is very time consuming and very hard to work around, especially having compulsory competitions and training. 2010 was a serious operation! But it taught me how to plan training and competition schedules; doing enough, but not too much."
When Sophie aimed for a place on the British Young Riders team it was nothing special for her, but the public on the other hand, according to Sophie, needed a while to accept her and to realise that she wanted to achieve what everyone else did and that she was no different to the others.
Former British Olympic dressage rider and Para- team manager at the 1996 Olympics, Diana Mason, is really delighted that a young dressage rider succeeds in both camps: "I think that is great that she is good enough to get selected for both the Young Riders and the Paras. It shows that she is prepared to work extra hard, and also has a very good mental attitude.
I remember the first time I saw Sophie, it was a few years ago at a local indoor competition and she had entered a PSG class. She was not well known then, but I was impressed by her riding, and her determination to " have a go ".
After the selection trials for Kronberg Noki and Sophie initially had only been nominated as the reserve, but when a team mate's horse lost form during the final training camp a re-selection took place, earning Sophie the coveted team spot.
"Kronberg was amazing. I will not go to another championships at a better venue, I really don't think. But I was a bit star struck and I had my eyes opened to the standard and discipline that especially the Germans have. We spent a lot of time watching the Germans train and it has inspired me more to what it takes to be the best. I take more attention to detail and discipline at home and put it into my training. Looking back we did the best we could at that time and over the past year our training has developed and we are getting better as time goes by."
Sophie had a successful debut in the British Young Riders team, placing 22nd of 50 starters in the team competition and 2nd best team rider. She repeated it in the individual competition, placing 23rd. It's conspicious though that the awarded marks of the judges differed both times enormously. The panel of judges ranked her between the 10th and the 45th place in the team test.
The situation two months later was quite different. While in Kentucky Sophie and Noki had been the newcomers they were the favourites after winning a triple gold at the European Para- dressage championships a year before, an unexpected triumph Sophie considers as her greatest joy in sport so far.
Preparations were a bit interrupted because  Sophie sustained a whiplash in a car accident and caught a virus on top of that which cost her even more valuable training time, but Angela Weiss kept Noki fit.
The horse had a good flight and everything went smoothly in their preparations in the USA.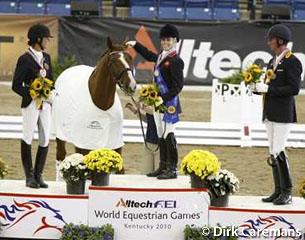 "I think after winning three gold medals at the Europeans the year before it puts you under pressure to repeat the success and there's a certain amount of expectation for you to be at the top. My competitors were aware of my success in the able-bodied competitions, but it is always about what happens in the arena on the day, not what you have done in the past. But I definitely went to Kentucky more prepared because of Kronberg. It upped my game and gave me focus."
Horse and rider lived up to all expectations, although Noki was a bit on the eye on the first day. "He's a good horse with atmosphere, it lifts his performance," Sophie explained and that's what happened at WEG. Both won the individual title at medium dressage level and the freestyle. "It's at PSG level, my kur for the paras is the same as for the Young Riders."
2011: Valerius Coming Into His Own

Of course as a rider competing as intensively as Sophie one cannot rely on one horse only. So she's lucky to have a second top horse, Valerius, in her small stables at home on her father's farm. The attractive liver chestnut gelding was bought by her as a 5-year- old in 2007 and was quite difficult at the beginning, causing Sophie to break three ribs and impact her shoulder in a heavy fall 4 months after his purchase.
"He was gangly and had no trot, he used to buck at the canter depart and had no "wow-factor", but I loved him the moment I saw him as he was the spitting image of my Welsh D Rodney and had the same kind of character, so we got him," Sophie remembered.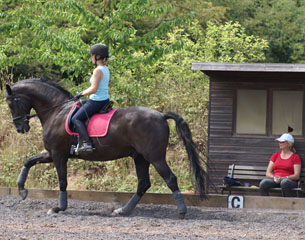 In the meantime after 4 years of training under the eagle eyes of Angela Weiss Valerius has come into his own. The Flemmingh- offspring "had developed a wow- factor" and came out of the shadow of Noki, being selected for his first Para-dressage championships, the 2011 European Championships in Moorsele (Belgium) in September and there might be an option for the Paralymics.
"It has taken time due to his height and I have to give him confidence when we go in the arena as he gets nervous, but we know each other so well. He's like a big puppy and will always be my baby, he's very in tune and sensitive with me. I am aiming him for London 2012, but I would also like training him to Grand Prix."
One Para Europeans still ahead, another Young Rider Europeans in Broholm, Denmark, just behind: With Noki Sophie was again nominated for the British Young Riders team and in rainy Broholm she even improved on her Kronberg placings finishing 14th and 18th.
Future Plans

2011 is Sophie's last year as Young Rider and with all sights set for the 2012 Paralympics in London the near future focuses almost entirely on this big goal which doesn't mean Sophie will stop competing at able-bodied competitions. On the contrary: "I am very grateful to the Young Riders selectors for taking the risk and giving me the opportunity to compete at the Young Riders Europeans for two years. It spurs me on to want to continue that level. But I think next year I will concentrate on the Paras. Doing able bodied competitions over the past few years has prepared me more than just Para competitions could have done, but next year is very important and everything needs to go into London. That is where our focus is."
With Pinocchio, "to whom and whose wonderful owners Dr. Jackie and Neil Walker I owe an awful lot!" and Valerius Sophie has two very strong horses to realise this dream. However, other challenges lay ahead as well. When Noki came to Sophie more than 2 years ago he already knew the Grand Prix movements, "but he used to get stressed with it. Now that he doesn't have to do it, we play about it and make it fun for him."
As their partnership grows all the time and her "kindest orange giant" stays more relaxed, she hopes that he will make it to Grand Prix.
"I would love to compete Noki internationally at the senior small tour level and at the U 25 Grand Prix after the Paralympics next year."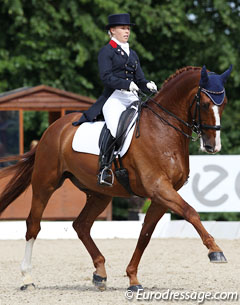 Currently Sophie concentrates full-time on horses and riding. She gave up her studies in Sport and Exercise Science at university because she found it impossible to combine it with her riding. "These kind of opportunities only come once in a life and I want to grab it with both hands, I can go back to university later if it's right."
Although Sophie is lucky to have some boxes and paddocks as well as an Olympic size outdoor arena on her father's farm in Newark she has to do most of the work on her own as she has no regular groom. Only at competitions Michelle Tipper sometimes grooms for her as she did in Kentucky. After mucking out in the morning Sophie gets her horses ready for training and in the afternoon she does the usual paperwork correlated with running a business like this.
"But I am also much away which is not ideal for my 7-year-old youngster at home who due to this had a back seat over the past two years. When building up to competitions I base at my trainer's yard and when I am there I help her with her horses, too."
So many decades ago Lis Hartel had shown that it is possible to succeed taking on the challenge competing against able-bodied riders at the highest of levels in dressage.
Now a determined young British rider could be walking in her famous footsteps. Sophie doesn't think it's the impossible.
"Of course I dream of representing my country at the Olympic Games one day because I have always grown up not wanting to be treated any differently because I have a disability. I have the same aspirations as any other able bodied rider. I want to compete at Grand Prix, represent my country and maybe at the Olympics one day, but I have a long way to go and obviously it cannot be done without the right horse."
So far Sophie not only had the luck of having the right horses, but also the right trainer: "Angela Weiss and me are a strong team. I couldn't have achieved what I have without her."
And nothing seems more true for such an ambitious person like Sophie than the old idiom "where there's a will there's a way."
by Silke Rottermann for Eurodressage.com
Sophie Wells Profile
Date of Birth:  05/05/1990    
Place of Birth:  Lincoln, UK 
Profession:  Full time dressage rider
Hobby:  I don't have time for a hobby! But I used to play netball before my legs deteriorated...
Birth sign:  Taurus
Favourite quality: Determination
A Personal defect:  not being able to do as much fittening and strengthening excercise as I would like due to my disability, its frustrating!
Favourite book: Pippa Funnell's autobiography 
Favourite film:  Cool Runnings, favourite tv show: Friends!
Favourite actress: Sandra Bullock 
Favourite actor: Owen Wilson  
Style of music: Pop/R&B
Favourite singer or band:  Beyonce
Favourite car: i'm not really into cars! I wouldn't be without my lorry though, i lived in it for 9 months last year!
Favourite place you would like to visit: Australia
Favourite dish: English Roast Dinner
Related Links
British Young Rider Sophie Wells Wins World Para-Equestrian Games Gold Medal
Wells' Victory Takes Britain to the Top of the Medal Table at 2010 World Equestrian Games
British Junior and Young Riders Selected for 2011 European Championships
Owners Pinocchio and Mistral Hojris Awarded at 2011 BDSC Ball