Eurodressage F.O.C.U.S.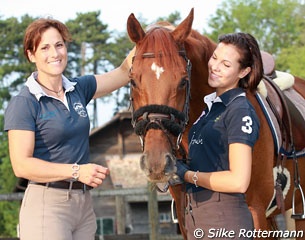 At the CDIO Saumur in the spring of 2011 a giant liver chestnut horse and his lady rider enter the arena for the Grand Prix competition when the heaven opens after some nice days. Completely undisturbed by the changing weather they show a ride
not dominated by technical perfection, but by a certain harmony which makes the rider smile at the finish.  My first impressions are confirmed six weeks later when Swiss Antonella Joannou and her Swiss bred Wantino CH win the warm-up Intermediaire II at the 2011 Swiss Championships, creating once again the impression that dressage is a fun affair. 
Because this Swiss pair represents what we are hopefully all looking for in dressage -- harmony, lightness, charm and happiness -- I drive off to the French speaking part of Switzerland to get to know a remarkable family, who has not yet been in the media spotlight, but who are absolutely devoted to horses and dressage.
The Dressage Gene
Somewhere in this family there has to be a dressage gene which is carried on successfully from generation to generation. On shows you will almost never meet Geneva based Antonella Joannou without having two other ladies in tow: Her mother Veronique Favre and daughter Léana Joannou.
All three have shared passions: horses and dressage. Whereas Veronique Favre has been an international dressage rider for Switzerland with her Swedish horse Chante d'Arôme during the 1970s and nearly missed team selection, Antonella and her 18-year-old daughter continue the family tradition by representing Switzerland at CDI shows in the senior and junior classes.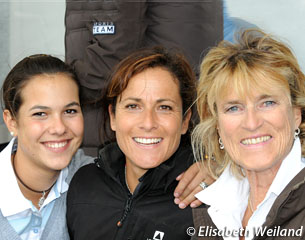 What might be more or less natural for many of their rivals is some kind of gift for Antonella and Léana as both currently find themselves in the fortunate situation of having two horses at their disposal to go international.
Though horses have been a family thing for generations, Antonella does not have the big financial possibility to buy ready made horses or flashy moving young prospects. During her whole career she had to rely on horses in which others would not have invested much time. One reason for that might be her interesting equestrian past which began when she was a small child in her father's stable.
"Our family is riding in the 5th generation and we do dressage in the 3rd. My parents got divorced when I was just three, but as my Mum was a dressage rider and my father owned a riding stable near Geneva I grew up with horses from the beginning," Antonella explained. "I never had a pony of my own what is usual today, but started on a nice mare when I was 8. When I turned 11 my mum offered me to ride her S-horse Chante d'Arôme which absolutely sparked my love for dressage."
So Antonella, whose father was a jumping rider, left school at the young age of 15 to follow her passion. One year she trained at home, successfully competing Chante d'Arôme at the Swiss juniors division. Then, instead of looking for an apprenticeship in one of the few dressage stables in Switzerland at the beginning 1980s, she went to the circus.
Learning on the Psychology of the Horse
One might wonder why on earth somebody went to the circus to get to know more about dressage. In Switzerland this was not such an unusual occurrence as Circus Knie was (and still is) a renowned place where dressage riders seek advice from Fredy Knie senior. This late director of Circus Knie became famous worldwide for his new and horse friendly way of training circus horses, taking the sensitive psyche of the horse into account. Many of the best Swiss dressage riders have worked occasionally with Knie like Georg Wahl after he left the Spanish Riding School in the 1950s, later looking back "on a time where I learnt most on the psychology of the horse."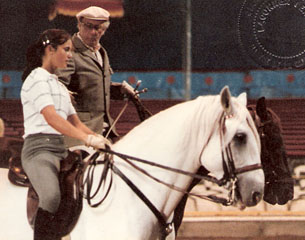 Antonella travelled with the circus for more than two years, preparing horses for the shows and training under the eagle eye of Fredy Knie senior every morning.
"We started with seat lessons at the lunge. I had to cross my arms behind my back and ride without stirrups in the small round school. Some time later on I was allowed to ride Red, a horse who later went on to become an international Grand Prix horse with Daniel Ramseier and who first belonged to Knie. Riding with Knie was less about bringing technical details to perfection, but learning an awful lot on the horse itself, on its way of thinking and reacting and how we people have to handle it."
Antonella frankly admits that one of the fundamentals she learnt from Knie was to praise horses immediately after they had done something well. "Knie always rewarded the horse with his calm voice and very small cubes which horses could quickly chew with a bit in the mouth." Another important lesson Knie taught the Swiss teenager was focus: While riding the rider is obliged to focus completely and entirely on the horse and nothing else.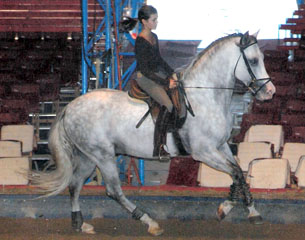 "It was a bit scary, but Knie could read my mind. When I was tired in the morning and sat on the horse thinking I would like to have a rest instead of riding he immediately reprimanded me for that. For him a rider had to completely be with the horse, feel it every second when riding. It taught me an invaluable lesson and I still follow this principle today when I work a horse."
In hindsight Antonella's decision to go to the circus instead of starting as a bereiter was a wise one and influenced her way of riding and training in a tremendous way.
"Of course if one wants to ride dressage it's important to know about technical details and work on them. But it's of paramount importance that you first and foremost understand the horse's character and sensitivity and take it into account in whatever you do. If dressage is only about technic it's not human and horses are human beings."
Dressage to Improve Horses
In today's world, in which the different breeds produce extraordinary horses almost in series, the waning conception exists that dressage is not there to satisfy the public's desire for sensation, but to do the horse good. Antonella never had another plan than following the original intention of dressage as she was financially forced to work with less expressive movers which influenced her way of training.
When she came back from Knie luck was on the 19-year-olds side. The brother of former FEI judge Pierre-Eric Jaquerod, Emile, approached Antonella, asking if she would like to ride a horse called Fiorello whose owner had had a bad fall.
Fiorello was quite renowned: a Westfalian who came to Switzerland as a three-year-old stallion and trained by Olympic Champion Henri Chammartin for his owner. He did well until he got castrated and became very lazy.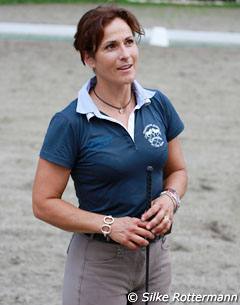 "Olympic riders such as Ulrich Lehmann and Daniel Ramseier tried to motivate him again, but his working attitude remained on a low level. After his owner's bad fall he very generously offered me to have the horse and do with him whatever I like. I was not allowed to sell him, but he was like my own," Antonella remembered.
With the expectations lowered she managed to get the horse on her side and Fiorello enabled her to become the 1988 Swiss champion in the Young Riders division. "I was so happy with him, although we did not go to the European Championhips in Italy as the Swiss Champs were held after them."
The pair went on to compete in the senior division as well and Antonella represented her country for the first time in CDIs in Munich and Donaueschingen. "Fiorello finally made a Grand Prix horse, even though he never showed a very good piaffe and passage, but I was happy when we came 8th in the Swiss Champs in our first year out of Young Riders."
The 1990s slowed down Antonella's competitive riding a bit as she gave birth to her daughter Léana in 1993 and to her son Ian in 1998. A pregnant Antonello took part in the 1998 Swiss Championships on a very small horse called Treffle de Coeur, a former jumping horse with rather mediocre gaits which she retrained to become a dressage horse.
"If you have a horse lacking lots of quality it is even more important to pay attention to the training scale, slowly building up strength and taking care the horse always keeps its rhythm and the impulsion. Moreover for me it's essential that everything is as fine and light as possible. Dressage should also be about the quality of the harmony between horse and rider and not entirely on the quality of the gaits a horse owns by birth."
The Horses in Switzerland
Over the past year the surname Joannou repeatedly appeared at national and CDI /CDI-J shows. Antonella and her now 18-year-old daughter Léana share their passion for dressage and form a well working team, taking care and training three horses daily alongside each other.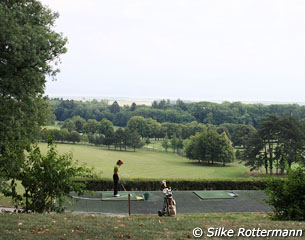 Not far from Geneva one finds the Bonmot Golf Ressort, a beautifully located country club above Lac Léman with extensive golf fields and a private riding property with some boxes, a very small indoor and an Olympic sized outdoor arena, being located next to an old church. Every day after school, Léana, who is in her last year at high school in Geneva, joins her Mum in Bonmot where they take care of Wantino Ch, Dandy de la Roche CH and Orlando.
These three horses could not be more different: The Dutch warmblood gelding Orlando is a blood influenced small ladies horse whereas the Swiss bred 12-year old Wantino CH might be one of the biggest Grand Prix horses around: big framed, strong boned and standing well over 180 cm. Dandy de la Roche, another Swiss warmblood and at age 6 the youngest, is the perfect dressage type one could wish: A handsome middle sized horse with meaningful lines who is an elegant long striding mover.
"Dandy is the best horse I ever had! Not only does he own exceptional gaits, but he has a very good character and always wants to learn and please. His sensitivity and over-eagerness are a challenge because he easily gets tense," Antonella reported.
The 6-year-old by Dressage Royal x Walt Disney I was bought as a 3-year-old stallion, but gelded after an incident in which he jumped the door of the indoor arena and had to have a 6 month rest. In 2010 Dandy and Antonella competed for the first time in the promotion classes in Switzerland which are comparable to Bundeschampionate qualifiers in Germany. They competed at four shows and turned out to be almost invincible, winnig 7 classes and coming second only in one. As a clear favourite Dandy won  in a convincing way two classes at the 2010 Swiss Young Horse Promotional Final hosted at the Swiss national stud of Avenches In the final a score of 8.57 was sufficient to win the title of best Swiss bred dressage horse of the 5-year-olds.
The outstanding quality of the chestnut raises the question why he had not been selected for the 2011 World Championships for young dressage horses in Verden this year where Switzerland only had Markus Graf and Weltjunge CH as representatives.
"Dandy had been amazing in 2010, but I very much felt he needed time off from competitions to mature and to keep his mind at rest. I did one M-test in July and he came 4th out of 23 starters. He has the quality and I know this without promotion qualifications throughout the year. Currently all Dandy needs is time, no pressure and a constant change in his training. He is only ridden four times a week, the rest we go for a walk with him and he goes in the field." While Dandy is Antonella's greatest hope and a horse which is owned entirely by her, her recent Grand Prix horse Wantino CH is a different case.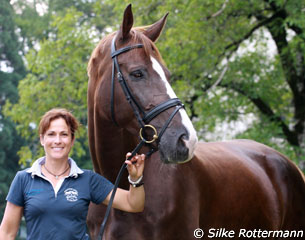 "I think we can frankly say that Wantino surprised us all by making it to Grand Prix. I began riding him once a week for his owner Philippe Marmet when Wantino was five and I did this until he was 10. He was competed by his owner up to M-level. With every step forward he did, climbing up the dressage ladder, we considered it as very nice, but it was not planned from the beginning"
Wantino is a very big horse and you never know how well such a horse will handle collection at S-level. "So when Wantino neared advanced level his owner and I decided that somebody more experienced should take him over and I was the lucky chosen one."
In 2010 the liver chestnut with the blonde mane and tail not only had his debut at S-level, but also in the Grand Prix at the end of the year. Wantino CH won several Prix St. Georges tests and placed highly in Inter I- classes in Switzerland. "He is a consistent learner and as he was ready to do the Grand Prix programme we did one in December 2010, placing 7th of 11 starters", Antonella reported.
Wantino CH does not have a typical dressage pedigree with Wandango as sire (dam by Weinfürst). This liver chestnut stallion is some kind of living legend in Swiss breeding, imported from Holland to Switzerland by the Etter family. Wandango has proven himself as a Grand Prix jumper and is a highly frequented sire for many years now, siring mainly S-jumping horses.
Wantino CH has inherited his sire's liver chestnut colour and when one sees him untacked one could also suppose him to be a show-jumper with his strong bones and extremely big frame. But as soon as this gentle giant moves under the saddle he does it with surprising light-footedness and ease. "Yes, people are always surprised if they see him for the first time. You just don't suppose such a horse to be able to move so smoothly."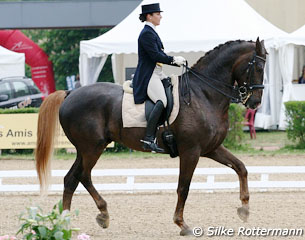 When both had their first CDI start in Saumur in spring 2011 a slight uproar came from the crowds when Wantino CH trotted in the arena for the first time. It's the amazing contrast between his massive appearance and the lightness he displays with his rider that catches the spectator. A Frenchman approached Eurodressage right after the ride to ask if we knew more about this huge horse. He has one of this size himself and felt strongly encouraged to keep on training after he saw Wantino at Grand Prix level.
At the Swiss Championships in June Wantino CH, a laid back character, was a bit of a surprise in the warm-up Inter II. He won it with a faultless ride ahead of Marcela Krinke on her European Championship team horse Molberg. An 8th place (of 17 starters) in the Grand Prix and a 5th in the freestyle meant a 7th place overall and lots of room for improvement.
When asked if she thinks Wantino CH could make a team horse in the future Antonella laughed: "Oh, I don't know. With him we never know. When he was at L-level we did not know if he makes M, then at M we were not sure he would do S and now he's doing Grand Prix. Let's wait and see. I am not the kind of person planning things like that. Apart from the fact that with horses you never know I focus on other things in my work with them than reaching certain results. Wantino CH is a good horse, but I really want to improve the lightness and ease with him. He still needs to get more experience with the Grand Prix movements. My dream is to ride a faultless Grand Prix with lightness."
Dressage, a Family Affair
Antonella and her talented daughter Léana do not have a trainer on a weekly basis at their home near the French border. They are quite far away from Switzerland's renowned dressage trainers who are all located in the German speaking part of the country. At shows, but also at home both help each other and Antonella's mum Veronique supports them there and on the shows.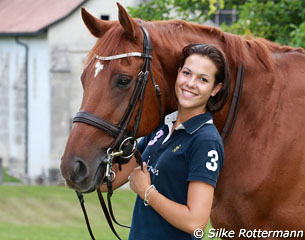 For quite some time now both train once a month with French Dominique Flament who had been a member of the Cadre Noir and came 9th individually at the 1980 Alternative Olympic Games in Goodwood. "In the past Dominique trained on a property not far away so it was easy for him to come here and teach us, but now he has moved back to the south of France. So he comes once a month by plane and teaches Léana and me."
Léana, Antonella's talented 18-year-old daughter, was lucky that Dominique Flament had the right horse in his stable when she had to quit  pony classes which she had done with her Connemara gelding Itou des Luner. "I started riding as a young child and concentrated on dressage when I was 10. At my first Swiss championships in pony dressage Itou and I managed to win the bronze medal which was great. When I had to switch to Juniors I was in need of a horse and Dominique told us he had a horse for me."
It was double luck for the Joannous that not only Flament had a ready trained Prix St. Georges horse for sale, but that Léana also had an extremely generous lady, a friend of the family, who agreed buying it for her.
"Orlando came to us in 2008. Previously he had been competed at small tour level in France. We worked about a year together before we went out for the first time. Orlando is a fabulous horse, he always tries for me and he is my best friend," said Léana, whose horse follows her like a puppy.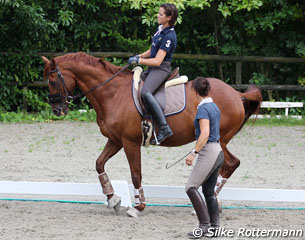 The now 15-year-old chestnut is the ideal ladies horse: Not too big, beautiful and elegant he makes a pleasant picture with Léana who had won the 2010 Swiss Junior Riders Championships with him. "In 2009 we had our first Swiss Champs and we came 7th. When we won in 2010 I had been at Gilles Nvogan's stable for 3 weeks. It was my best experience to this day. He prepared me mentally and physically in a way that I felt we were able to tackle the Swiss Champs as a ready pair."
Unfortunately their biggest success so far arrived a bit too late because the 2010 European JR/YR Championships in Kronberg were held earlier and Léana was not nominated on the Swiss team because her international results were not good enough to be considered. A bit like her mother, Léana, though ambitious in her riding, doesn't mind too much about missed opportunities and takes it all with a smile, even when she missed the European Championships in 2011 again.
"I won silver behind Sonja Ramseier and as this time the Swiss Champs had been held before the Europeans in Denmark I of course hoped to get a chance," Leane admitted. "In the end the Federation decided not to send a team and only Sonja as an individual. I was a bit sad because Orlando is 15 and it had been our last chance, but never mind. Now I concentrate on my first year at Young Riders in 2012."
Looking Ahead at the Future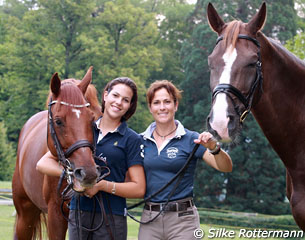 The future is unpredictable, but Antonella hopes "to learn even more with Wantino CH. I do not have the aim to start at a particular show and on a show I do not look who my rivals are. The only thing I have to know is my starting time and then I want to have fun with my horse. Wantino CH is not the most beautiful one, but he is very special and has lots of presence. It will be interesting to see which path we are going on in the future."
Léana thinks in a similar way: "The future for me means finishing school next year, but I am not sure yet what to do afterwards. I love horses so much and I like riding that I dream of making horses my profession. But my Mum is not enthusiastic about it as she knows how hard it is nowadays to make oneself a name and be successful in this business. So maybe I go to university, but it has to be one where I can combine my riding with the studies."
The Joannous are a dressage couple of a different kind, taking a sport like dressage as seriously as necessary, but always in a positive cheerful way instead of grinding their teeth for success. In this way a wind of change is blowing in this Alpine country.
Article by Silke Rottermann for Eurodressage.com
Photos: Elisabeth Weiland, Silke Rottermann, private archive Antonella Joannou
Related Links
Eurodressage Photo Database: the Joannous
Surprise, Surprise: Markus Graf is the 2011 Swiss Dressage Champion
Kayal du Perchet, Dandy de la Roche, Don Camillo II Win 2010 Swiss Young Horse Championships