German Dressage News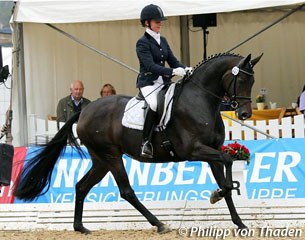 Melanie Wienand, the Verden auction rider who fell off an auction horse on 12 November and sustained a severe head trauma, is finally on the road to recovery.
At the 2011 Verden November auction, the 31-year old Wienand got thrown out of the saddle and crashed on her head, cracking her helmet. She immediately lost consciousness and was transported to a local hospital in Rotenburg. Despite her grave head trauma, Wienand had not sustained any bone fractures or injuries to her spinal cord.
Melanie remained in an induced coma for weeks due to swelling in her brain. As soon as the swelling disappeared she was moved to a specialised rehabilitation clinic, where she gained consciousness one week ago. She is slowly starting to react to people and expressing her first words again.
Wienand has been an auction rider in Verden for three years.
Source: St. Georg
Photo © Philipp von Thaden
Related Link
Verden Auction Rider Falls off Horse and Knocked Unconscious
Courtney King-Dye Severely Injured in Riding Accident