Dutch Dressage News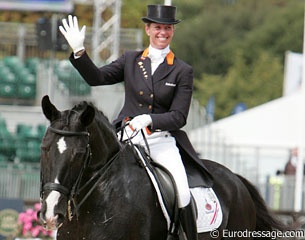 Anky van Grunsven has officially confirmed her contention for a Dutch Olympic team place with Salinero in the Dutch newspaper De Telegraaf on Friday 13 April 2012. Her Olympic endeavour with Upido has been cancelled and Van Grunsven will be competing Salinero at the two Dutch Olympic selection trials in Hoofddorp and Rotterdam.
To secure a team medal chance at the 2012 Olympic Games, The Netherlands will be relying again on their most successful equestrian athlete in history, Anky van Grunsven, with her senior Grand Prix horse, the 18-year old double Olympic Champion Salinero. The Hanoverian gelding did his last major championships in 2009 and made a surprising but high scoring come back in July 2011.
"Salinero is top fit and still healthy," Dutch chef d'equipe Sjef Janssen told De Telegraaf. "There is no reason for him not to participate."
Anky always said there was little challenge in competing Salinero at his third Olympics and she preferred to qualify her new horse Upido for the Games. Acquired almost one year and a half ago, the Grand Prix level confirmed Upido so far has not yet been competed by Anky.
"Because of circumstances the development of this horse stagnated a bit," said Janssen. "Furthermore Anky won international shows again with Salinero last year. That is why we chose for that option."
Van Grunsven says there has been no change of heart. "To me nothing has changed to what I have said before," Van Grunsven told Horses.nl. "I will see how Salinero does this season and in regard to London Salinero will sort of decide if we are going or not. I will let it depend on him. Personally I don't think it's so exciting because I'm not really sure what I want exactly. Time will tell. You never know how it goes. We saw that earlier this week with Vontango."
Upido is no longer up for Olympic consideration. "London is probably too early for him," said Anky. "He had a minor injury and is behind in his training. We are training him lightly again, but I probaby won't make it for London."
Van Grunsven and Salinero are entered to compete in the CDI tour at next week's World Cup Finals in 's Hertogenbosch. The Dutch Equestrian Federation also confirmed her entry at the 2012 CDIO Saumur in France at the end op April before the Dutch selection trials in June.
Photo © Astrid Appels
Related Links
Sjef Janssen Counts on Anky and Young Horses for London
Madeleine Witte-Vrees' Vontango B Passed Away
Spanish Grand Prix Horse Upido C-TL Sold, Moving to Stable van Grunsven