German Dressage News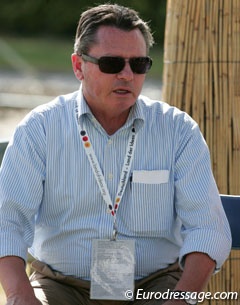 Holger Schmezer, national coach of the German Dressage team since 2001, passed away suddenly in the Netherlands last night. The 65-year-old was found in his hotel room in 's-Hertogenbosch, venue of the World Cup™ Dressage Final 2012, to which he had travelled with the three German riders competing in the event.
Holger Schmezer was born in 1947, the son of a naval officer. At the age of 15, he discovered modern pentathlon and took particular interest in the equestrian element. He gradually concentrated on riding and began competing in Jumping and Eventing. After graduating as a certified horse trainer, he spent four years with the legendary Dressage coach Willi Schultheis.
He managed a private stable for eight years and in 1979, he established his own dressage practice. The following year, he became a professional riding instructor and steadily gained an excellent reputation as a trainer. As a competitor, he won over 100 national competitions and was placed in numerous international events at Grand Prix level.
In 1996, Holger Schmezer became the national Dressage trainer for the Junior and Young Rider teams and five years later, in 2001, he was appointed as national Dressage coach to the Senior team.
All the riders and officials, who took part in today's Reem Acra FEI World Cup™ Final Grand Prix in 's-Hertogenbosch, came out for a minute's silence in Holger Schmezer's honour held before the prize giving ceremony.
The three German riders competing in the Grand Prix – Isabell Werth, Helen Langehanenberg and Nadine Capellmann - dedicated their performances in today's Grand Prix to their mentor, wearing black armbands in his honour.
"The loss of Holger Schmezer is a terrible blow to the German Dressage team and to lose such an inspirational coach in an Olympic year is tragic", FEI President HRH Princess Haya said. "Our hearts go out to his wife Martha and his six year old daughter Olenka for their terrible loss and to all his many friends and connections in the equestrian world."
The FEI expresses its sincere condolences to Holger Schmezer's family, to the German Equestrian Federation, and to the German equestrian community.
Photo © Astrid Appels
Related Links
Holger Schmezer Dies Unexpectedly in Den Bosch
Holger Schmezer to Resign as German Team Coach After London
Holger Schmezer Believes Germany "Has a Chance" for Olympic Medals