2012 CDIO-PJYR Roosendaal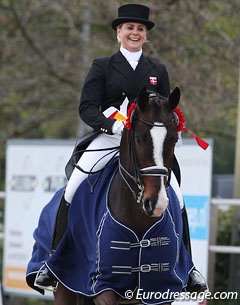 Swedish based Danish rider Anna Zibrandtsen was in charge of the junior riders division at the 2012 CDIO-PJYR Roosendaal, held at equestrian centre Den Goubergh on 4 - 6 May 2012. Riding her two horses Capriciella and Gorklintgaards Domello in the CDI-JR tour, Zibrandtsen won  the CDI Team Championship Test, Individual Test and Consolation Class as well as the combined CDI & CDIO Kur to Music.
Trained by Jan Brink and working at his stables in Sweden, Zibrandtsen was the 2011 European Championship double bronze medalist and winner of the 2011 Ecco Cup Finals for Juniors. The sympathetic Dane has proven to be on form again in 2012 as her 10-year old chestnut mare Capriciella (by Cordoba x Wenzel I) grabbed the victory in the team test (70.00%), individual test (72.28%) and Kur to Music (75.458%). With her second ride, the 9-year old Danish bred Gorklintgaards Domello (by Diamond Hit) she was second in the team test (69.234%) and individual (71.052%) and won the consolation class (68.73%).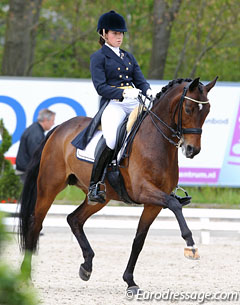 In the CDIO tour Dutch based Italian Chiara Prijs-Vitale won the Team Championship test aboard Michele Betti's Oldenburg mare Hot Chocolate (by Sandro Hit x Landstreicher). The combination scored 70.675% and stayed a fraction of a point ahead  of Dutch Suzanne van de Ven on the 17-year old Rhinelander mare Donna Gracia (by Donnerschlag) with 70.630%. Van de Ven went on to win the CDIO-JR Individual Test with 71.973 but had the 16-year old Jeanine Nieuwenhuis on her heels. Nieuwenhuis rode her trainer Leunis van Lieren's Baldacci (by Havidoff x Rubiquil) to a 71.403% score.  In the Kur to Music Van den Ven was second with 73.250% followed by Antoinette te Riele aboard Leida Strijk's Ziggy (by Riverman) on a 72.125% score.
Photos © Astrid Appels - No Reproduction allowed
Related Links
Scores 2012 CDIO-PJYR Roosendaal
Pony Top in Tight Battle at 2012 CDIO-PJYR Roosendaal