2012 Dutch Dressage Championships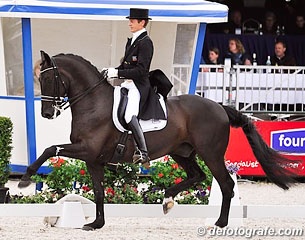 Edward Gal and the Dutch warmblood gelding Undercover became the 2012 Dutch Grand Prix Dressage Champions at the Nationals in Hoofddorp, The Netherlands, after a winning Grand Prix Kur on Sunday afternoon 10 June 2012. Gal and Undercover have only been a combination for half a year but the pair matured fast and has been able to become Holland's number one combination in the absence of Adelinde Cornelissen.
The 2012 Dutch Dressage Championships will go down in the books as a roller coaster event bringing out extremes not only in the weather conditions, but also in the emotions of the riders. The Grand Prix championship took place over three rounds, a Grand Prix on Thursday, a Special on Saturday and the Kur on Sunday. Riders were up to a challenge in the first two tests as windy weather made several horses spooky and helped to re-arrange the ranking.
Edward Gal was the most consistent rider of the show with the three horses he had brought along. Aboard the Austrian owned Undercover he won the Grand Prix with 75.766%, the Special with 76.422%, and the Kur with 83.65%. The Danish owned Romanov (by Rohdiamant x Grundstein II) was second in the GP and Special but Gal was only allowed to ride one horse in the kur finals.  For Undercover he grabbed an old freestyle out of the bag and took highest honours. Edward has put himself in a very strong position for a spot on the Dutch Olympic team.
"Intelligence-wise Totilas and Undercover are very much the same and from the first moment I had a very good feeling on this horse," Edward commented after winning the national title for the fourth time in his career (2004, 2009, 2010, 2012). "He is a quick learner even though he's inexperienced in the show ring. This was the first time we competed three days in a row and you always have to wait and see how it works with a horse. To my feeling he climbed from a really good form to top form. I still can't make him trot the way I want, but the trot is still improving. The kur I rode is an old one but now we are going to work hard on making a new one. He deserved it. It won't be ready before Rotterdam, but if the team coach decides to take me to London, I'll make sure I have one ready."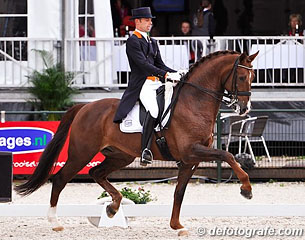 Gal's life partner Hans Peter Minderhoud had a show of major highs and lows. His number one horse Tango (by Jazz x Contango) put in a strong Grand Prix test and was third in the ranking with 74.362 %. In the Special, however, the temperamental stallion got terrified by the wind banging into the tents and the 2009 Dutch Olympian had to retire his horse. On his second ride, Silvia Rizzo's Danish mare Donna Silver (by Don Schufro x Willemoes) he was fifth after the Grand Prix (73.277%) but had a few issues in the Special (69.178%). Unfortunately the mare was pulled out of the competition before the freestyle on Sunday because of a temperature.
This opened up room for Anky van Grunsven to move into a final silver medal position after two disappointing rides in the Grand Prix and Special, but an amazing come back to old glory in the freestyle. The 18-year old Salinero lost some of his sparkle, which shows in his overall expression and lack of power in the trot extensions. A string of small mistakes meddled with top scores in the Grand Prix (73.830% - 4th) and Special (73.133% - 5th), but in the freestyle the Queen of the Kur returned with a vengeance and was able to motivate her double Olympic champion Salinero, who has been competing at Grand Prix level for almost 10 years, to do the job. The horse's mouth was often open throughout the test and there was no end halt, but the dark bay gelding truly danced to the piano tunes of the Wibi Soerjadi composed freestyle and was sharp to his rider's aids.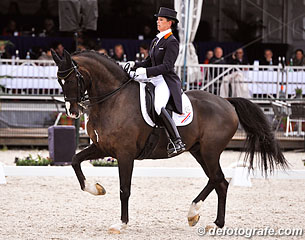 A highly emotional Van Grunsven was in tears in front of the camera on national television. "I'm super proud that I was able to ride such a test with Salinero today. The other two days were just not good enough and today I was happy with him. I'm proud that at his age he performed at this level. I'm very emotional that I can experience this," Van Grunsven said. Anky admitted there was a lot of self doubt before heading to the the 2012 Dutch Championships, which counted as first Dutch Olympic observation trial. "I was very unsure of myself and now it all the pieces fall together. I never expected I would get that feeling back. The first day it went too slow, the second it went too hard. What is this? I lost the feeling. I was insecure about myself and that's a pity. Salinero doesn't deserve that; that's what horse people think. And then today it went so well, so I'm mega happy." Van Grunsven burst into tears when the news reporter said he was suprized to see such an emotional Anky, who has been there and done it all before. "Because Salinero's been doing it for 10 years and still does it; it's so good of him," she sobbed.
During those four days in Hoofddorp Anky veered between retiring her horse and decisively going for her third Olympics on Salinero. "I have decided for myself that I won't make a decision today because I'm on a roller coaster. It's yes, no, yes, no, is he too old, do I ride badly, have I lost the feeling, do I have the feeling. I was on all sides with my feelings. I'm going to give it some time today and will think again tomorrow when I'm less emotional." (see video)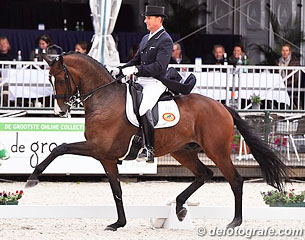 Patrick van der Meer and the Dutch warmblood gelding Uzzo (by Lancet x Indoctro) became the shooting stars of the championships, overtaking routinier Imke Schellekens-Bartels who struggled to find form during the weekend on her spooky Jazz gelding Toots. Van der Meer moved from an 8th place in the Grand Prix (71.851%) to a 4th in the Special (73.444%) and a bronze medal in the Championships after a third place in the Kur (79.32%). The long-legged and refined Uzzo, who is a former World Young Horse Champion, was solid throughout the weekend and rose to the occasion.  Van der Meer is currently training with Hans Peter Minderhoud.
"We made such progress compared to last year and I never expected to become third. It's an Olympic year and you expect the strongest competition. I'm so incredibly happy that I was able to position myself amongst them. I fully focused on my own thing and didn't let anything distract me. This truly helped me to put down a top performance," said Van der Meer.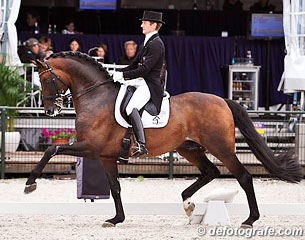 The 2012 Dutch Championships were not the ideal setting to weigh in on which combinations would be the best for the Dutch Olympic team with inconsistent performances and horses spooking. Team coach Sjef Janssen commented that "these Championships have not made me any wiser. I hope Adelinde and Parzival will return to the show ring soon. I noticed that Undercover does not want to make mistakes and Uzzo became the surprise of the Championships." About Salinero Janssen said that, "he's fit enough, but it's like he's is less motivated than in the past. He has more difficulties to be up for the job. Physically he's can do it. I see him daily in the training, there's no problem, but at the shows he's different than before and that surprises us."
Kur Judge at C, Francis Verbeek, was very enthusiastic about Anky's freestyle. "It was a kur of a very high level which comes close to the best form they had a few years ago. In my eyes Undercover was ahead of Salinero because of a better piaffe-passage tour and more elasticity. Patrick and Uzzo were in the right shape for a top performance. Uzzo is presented in such a fantastic way and has made tremendous progress since the last time I judged him."
Photos © Esmee van Gijtenbeek
Related Links
Scores 2012 Dutch Championships
Edward Gal and Undercover Take the Lead at 2012 Dutch Dressage Championships