Dutch Dressage News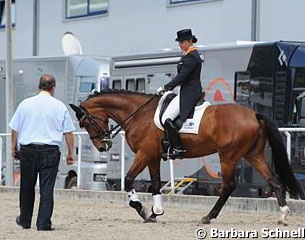 Dutch Under 25 competitor Lotje Schoots has been reprimanded by an FEI steward at the 2012 CDIO Aachen for training her horse Torricelli too long in the Low-Deep-Round position.
Dutch equestrian magazine De Hoefslag reported the news that Schoots was officially reprimanded in the warm up ring.
Schoots and her Dutch warmblood gelding Torricelli (by Florestan) competed in the Under 25 classes in which she finished third twice. She also finished second with the Dutch team in the Under 25 Nations' Cup.
At the event several people told the officials that Schoots had smeared something on her horse's tongue. After the test a blood sample was immediately taken from her horse. The test results will be back in two to three weeks.
In a reaction to Dutch equestrian publication De Paardenkrant, Schoots denied that she was reprimanded. Schoots stated that the steward only told her to watch out she stayed within the allowed time frame to train with the LDR method. "I always do that at the beginning of the warm up. Within the allowed time I put my horse in a higher frame and I didn't hear anything from them", she told Horses.nl. "
Schoots also added that the blood test was not out of suspicion something was smeared on her horse's tongue but that it was a regular doping check of the top three ranked riders. "The only thing I can thing of is that we gave Torricelli a few sugar cubes a few minutes before he went into the ring."
The FEI stewards on the scene were Jacques van Daele and Rolf Peter Fuss. The latter confirmed to Eurodressage that Schoots "was told to stop riding in this manner." Fuss added that Schoots warmed up for nearly an hour but not always in the LDR method. "In that moment where she was doing something against the rules, we decided to stop this," Fuss explained. "She was told this (to stop). She didn't got a yellow card."
Later on the stewards did see something happen to the bridle and mouth of the horse but at a distance from 60 meters away. They were tipped by a person that a substance was injected into the mouth. "For this I ordered a medication control," Fuss added.
Source: De Hoefslag - Horses.nl
Photo © Barbara Schnell
Related Links
Eurodressage "On the Scene" at the 2012 CDIO Aachen
Scores 2012 CDIO Aachen