A Walk on the Premises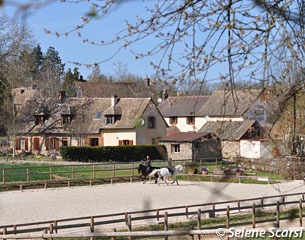 The picturesque Écuries des Basses Lisières, situated on the edge of the characteristic medieval village of Rouvres, just 60 kilometres from Paris and Versailles in the Department Eure-et-Loir, is where Marc Boblet is currently training around 22 competition horses, stabled in the delightfully restored barn of a charming French farm.
"We bought the farm in 2002, and there was nothing here other than a cow barn," recalls Boblet. "We slowly started to develop the premises, but the real turning point was the 2008 Olympic Games, when everything changed and I was able to invest more in the property." A separate stable with 15 wooden boxes was erected, allowing him some dedicated space for the stabling of privately-owned horses, horses for sale and horses of students in training with Marc for various lengths of time.
The premises also include an Olympic-sized indoor arena, an Olympic-sized outdoor arena, a horse walker as well as a lunging pen and several paddocks. Bordering a forest, the place offers endless possibilities for off-road hacking, with deer, rather than traffic, being the more likely encounters: the ideal way to end a hard working session on a positive, relaxed note.
Creating Happy Athletes with Happy

Given the picturesque surroundings and the intrinsically peaceful atmosphere, it is easy to get lost in one's own world at the Écuries des Basses Lisières. Were it not for the odd hoot of a tractor, or more commonly, a whinnie from the stables, one could quite easily become hypnotized by the silence. Marc therefore welcomes the watchful eye of Hans-Peter Minderhoud to keep him alert. But 'Happy' does a lot more than that, forming a new approach to riding which Marc says has transformed him.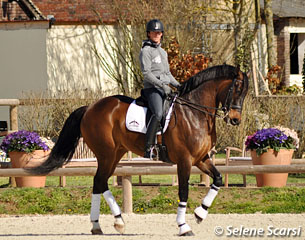 "It is so important, and at the same time so difficult, to find the right trainer," he says. "When you are on your own, you can do nothing for sure. I started riding with Happy one year and a half ago and he changed me a lot. With him, I discovered new feelings, about the contact and the connection, and about riding long, deep and round to improve suppleness. This obviously does not mean forcing the horse into a set position, but rather making the horse supple to enhance his athleticism so that the horse feels more comfortable in his/her own body. Riding like this is my priority now, on every horse," he continues. "In truth, I had always tried to ride in this way – i.e., focusing on a correct contact, for example –, but when I was on my own I could feel I was missing something. With Hans-Peter, it all suddenly became much easier and I discovered the true way. I take two or three horses to Harskamp for three or four days once a month and this is really effective. The essential thing for me is that, riding in this way, I can feel my horses are happier in their bodies, and I have a super feeling."
The team at Rouvres is completed by an assistant rider, a groom and a stable hand. "I have a German Bereiter to help me," explains the 2008 French champion. "Sarah Krusch is a very talented rider and she has been here two years now – it's very important to have a trustworthy team that you can always rely on: such a team is not so easy to find, and its value should never be underestimated".
Olympic Dream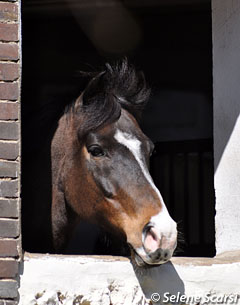 And of course, "the key thing is to have the chance, or good fortune, to meet the right person at the right moment: the owners, the sponsors, it all has to come together at the right time because without them, it's impossible to reach any goals." This is exactly what happened with Marc's Olympic mount, Whitni Star.
Whitni arrived at the Écuries des Basses Lisières in December 2005, initially to do the Medium-level classes with his owner Isabelle Chraibi. Whitni, easily recognisable as the distinctive dark bay horse with the cute white nose, was a rather ungainly horse back then. At first, Marc only rode him a handful of times a week, but soon realised that Whitni had huge potential, and was a fast learner, always eager to work and with the mind of a warrior. Within a couple of years, the combination won the French 'Critérium' Championships in the autumn of 2007 and went on to compete in the Olympic Games in 2008 where they finished 20th individually and 6th in the team ranking, this being only their sixth-ever Grand Prix.
Future Stars

Whitni Star was retired from competition during the Lyon leg of the 2011 World Cup and now spends his days happily in his paddock, from where he keeps a watchful eye over the daily training of today's number ones. There, he observes who could carry the Olympic torch in future. Indeed, Boblet is currently working a host of talented horses through to Grand Prix.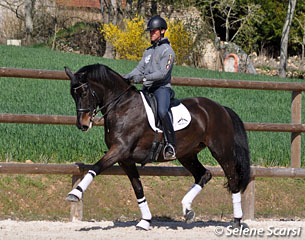 Laterna, for example, is a 12-year-old Swedish mare by Corrado x Gulliver, owned by Venezuelan Alejandro Gomez, who had bought the mare for himself but as she proved a little difficult Marc took over the ride when she was working at PSG level. "She is a really good mover, not always the easiest of horses, but she could go out at Grand Prix right now, after seven or eight months' training, which is testament to her rideability and temperament. Unfortunately she is for sale, but it's gratifying to have in the barn such a high-quality horse."
Alejandro also owns an 8-year-old KWPN called Zalvador (by Clint Eastwood), who is competing at international small tour and is showing plenty of talent for piaffe and passage. "I took him to the Fritzens CDI as his first ever show and there was, inevitably, lots of tension," comments Boblet referring to June's Schindlof outing. "He is a very big mover, with an amazing trot and pi-pa, but he needs to learn to be more relaxed and concentrated. This is really the only issue, but that will come with time." More pressure-free outings will get him over his stage fright and reduce this tension, and that is what Boblet intends to do in the next few months: "I plan to take him to a few internationals, even only to train so there is no pressure on him, because he definitely needs to get out more. He is still too worried when we go out."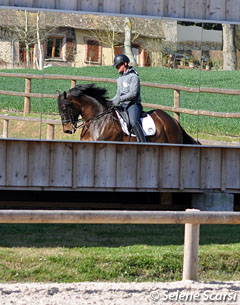 Another 8-year-old KWPN is Zjanthi, also known as Fiderboy in the barn, a gelding by Fidermark x Najinja (owned by Pierre Ibos), who has been at the yard since the age of 5 and now, at 8, can perform all the Grand Prix movements. "We found him when he was a youngster; he's a very nice guy with a lovely character," says the articulate rider. "He is very powerful, and this is a chance for me to improve my technique and start a horse from the very beginning and take him all the way to GP. He has changed a lot especially in the last 6 months, partially thanks to Hans-Peter's training."
Finally, perhaps the biggest raw talent in the barn is a 10-year-old mare by Caprimond out of a Donnerhall dam, Oldenburg branded but with Trakehner lines: Noble Dream. This beautiful black mare, owned by Laura Dallara and previously ridden by Jessica Michel – including multiple appearances at Verden's World Championships for Young Dressage Horses, where she was bronze medallist in the 5-year-olds division in 2007 –, is now starting her first season at international Grand Prix, with the piaffe-passage tour her particular strengths. This hugely talented mare is gifted with incredible athleticism and suppleness: she has no real weakness, and she lets Marc ride her with truly invisible aids, creating a beautiful image to watch. Marc enthuses: "She is very, very sensitive and can be quite marish at times, but when everything goes right and she wants to do it, she is the most amazing horse I have ever sat on". Laura Dallara's input is also more than welcome as the pair try to mould the next champion. "Laura is a very important part of my team - she believes in me, which means I can have complete control over the training of the mare," explains Marc. "Once in a while she gets on her, just to have a feel, and she is always delighted with Noble Dream."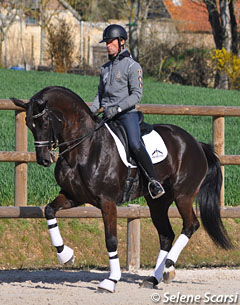 The first results of this partnership are already emerging, with Noble Dream turning a few heads on the international circuit. "We've just started this year with international Grand Prix: Hamburg first, then Fritzens," says Marc. "In Hamburg, she showed something special to the judges and to me - it was a very positive sign for me to see that she was awarded several 9s in the passage and extensions, but there were also lots of mistakes, purely due to lack of experience. In Hamburg she was on over 75% after the trot tour in the Special so that surely means something!" Subsequently, the combination went out at the Schindlhof, where their competitive education continued. "In Fritzens, she was still tense but very different – more confident in a few of the exercises, and she seemed to understand more clearly what she has to do, which was really encouraging. Compared to Hamburg, her piaffe in Austria was much improved; still a few mistakes, but this shows that she is getting better and better." The work continues at the Écuries des Basses Lisières, patiently building up to a particularly special event which will be held locally in 2014. "The long-term plan is to have her ready, ideally, for the Normandy WEG in two years' time, when she will be 12 so truly at her peak. At the moment, I am simply starting to know her reactions at shows a little bit better. I am aware that it will take a long time to make a real couple, because the show situation is obviously so different to training at home", reflects Boblet, whose next international with Noble Dream will be the Arezzo CDI at the end of September.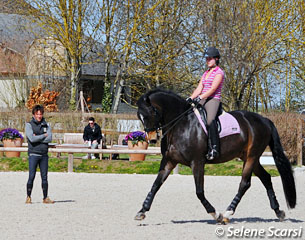 Laura, Pierre, Isabelle, Alejandro: it clearly all goes back to the 'back-up' team of staff and owners. "I have this small group of really good owners, who know me and believe in me and therefore are happy to entrust me with their horses," explains Marc. "I am given free rein on the management of the horses, so there is no pressure on me to get out at set times and get results. This is essential to me: we work in the same direction together – the owners, myself and my trainer – and this is the way to go."
Taking the rough with the smooth is also an integral part of riding dressage and this awareness is the foundation of Marc's patient approach and demeanour. "As a discipline, dressage is so difficult precisely because of the ups and downs, which are there for every rider - because that's life with horses: it's impossible to be at the top all the time," concludes philosophically Boblet. "So it's even more important to have the right mindset and the right people surrounding you, which enables the creation of a constructive and positive atmosphere. This mental aspect is absolutely crucial: as a rider, you need to find the right balance between self-confidence, which is essential, and keeping your feet firmly on the ground, which is equally important."
Text and Photos © Dr. Selene Scarsi for Eurodressage.com
Related Links
Another Double Triumph for Great Britain in the GP Special at the 2011 CDIO Saumur
Marc Boblet, 2008 French Dressage Champion
Karen Tebar and Falada M Withdraw from 2008 French Olympic Team
Astley Academy Honours French Dressage Figures of the Year 2008