Swiss Warmblood Breeding News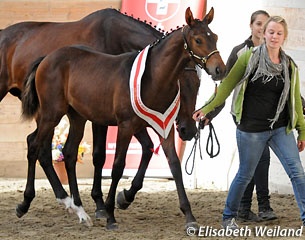 The colt Londano and the filly Jazz Queen were named dressage foal champions at the 2012 Swiss Warmblood Young Horse and Foal Championships held in Avenches, Switzerland on 14 - 16 September 2012.
The bay Jazz Queen MFW took the national title in the dressage filly category scoring 194 points in total for conformation, walk, trot and canter. bred by Max Fankhayser, Jazz Queen is by Johnson out of Fayahra MFW (by Feinsinn). The black filly Gianna RR (by Hot Spirit x Rubinstein) was named reserve champion with 288 points. bred by Hans Rudolf Reusser and owned by Carlo Schuler, Gianna RR was the recent price highlight at the Fehraltorf foal auction, selling for 25,000 euro. Gerard Lachat's Falluah de la Rouge Eau (by For Compliment x Buddenbrock) finished third with 184 points.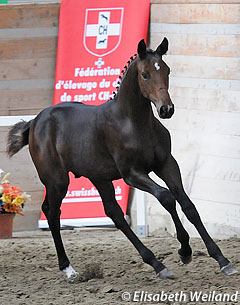 Londano took highest honours in the dressage colt category, winning the Championship with 298 points. Bred by Fritz Grunder and Hanni Zollbrück, Londano is by Londontime out of Rubi Songnight (by Sandro Song).  Bellini RR (by Belissimo M out of Guanira RR (by De Niro)) became the runner up. Bred by Hans Rudi Ruesser and owned by Salome Schuler, this colt scored 292 points. Thomas Schneider and Claudia Schwendener's Samson ZS (by Sir Donnerhall out of Sinfonie ZS (by Stedinger)) ranked third with 288 points.
Photos © Elisabeth Weiland
Results - 2012 Swiss Warmblood Foal Championships
Fillies
1. Jazz Queen MFW (by Johnson x Feinsinn)
2. Gianna RR (by Hot Spirit x Rubinstein I)
3. Falluah de la Rouge Eau (by For Compliment x Buddenbrock)
4. Dancing Flower (by Franziskus x De Niro)
5. Totally Brillaint ZS (by Totilas x Munchhausen)
6. Dreamy de Monfirak (by Dream of Night x Weltgeist)
7.  Filia de la Rouge Eau (by For Compliment x Silvano)
8. Amandachels K (by Apache x Negro)
9. Desirée (by Don Index x Rubin Royal)
Colts
1. Londano (by Londontime x Sandro Song)
2. Bellini RR (by Belissimo M x De Niro)
3. Samson ZS (by Sir Donnerhall I x Stedinger)
4. Charly Chaplin C&A (by Il Cesary x Big Cavallieri xx)
5. Desperaros MFW (by Distelzar x Aquilino)
6. Ritschi von Buchmatt (by Riccione x De Niro)
7. Dolcino (by Don Index x De Niro)
8. Jingle de la Roche (by Johnson x Del Piero)
Related Links
Kayal du Perchet, Dandy de la Roche, Don Camillo II Win 2010 Swiss Young Horse Championships
Casino von Worrenberg, Top Seller at Ruswil Swiss Sport Horse Foal Auction