2012 French Dressage Championships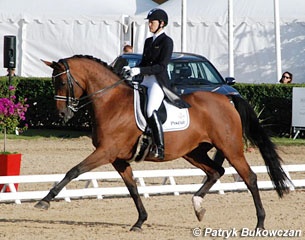 The 30-year old Petit Mars based Jessica Michel won the 2012 French Grand Prix Dressage Championships held at the National Equestrian Centre in Saumur, France on 21 - 23 September 2012. Aboard Riwera de Hus Michel swept the board and won all three championship rounds to take the gold. The silver medal went to Claire Gosselin, while Catherine Henriquet moved into the bronze medal position.
Michel and Xavier Marie's 11-year old Oldenburg mare Riwera de Hus (by Welt Hit II x Noble Roi xx) were the sole pair representing France at the 2012 Olympic Games in London and the combination continued to reign on the French circuit, winning the Grand Prix, Special and Kur to Music in Saumur. Michel posted scores of 72.511%, 73.778% and 77.719% to total 224.007 points for gold.
"What a week," said an ecstatic Michel who not only won gold at Grand Prix level but also collected gold in the young horse classes. "I'm super excited. Riwera was extraordinary. It was the first time she had done three tests at Grand Prix level on the same weekend. She really persevered. We achieved record scores in the Special and Kur. She's so amazing this 'Riri'."
Claire Gosselin and her 14-year old Selle Francais branded Karamel de Lauture (by Gribaldi x Donbito van de Helle) became a strong reserve champion with three very consistent rides over the weekend. She was third in the Grand Prix (67.766%) but moved to second place in the Special (68.689%) and kur to music (72.813%). Her total of 209.267 points placed her silver.
Catherine Henriquet and her 12-year old Saxonian bred Paradieszauber (by Paradiesvogel x Kolibri) landed the third place overall with 206.419 points and earned bronze. The classical dressage rider scored 65.149% in the Grand Prix and climbed the ladder with a 68.244% in the Special and a 70.219% for her freestyle to music.
Photo © Patryk Bukowczan
Results - 2012 French Dressage Championships

Grand Prix Level
1. Jessica Michel - Riwera de Hus - 72.511 - 73.778 - 77.719 --- 224.007
2. Claire Gosselin - Karamel de Lauture - 67.766 - 68.689 - 72.813 --- 209.267
3. Catherine Henriquet - Paradieszauber - 65.149 - 68.489 - 72.781 --- 206.419
4. Julia Chevanne - Luciano - 68.000 - 65.244 - 70.219 --- 203.463
5. Pierre Subileau - Talitie - 63.319 - 65.489 - 70.031 ))) 198.839
6. Jean Philippe Siat - Tarski van de Zuuthoeve - 65.128 - 65.000 - 68.063 --- 198.190
7. Michel Moure - Sultan - 64.085 - 63.489 - 68.438 --- 196.011
8. Ludovic Henry - Nirvana XV - 62.404 - 64.311 - 67.781 --- 194.496
9. Sarah Casanova - Ulan - 58.894 - 60.400 - 65.156 --- 184.450
10. Ludovic Henry - Udayan - 60.511 - 60.289 - 62.094 --- 182.893
Related Links
Arnaud Serre Renews Title at 2011 French Dressage Championships
Arnaud Serre Captures 2010 French Grand Prix Title on Corellou's Helio II
Siat and Collier Win at 2009 French Dressage Championships
Marc Boblet, 2008 French Dressage Champion
Karen Tebar Wins the 2006 French Dressage Championships
Hubert Perring, 2005 French Dressage Champion
Odile van Doorn Reconquers French National Dressage Title 
Scores 2003 French Dressage Championships 
Van Doorn and Parodie van de Wateringhoeve, 2002 French Dressage Champions
Marietta Almasy, 2001 French Dressage Champion