2012 Equine Elite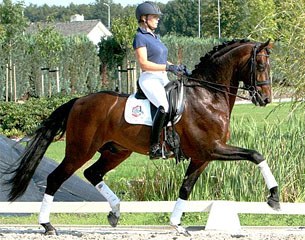 The construction of the auction hall at Stable Korenbloem in Weert, The Netherlands, is complete and this coming Wednesday 24 October the 2012 Equine Elite Auction will open its doors for the annual presentation of the auction horses. With a presentation that is almost as spectacular as the event itself, Equine Elite has become one of the most popular events in Europe supplying horses to countries all over the world.
In 2011 alone both the American and British national champions of the 5 & 6-year olds were purchased at Equine Elite auction. Forty horses qualified for their National championship finals and there are horses competing at Grand Prix on three different continents that were all purchased at the Equine Elite Auction.
2012 has again been a top year for the Equine Elite horses: the British PAVO cup champion Cashmir was yet another Equine Elite product. Another top horse is VIP, who medalled at the 2012 North American Young rider championships and went on to clean up at the Saugerties & Devon CDI's. The list goes on and on and includes 43 horses qualified for their national championships. T
he organizers are confident that this year's collection is again true to form with a fantastic line-up of horses.
On Wednesday the doors open at 18:00 and the presentation begins at 19:30. The entry is free.
The actual auction day is next Saturday 27 October and doors open at 11 am. There is a presentation, entertainment & lunch all afternoon and the auction begins at 18:30. Saturday is a ticket event by prior reservation, there are no ticket sales at the door. Happy hunting to those of you who have managed to get your hands on tickets!