2013 CDI Vejer de La Frontera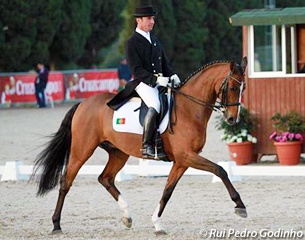 Portuguese dressage rider Filipe Canelas Pinto and his 14-year old Hanoverian stallion Der Clou got off to a steady start at the 2013 Sunshne Tour CDI in Vejer De La Frontera, Spain, but their Grand Prix Special victory on week one proved that something special is on the rise for Portugal.
"My result in the Grand Prix was conditioned by small errors as Der Clou was a little distracted during the test, and therefore the marks were slightly lower than expected," Filipe said about his 67.830% earning Grand Prix ride which ranked him fourth in a field of 16 competitors. "However, during my Grand Prix Special there was immense wind and as a result Der Clou began the test a little tense. Still as the test continued he gradually found his rhythm and gave me very pleasant sensation."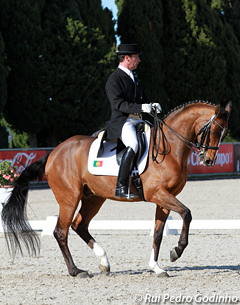 This "pleasant sensation" pushed the pair into the lead with a score of 68.188%, which giving Filipe a sure tour highlight. "I always prefer the Special over the Grand Prix, because besides winning, I think it is a really nice test to watch," he admitted.
Canelas stated that this victory was the result of years of comprehensive daily work. Filipe was glad to do so well at a competition that is not only nearby, but also really well run! "The Sunshine Tour is a very nice competition, the quality and friendliness of the organization, for its location, the quality of the arena surfaces and their infrastuctures," said Canelas.
His equine partner at the Sunshine Tour, Der Clou, is bred by Dr. Rainer Nitsch in Salzhausen, Germany, and is by De Niro out of Merzzauber (by Matcho AA). Canelas has been training the bay gelding since he was 5-year old. "The horse belongs to a client and is a very sensitive, delicate and a sympathetic horse to assemble, with an immense talent for Grand Prix," Canelas stated.
Training daily at his equestrian centre in Quinta da Alorna Almeirim, Portugal, Filipe runs internships and clinics, trains other young riders and horses, while also working to keep his own horses and clients happy! "I also train every two months with Richard White, along with the help of Francisco de Abreu Cancella and Sofia my wife," he said.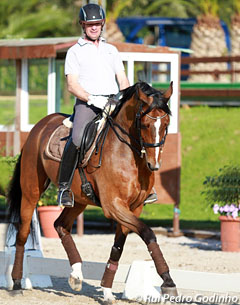 Based on the classical method, Filipe focuses on always maintaing the best relaxation and balance of the horse, so as to get the best performance in each exercise, and then combine it all into a test. "I consider myself a classical rider in that my ability stems from my origin in Portugal, but I also have a strong influence from the German technique.. This is due to all of the training I have done with foreigners with whom I interned and trained with throughout my already long riding career," he said.
Born in Portugal, Filipe has trained in the country all his life and believes this is no longer a negative in terms of results. However, he knows this makes the logistics a little more difficult. "I think the fact of being Portuguese in itself is not a negative, since the present set up is of high quality and when we perform a good test the judges know and are willing to grant us good points," Filipe explained. "However, the fact of living in Portugal is indeed a problem, because the travel to reach the centre of Europe is long and costly. This make the risk of taking your best horse and arriving with him not in the best physical condition very high, which may limit the horse's performances or prevent him from entering altogether!"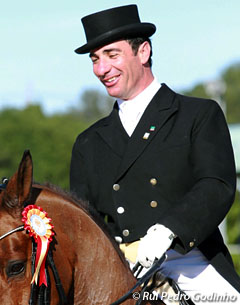 With a long dressage riding career, including 6 medals at the Portuguese Championships, Filipe hopes to use all this hard work and learning time to further his career keep on producing that something special. "I try to always have multiple horses (mine or owners) on the go. Right now I have three horses at GP level, some others competing at Prix St Georges, plus some young horses coming on. I have confidence in all of them and their evolution, just knowing that we will be sure to track their performance."
For 2013 Canelas has planned to compete in the CDIs of Toledo (Spain), Alfazeirão (Portugal), Saumur (France) and Pompadour (France) in order to be selected on the Portuguese team for the 2013 European Championships in Herning, Denmark.
Text by Sarah Warne for Eurodressage
Photos © Rui Pedro Godinho
Related Links
Scores 2013 CDI Vejer de la Frontera - Week One - Week Two
Jose Daniel Martin Dockx and Grandioso Big at Sunshine Tour with Quadruple Victory
Beatriz Ferrer-Salat Introduces Babies to the Big Time at 2013 CDI Vejer de la Frontera