Polish Dressage News
Polish Grand Prix dressage rider Michal Rapcewicz has received a yellow card at the 2013 CDI-W Central European League Finals in Zhashkov, Ukraine. His Polish warmblood Randon had bloody spur marks on both sides.
The FEI officially confirmed today (2 April 2013) that Rapcewicz got the yellow card.
The Polish rider was eliminated from the Grand Prix Kur to Music, which counted as League Finals, by Larysa Velyka, the president of the ground jury at Zhashkov. The chief steward at the event, who detected the spur marks, was Jan Poslyszny.
"It is true I have a Yellow Card and got eliminated after the kur," Michal Rapcewicz told Eurodressage. "This decision is a subject of my official protest. The blood was not on the spurs but near the saddle pad. The horse was freshly clipped and did not recover yet from recent fungus infection, which created a skin irritation."
For years Michal Rapcewicz was based in The Netherlands, but he recently moved back to Poland, where he now trains at a riding club near Warsaw.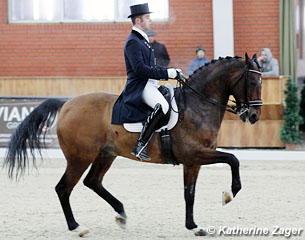 The 31-year old was Poland's best Grand Prix rider for a period of time, competing at the 2008 Olympics in Bejing and in the Kur Finals at the 2010 World Equestrian Games in Kentucky. The past two years his scores gradually dropped with a very unhappy horse appearing in the show ring at major events. At the 2012 Olympic Games he finished 45th in the Grand Prix. At the 2012 World Cup Finals he got 62.264% in the Grand Prix. In the 2013 CDI-W Zhahshkov Grand Prix they scored 61.809%.
Photos © Astrid Appels - Katherine Zager -  No reproduction allowed
Related Links
Scores 2013 CDI-W Zhashkov
Photo Database: Michal Rapcewicz and Randon
Victory for Poland's Michal Rapcewicz in Grand Prix Special at 2011 World Dressage Masters Palm Beach
LIVE: Quick Notes from the Olympic Grand Prix - Group 1
Poland Fields Team, Ireland Closer to Individual Slot at 2012 Olympic Games