2013 CDI-W Zhashkov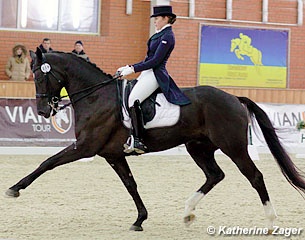 Russian young rider Polina Afanasieva stood her ground amongst senior professionals at the Central European League World Cup Finals in Zhashkov, Ukraine, on 29 - 31 March 2013. Aboard Nicolai Aristov's Blickpunkt and Laetare, Afanasieva is making her way to the top in a country where a dressage career can be more challenging than usual. However, she is hopeful about the future of Russian dressage.
"The last four years Russian dressage has been in big decay, but now it's starting slowly again from the ground up.  More and more people are becoming interested in dressage," Polina told Eurodessage. "We are building many new high-quality stables,  like New Century, which is a very nice stable.  The owners of this stable, Anatoliy Merkulov and Inessa Poturaeva, make very good choices in horses."

With a dressage start in the Olympic center "Bitsa" eleven years ago, Polina began riding in this school for children under the instruction of her first trainer Natalya Aseeva.  "Natalya taught me for a very long time and it was with her that I entered my first competitions," she reminisced.  Her first competition horse, Fregat, started her off in the children's class, and although the riding school didn't have much real quality to be competitive, Polina acknowledges it was still a great experience. "This school gave me character," she said.
Afanasieva, Diamond in the Rough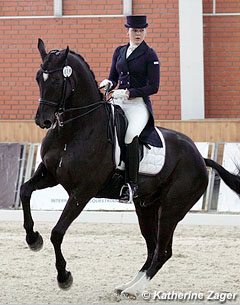 Some years later Polina moved to work in one of the top Russian stables, changed her trainer, and kickstarted her career with some talented young horses. "My new trainers were Olga Karpinskaya and Antonina Karpinskaya. Together they taught me to think on the horse."  Her time at this yard turned Afanasieva in a more competitive dressage rider, but a bit of luck jump started her international career.

The young rider landed a job in the stable Russian Diamond, not so far from Moscow, working for Nicolai Aristov, the owner of all the international calibre horses she gets to ride today. Grateful to be offered such a "very big chance" Polina now trains with Christian Kamplade from Germany and has made some major progress this year under his teaching.
"I have many very good horses with great qualities," she said. A small grasp in her collection reveals that Polina gets the ride on Blickpunkt (by Belissimo M x Weltmeyer), the 2009 and 2010 World Young Horse Championship bronze medallist and 2010 German Young Horse Champion, as well as Andreas Helgstrand's 2012 Olympic hopeful Grand Prix horses Tacolando Triple R (by Ircolando x Akteur x Cadmus xx) and Laetare (by Lord Loxley x Lancer II).
Struggling Young Riders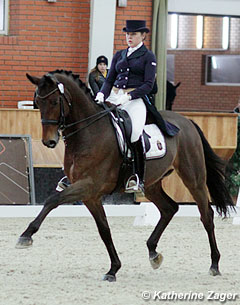 Realising that a career in dressage is particularly challenging for Russian young riders, Polina says that if you make it in the Russian national team you are given some money by the federation, but really that doesn't cut it. "The Federation will give you a small amount every month and provide you with national clothes and that's all," she revealed. "And, of course, it's nothing. The first thing Russian riders think about is money, because they also need to eat. So, first is the working, then the training, horses, sport, etc."
Unfortunately, Russian rules also make it difficult for young riders to hit the ground running, with the height for pony classes being that all important bit smaller! "We don't have enough competition for pony classes in Russia, because the category "pony" is unconventionally defined as being one metre high in our country, whereas  abroad a pony is classed as anything up to 148cm at the withers," she said. "This means that the Russian children who compete on horses taller than one meter can't take part in the pony sport competitions."

So, with no real category for horses in the middle class, from 1 meter up to 1.48 m, there is little chance for children to change gradually from smaller horses to the big ones.  "In 2010 the FKSR elected our new president, Sergey Maslov, but unfortunately, in the last two years, nothing has changed," she confessed. "Programs for better interaction between pony sports, young riders, juniors, and adults, have not taken place. But now, as far as I know, development of the interaction for a trainer's structure for different age categories of riders is being conducted."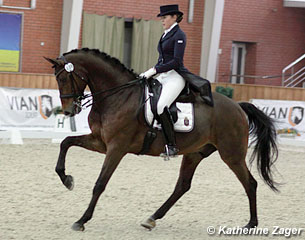 Unfortunately however there is no centralized FKSR National Equestrian Centre base, and Polina knows therefore that the Russian national team for dressage must carry out and prepare for the Olympic Games on different European platforms. "In this year though, our equestrian federation will make a plan for the next 4 years.  This plan is for the preparation of riders for the Olympic Games in Rio. We really hope we will have a team. And I hope that our federation will do all it can to help in this preparation."
Making her Mark on Seabiscuit
So for the two-time Russian champion the dressage format is looking brighter. Afanasieva is confident that she is in the best spot to make it all the way. "After winning the young riders section with Kleppenhus Seabiscuit and then the 5 years old class with Dantander Hit,  I was also placed in some international competitions in Russia, Ukraine and Europe, the biggest of which was the European championship for young riders in Berne with Kleppenhus Seabiscuit."
Afanasieva turned out to be the best performing Russian at the 2012 European Young Riders Championships aboard Aristov's Kleppenhus Seabiscuit, a 9-year old Danish warmblood gelding by Sandro Hit x Davignon. The duo finished 24th in the team and individual test in a field of 49 competitors.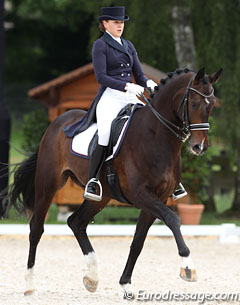 At the time Polina had only worked with the horse for just over 6 months and is excited about his future! "It was his first season and while it was a little bit difficult for him with the long journey and climate changes, he was an absolute hero," she said about her European Championship experience. "He's very clever and working with him is very interesting, every single ride!"
Now working at her stable full-time, Polina rides nine horses each day, all of different ages and different levels. "I have some young horses, horses at Prix St. Georges level, and some for Grand Prix horses.  This season I hope to start slowly in Grand Prix level!"
With a 63,417% score and 5th place in the Grand Prix Special on Laetare at the 2013 CDI-W Zhashkov, Afanasieva has made a more than modest international debut at Grand Prix level in the senior division.
Text by Sarah Warne for Eurodressage
Photos © Katherine Zager - Astrid Appels
Related Links
Scores: 2013 CDI-W Zhashkov
Cathrine Rasmussen's Shania Sold to Russia
Scores: 2012 European Junior and Young Riders Championships
Scores: 2012 CDIO-PJYR Hagen