2013 CDI Del Mar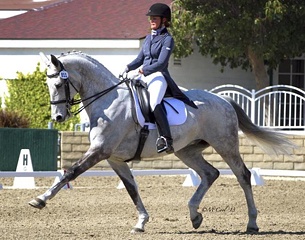 Debuting internationally just this year, USA's Sarah Lockman unlocked to the key to success when she achieved a hattrick in the small tour at the 2013 CDI Del Mar. Aboard her U.S. bred Dutch warmblood gelding Vinterpol, Lockman made dreams come true when she won the Prix St Georges, Intermediaire I and Intermediaire I kur to music.
"Vinterpol was amazing for the Del Mar competition weekend," Sarah told Eurodressage. "This is our first year competing at the CDI's and we only did our first Prix St Georges in December."
Having ridden Vinterpol since he was 4, Sarah has been dreaming of the day that she would do exactly what she did in Del Mar. "To complete a "triple crown win" was truly special and I did tear up after the freestyle as it was the first time we were competing with it and we only had the music for two weeks," Lockman revealed.  "Once I walked out the gate, all my clients, friends and family that had come to watch also had tears in their eyes as it was so special and so great! Vinterpol and I really danced to our music and I felt that so many years of hard work came together at that point."
With numerous highlights during the Del Mar experience, Sarah feels the entire show was amazing. She received encouraging comments and great scores from the judges, making plans with people that she has looked up to for years. "My family  traveled 10 hours from Northern Nevada to support me, the overwhelming emotion being in the award rounds and hearing the United States national anthem played three times, was a definite high. Vinterpol and I were really in sync this weekend and we felt unstoppable."
A 17.2hh Dutch Warmblood, the dapple grey Vinterpol was bred by DG Bar Ranch. His current owner Pamela Munson bought the OO Seven x Uniform offspring as a three-and-a-half year old from Willy Arts. Sarah describes Vinterpol is an A+ student who loves to work.  "He comes out every day happy to be out and working. I have been riding Vinterpol since he was 4 and we like to vary his work with trail riding and hill work days along with caveletti work."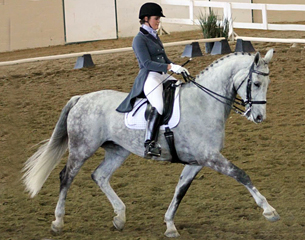 Pamela Munsen, Vinterpol's  Adult Amateur owner, also rides him 3 days a week and both owner and rider know that Vinterpol is a showman who lights up when he enters the ring.  "He is very confident and he trusts me in any situation we are in. I feel that Vinterpol and I have "Tunnel Vision" once we are in the arena," says Sarah.
A horse with no issues in training, Vinterpol has always worked hard and responded quickly to new things asked of him. "He, of course, sometimes acted "young" but as long as I made sure he had the strength and exercises to learn the movements; he has always been very willing. Vinterpol loves his work and always has," she said.
Raised in northern Nevada, Sarah and her sister immersed themselves in all things horses, except the high price tags.  "We got horses off the track, broke and trained them up ourselves, then sold them and used that money to show, Lockman explained. As a result of this young experience in breaking horses, Sarah believes there are not many horses that she now finds too difficult to handle.
Originally an eventer with Intermediate credentials, Sarah moved to California in 2004 to work for David Wilson at W Farms in Chino and while she brought her eventing horse with her, the adrenaline rush of jumping gradually lost its pull as "dressage stole her heart," she said. "My main coach growing up, Shelley Edwards, was the one who really turned my eye to dressage," Sarah explained.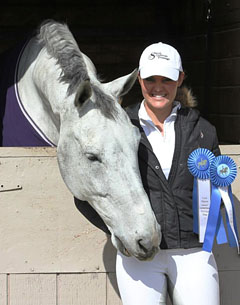 Now training in clinics with different coaches such as Canadian Kathy Pavlich, Kristina Harrison, Bert Rutten and Judy Harvey, Sarah knows that all of these trainers have a similar theory and each work together to give her the great tools she needs to train and bring along all her horses: from developing young horses into fine tuning FEI horses.  Lockman started her own sales and training facility one year ago and says it is "booming." With a particular interest in horse breeding, her business has now expanded from 25 horses in training to 40 horses including mares and foals.
If she could train anywhere in the world, Sarah would head to Holland and train with Bert Rutten. "He has really helped to fine-tune my riding and really pushed us to the next level," she said.

Setting herself to qualify and compete at the 2013 Festival of Champions Small Tour Championships in Kentucky in October, Sarah is currently number 14 and is hoping to move up in the rankings after this successful Del Mar weekend.  "My plans for the long-term future are to continue to train and move forward through the level and work towards Grand Prix. I would love to compete in the Pan American Games and represent the USA as both Vinterpol and I were born here."
by Sarah Warne for Eurodressage
Photos © Amy McCool - private
Related Links
Scores 2013 CDI Del Mar
Scores: 2013 CDI San Juan Capistrano
Scores: 2013 CDI Burbank