Health Care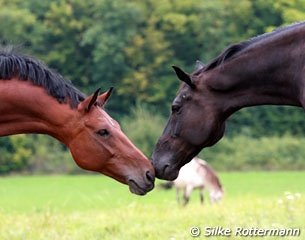 No matter if standing in the "Meerfelder Bruch" near Dülmen in Germany, in Nevada in the USA or the Namib desert in Africa: Wherever we can observe wild living horses we can recognise how far our specialised dressage horse breeding has come. The stocky small ponies in Germany's wild horse resort in Westfalia resemble little with the leggy well moving animals living not far away in the many dressage stables around; except for one absolutely essential fact: They are still both herd animals with a strong flight instinct and the very same needs.
Things so easily forgotten or just consciously ignored when dealing and training horses that are worth several Porsche cars or a small castle. How polemic and political the media attention of the recent PETA accusations against the owners of Totilas might be, it cannot be denied that there are still too many horses in our sport who are wrapped in the proverbial cotton wool spending the greater part of the day confined to boxes looking at their stablemates from a distance, just to prevent any risk of injury to their incredibly valuable bodies.
As understandable as it is that one is frightened to see great value and the result of many years of hard work go into pieces by a freak paddock accident like what happened for instance with Fiona Bigwood's wonderful Mr. G, one cannot deny that such incidents can happen in any place and that the rider is not allowed only to look after his own interests, but has the obligation to put the ones of his horses first.
While the different ways dressage horses are trained have been discussed for many years now, the management of dressage horses only came into the focus in more recent times.
Reason enough for Eurodressage to ask top international riders, owners of international dressage horses and a renowned veterinarian on the topic and also look back on the developments in horse management through the decades.
How it used to be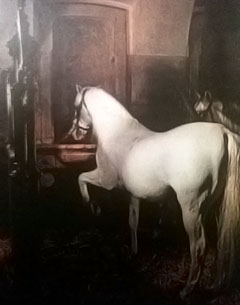 In 2013 one can hardly imagine that less than 100 years ago not all Olympic dressage horses had the luxury of living in loose boxes, but instead sometimes lived in stands. Keeping horses in such a way goes back to the cavalry tradition where horses had to be able to stand quietly tied to a wall, tree or whatever. It also enabled the military schools to stable a considerable number of horses in a restricted space and made mucking out time-efficient.
As many of the pre-war dressage horses were owned by the military of their countries, their keeping was nothing unusual nor questioned, especially in their younger years because most schools allowed only their best horses the luxury of loose boxes. To send these valuable horses out in a field or paddock was not only not-done, but just not a tradition used in the military. Public opinion at the time had other worries than how horses lived.
Up to the 1950s it could even happen that at an international show horse had to live in stands with only loosely hanging poles to divide them from each other as different international riders reported in their biographies. "In the 1950s and 1960s it was not the usual thing to put dressage horses in fields or paddocks. This was not only an attitude, but also caused by the fact that many important dressage stables were located in big towns on restricted space," said retired I-judge Angelika Frömming. "We had our first horses after the war at Dortmund Riding Club which was attached to the big Westfalenhalle in the midst of town. At the beginning there was not even the possibility to hack our horses, let alone put them in a field. Nobody really put a thought in it. It was the way most horses were kept during those times." Fromming added that "even when we trailered them to our hunting lodge in the forest we had no turnout possibilities there. It just did not enter our minds."  She makes clear that a more natural horse-keeping was not the common zeitgeist back then, let alone for dressage horses.
Former national coach and double Olympic champion Harry Boldt reports almost the same, stressing that only "the better horses like the competition ones lived in loose boxes in the 1950s. Turnout possibilities were almost non-existent because the bigger stables were in towns. But often special riding trails had been built, so the horses had some change of scenery and they were hand-walked to replace a not possible turnout."
Contemporary Ruth Klimke confirms "that it was not usual putting our horses in a field or paddock like my daughter does with hers today. We still took care to give our horses enough exercise. Ahlerich for example was taken out three times a day. I walked him in the morning, then my husband trained him and in the afternoon our groom Claudia Rosner went hand-grazing on the property."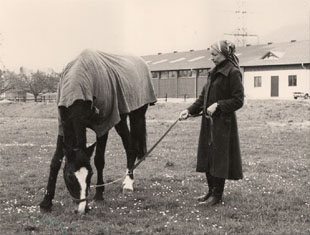 Swiss Olympic champion Christine Stückelberger confirmed a similar way of keeping horses in the 1960s and 1970s. First training at the quite imposing Local Riding Club of Berne which was situated right next to the main station in the town-centre, she later moved to Vienna, Hörbranz and then her own Hasenberg barn in Kirchberg, Switzerland. Though the locations changed, the horse-keeping usually did not include regular turnouts for the competition horses. They were trained in the mornings and hand-grazed later the day. Her 1920 born trainer Georg Wahl had been chief rider of the Spanish Riding School in Vienna where until the 1990s many of the stallions were still stabled in stands and the loose boxes belonged to the most experienced older Lipizzan stallions. Wahl is representing a generation which descends from the cavalry and who clearly had a different concept of horse keeping than we have today.
One has to be careful not to generalise too much. Even in the first decades after the war there had always been riders allowing their horses to go out and enjoy a time off out in the fields. Former international competitor and chairman of the dressage committee of the "German Society for Riding and Driving" (DRFV), Hans-Dietmar Wolff from Warendorf , was one of a few whose dressage horses lived out in the fields at his private property and who was not afraid of doing what seemed unconventional in those days. Also the horses of the British dressage ladies who conquered the sport in the 1960s and 1970s enjoyed their regular turnouts which seemed more a tradition on the British Isles than on the continent. I-judge and multiple Olympian Jennie Loriston-Clarke, who was the first British dressage rider to win a medal (bronze at the 1978 World Championships), used to turn out her first Olympic horse, the highly strung Trakehner Kadett, together with a pony, sometimes even overnight, to help the blood influenced bay settle his nerves.
While the transition from housing horses mainly in stands to keeping them in loose boxes was made 40 or 50 years ago, nowadays horse owners expect more and the demand for paddock-stalls and regular turnouts is nothing out of the ordinary. A similar horse-keeping is also wanted for highly valuable sport horses. Though many opinions expressed in reader-letters or on internet forums seem exaggerated and emotionally heated, the general demand for good house keeping is allowing dressage horses to have a life as natural as possible. The prejudice that all dressage horses are confined in their stalls and are highly nervous animals due to their life style is still heard, but is not valid for the whole sport.
Balancing Risks and Natural Needs
At first unconsciously and then through her recently published book the quite unconventional German dressage rider Uta Gräf has
brought the topic of natural keeping of dressage horses at the highest levels into the public the past few years. Her concept of keeping all her competition horses in open stables and some even in a big herd certainly shows that it can be done and according to Gräf "we never had one serious accident in twelve years."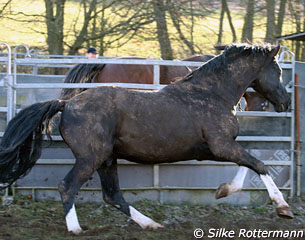 Though Uta's approach is exemplary it is without a doubt not practicable for every dressage rider for different reasons. To deal with ever-muddy horses, lost shoes and scratches also requires horse owners who agree with it. "It is better if one does not always have the value of a horse in the back of one's mind. Of course there are field accidents and lost shoes, but on the other hand one should not forget that there are also severe accidents in the box and chronic illnesses due to keeping horses without sufficient exercise. We are absolutely convinced that the way our horse Damon Jerome NRW is kept has the main influence on his sporting successes as he is an agile horse who loves to be occupied. I think a natural way of horse-keeping should be the standard. For us and our horses there's no alternative," says Prof. Dr. Thomas Hitschold whose stallion Damon Jerome is a 2012 Nürnberger Burgpokal finalist. While Gräf's property is really a kingdom for any dressage horse, it hasn't necessarily to be huge fields and open stables to keep sport horses happy and motivated.
Times have changed and many dressage riders go with it and try to find an acceptable balance between their horses' natural needs and the fear of injuries.
German Olympic silver medalist Dorothee Schneider has taken over her parents' St. Stephan Stud in Framersheim in 2000. There she not only trains dressage horses of different breeds and training levels, but also runs a station with several highly decorated stallions, amongst them her first Grand Prix-horse Van Deyk (Trakehner by Patricius xx) and his licensed son Kaiserkult with whom Schneider competes at international Grand Prix-level. Since the 1980s the stud had been modernised step by step and today has modern stalls, paddocks, fields and a horse-walker. The way she is keeping her competition horses and the stallions is the same and according to Schneider has not changed since she took over the stud: " In my opinion the motivation and the mental balance of my horses have a direct and huge impact and influence on their health and success," she said.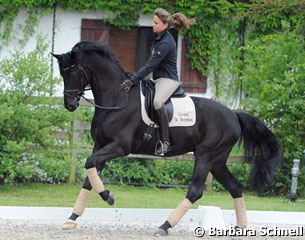 At Dorothee Schneider's yard the horses enjoy two turnouts a day, one for the training and one to give them an additional way of exercise. "My horses have at least one of the following exercises daily: Either they go in a huge paddock or out in the fields, alone with paddock neighbours or together. The weather has no influence on the turnout, except that in heavy rain the horses go out in the paddock and during freezing periods we put them in the fields. They are out between 2 hours and half a day. We also hand-walk the horses or hack them." Schneider is convinced that "to move freely is for all my horses the basis of success, including for several breeding stallions."
Whereas in the past it seemed rather unlikely to put breeding stallions in the field, it is not Gräf and Schneider alone who allow their musclemen to enjoy some pasture freedom. Austrian Olympian Renate Vogelsang who is based in Bavaria, Germany has ridden into the limelight over the past two seasons with the impressive Westfalian stallion Fabriano (by Florestan I x Angelo xx). Known as having not been the easiest of horses to train up the levels, the bay today expresses happiness and eagerness in his appearances at shows.
"I try to offer all my horses, no matter if they are client's horses or my own, a variety in training. At least once a week we only go hacking and one to two times a week we do conditioning which means we do canter work while standing in the stirrups so the horses have the chance to really let off steam. Usually the horses are trained in the morning and hand-walked in the afternoon. If the weather isn't too horrible all my horses go out in the field daily for about 4 hours, except in the summer when it is horribly hot and there are too many bugs around, then they are only out for a maximum of 2 hours. If the ground is very muddy or frozen we have paddocks where the horses go in instead."
Renate leaves no doubt that Fabriano enjoys the same treatment like all the other horses, even though he is a stallion. "As a stallion Fabriano has his own field, but it is very important for him that all his buddies are standing in the neighbouring fields. He loves his daily turnouts and is the first who complains loudly in the stables if he is not allowed out in his field in the morning. He so much enjoys it day by day," Voglsang explained.
Fabriano's brother Fratello, Renate's upcoming Grand Prix-horse, goes out to the field with a buddy "who is his best friend. From my own experience I can say that the horses are calmer and more relaxed if they are out in pairs."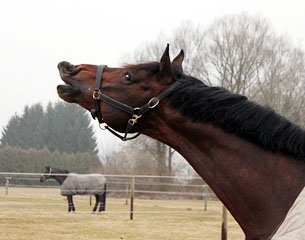 Grouping horses allows them to have social contact, which is a more difficult issue with stallions. "Fratello as a gelding is stabled in a paddock box where he has lots of social contacts over the fence and he thoroughly enjoys it. With Fabriano this is more difficult as he is a stallion. He has two neighbours which he likes very much and he definitely is not kept in an isolated stallion stall."
Vogelsang tries to find a healthy balance between respecting the natural needs of her horses and minimising risks. In the end there is no alternative for her than the way she is keeping them. "I think most of my success depends on it," she confirmed. "I try as hard as possible to allow my horses to be horses. I am convinced that it helps them enormously to have good nerves and fight for me. In particular Fabriano gives his very best when he is not trained day by day. For about a year now I use to give him at least one week off from dressage after every show. In this time we only go hacking and he is allowed to do nonsense. If there is not a show directly following the week after this kind of break can even be longer.  Fabriano is much more motivated after that and has even more fun working."
Sweden's dressage star Tinne Vilhelmsson-Silfven, who is a 6-time Olympian and the fourth placed rider at the 2013 World Cup Finals in Gothenburg, keeps her horses at the beautiful Lövsta Stud near Stockholm where she is employed. Situated in a most beautiful countryside the stud is ideally located between a forest and a lake, offering good opportunities for keeping horses.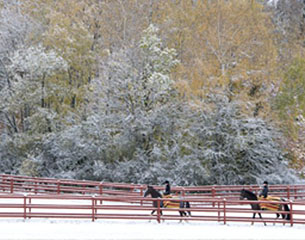 Living in spacious and very bright stables Don Auriello, Solos Carex and their mates enjoy paddock freedom and regular hacks in the nearby forests. "All our horses go out hacking or on the race-track once a week. We trot and canter them there even when we have snow in winter. When the weather allows it, we also use the nearby forests to warm-up the horses for about 20 minutes", Tinne told Eurodressage.
Apart from these weekly hacking pleasures the horses go out in well-fenced fields every day: "In the summer the horses go out in the grass fields for 3 hours a day and in winter they go into the sand paddocks, also in snow. Moreover they go into the horse-walker for 30 minutes daily. We put them out on their own though, but our stable is built in a square, the walls of the stalls are 1,40 m divided with bars, so the horses can have social contact like that."
Tinne's attitude is that "it is important to have the knowledge what the horses need and we learn all the time, for example about the feeding and their health care. I truly believe that a sound and happy horse is the only horse you can and want to train and compete on. Due to this I am trying to give my horses the best life I can imagine without risking their safety."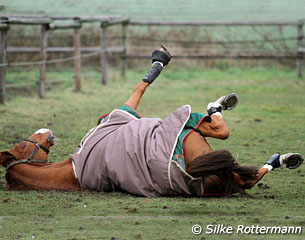 Germany's double Olympic Champion in eventing, Ingrid Klimke, is well-known for the variable training programme all of her horses enjoy. No matter if they are eventers or dressage horse, they all are intensively worked over cavaletti and go out hacking together. Ingrid also expects the dressage horses to be able to clear a small jump. Her current small tour horse Dresden Mann (by Dresemann x Florestan I) demonstrated his versatility at the 2012 Global Dressage Forum jumping a considerable fence.
Being stabled at the outskirts of her hometown of Münster, Ingrid keeps her horses at a public barn where she has rents a building with 11 stalls and several fields. All her horses go out in the field for several hours a day, mostly on their own, but kept with neighbours.
Ingrid's Grand Prix horse Liostro grazes next to his small tour colleague Dresden Mann who profits in a special way from his daily turnouts as his English owner Clodagh Wallace confirms: "Turning Alfi out is a most important factor as it helps to keep him relaxed and focused while he is working. There is always some danger in giving the horse his freedom, but over a period of time this becomes less dangerous as they become accustomed to that freedom. There is always danger with a horse, but this must not impede with what is best for its welfare. A happy horse is a healthy horse."
German born leading US dressage rider and World Cup winner Steffen Peters lives with his wife Shannon, also an accomplished dressage rider, in California. At their barn in San Diego they have 60 stalls, of which 30 are paddock-stalls. There are also 10 paddocks of which 2 are especially highly fenced to allow stallions a turnout.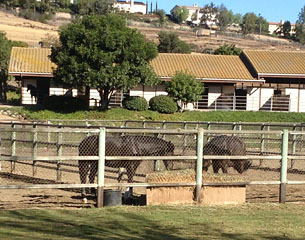 For Peters and his wife sufficient exercise and a healthy feeding are the key to the success of their horses. "Our horses are all stabled in stalls with outdoor access, so they see one another and can interact with their neighbours," Peters explained. "They go out in the paddock every day on their own for several hours each day, but next to other horses. They go out unless the weather is just too awful, and their safety would be in jeopardy," Shannon added.
Daily turnouts are only one part of keeping their horses fit and well. Apart from their dressage training "all horses go on trail rides, at least once per week. The younger horses do cavaletti training as well. The horses are also hand walked." Steffen, whose KWPN gelding Udon won him an Olympic bronze medal at the grand old age of 18 at the 1996 Atlanta Olympics, believes that "the most natural environment in which we can keep them, with access to sunshine and free exercise, free access hay, fresh grass, limited grain feeding and plenty of exercise sets them up to be happy and healthy athletes." His wife stresses that "feeding less grains and more hay and finding out how much healthier the horses are" is the most significant change in horse management of the past decades.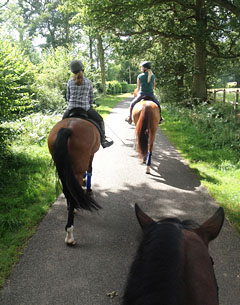 The horses of British-Danish couple Fiona Bigwood and Anders Dahl are stabled at their brand-new yard Bourne Hill House in West Sussex with 28 big airy stalls, extensive fields, sand paddocks, horse-walker and hacking opportunities. Fiona and her fiance make good use of the various possibilities to give their horses plenty of exercise: "Our horses are worked 4-5 times a week, depending on their age and temperament and we hack as often as we can, at least once a week. We also do some small jumps with them. After work the horses often go on a hack to relax. On their days off they also go on the treadmill or in the horse-walker, but I prefer sending them on a hack instead. I do not like lunging."
Daily turnouts are something the couple considers as very important for the horses and Fiona stresses that she prefers seeing them out in company: "All our horses go out daily for at least 2 hours. In the summer they go out in the fields and in winter we use the sand-paddocks, in all weather and also when there's snow. Whenever possible I put them with others because there is nothing nicer than seeing two horses scratching each other's back. I have bought horses where they said they couldn't go out, but after being with me they all go out and love it. If they all go out every day, they don't do crazy."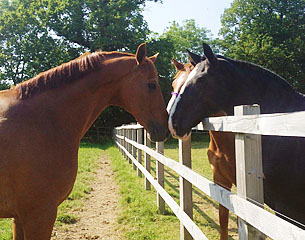 Fiona thinks that each rider has the a responsibility to make sure horses are happy and enjoying some sort of freedom and she not even has changed her opinion when she lost the horse with whom she had clicked in a very special way, Mr. G, due to a freak paddock accident in which the horse fractured a leg in seven places between the hoof and fetlock and could not be saved. "He went out every day and it was just one of those things. He loved being out and I had no right to take that away from him. I have never got over losing that horse, but I would have never changed anything regarding turnouts. I have only one horse that is not allowed to go out due to an injury 2 years ago. But each day after work he is allowed to move in the indoor and roll as many times as he wants. Even if the grooms kill me, horses love getting dirty!"
Fiona and Anders not only take care that all their horses go out year in-year out, but also consider social interaction equally important. "I will always try to get horses out together. In the stable we have open grills, so the horses can touch each other. My retired Grand Prix horses, broodmares and their foals, 13 at the moment, all go out together and love it." Fiona thinks that nowadays more than in the past people are realising the importance of turning their horses out.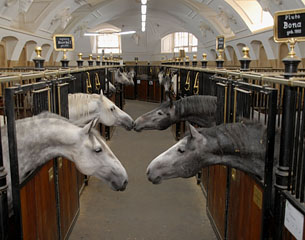 While more and more riders seem to discover the advantages of a more natural keeping of their dressage athletes, how about the horses living at the renowned Spanish Riding School in the very midst of Vienna? Being located in the historical huge Hofburg building the SRS never had any real chance keeping their Lipizzans in a very natural way, but tremendous efforts over the past years changed a lot for the better in Vienna itself and a newly built training centre in nearby Heldenberg at the outskirts of the town make sure the legendary stallions can enjoy their annual holidays as what they are: horses.
Until the 2000s the "majestic white stallions", in particular the younger ones, were still kept in stands like centuries before with only the older stallions living in the loose boxes. With the SRS expanding and stricter animal welfare laws in place, it became necessary to renovate the existing stables and build new ones to house more than 70 stallions. The whole rebuilding process took about 6 years and was finished only in 2008. Since then all stands in the inner stables haven been transformed to loose boxes. To create more stalls, boxes with a window have been built into the arcades of the inner court. Now the stallions living there can look into the court and some can even have social contact when sharing one of the big arcades.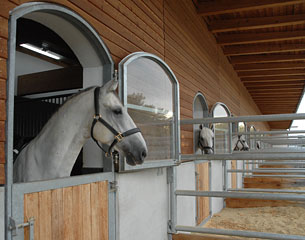 To win space the saddlery, the feeding room and office rooms had to be moved to the second floor of the Stallburg building. To improve the brightness and the quality of air a new illumination and new ventilation were installed. Chief rider Andreas Hausberger told Eurodressage that despite the improvements "there is no possibility for the stallions in Vienna to move freely on their own. They are exercised for about 30 minutes daily under their bereiter and if they are hand-worked even a bit more. Then in the afternoon they go into the biggest horse-walker in the world for another 30 minutes, so they can move without the weight of the rider in the fresh air outside." The 2009 established horse-walker allows up to 20 stallions to be exercised in walk and trot and is constructed as an oval around the outdoor arena ("Summer riding school"), so that the stallions can also move straight instead in a permanent circle.
To give the Lippizaners the chance to really recover from their exhibitions and travels around Europe, each stallion goes "to our training centre Heldenberg for seven weeks during July and August to enjoy their holidays. There the stallions all live in paddock-stalls and are also allowed to go out in fields. During their holidays the stallions are hacked into the nearby forest and can relax. Every 2 years the stallions not only have their usual summer holidays there, but return for a few months to Heldenberg with their bereiter for training purposes," Hausberger explained.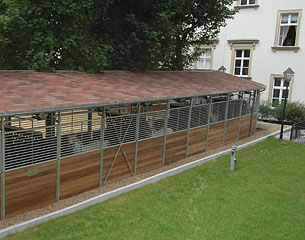 The horse-friendly training centre, established in 2005, not only gives the older experienced stallions the opportunity to recover from their lives as Vienna's four-legged tourist attraction, but also enables the youngsters a slow and smooth transition from the freedom at Piber Stud to life in the Stallburg in Vienna. Instead of coming from the endless alpine fields of their home-stud to the inner-city from one day to the other "the young stallions arrive with 3,5 years at the training centre in Heldenberg where they do the first training step, the remount school, being lunged for 30 minutes over a period of 8 weeks before they are broken in. Being at Heldenberg during these times allow the stallions to get slowly used to work and they can still go out in the fields."
Hausberger is realistic that the possibilities for social interaction in Vienna itself is limited "because we cannot turn them out together since the risk for injury is too high. But the stallions can see themselves in the stables and can sniff at each other." Within its possibilities the SRS seems to have done its best to offer the stallions a more natural life and Hausberger confirms that "the changes do have an incredibly positive influence on the stallions."
France's equivalent to the SRS, the Cadre Noir of Saumur, seems at first look to have better possibilities for the about 400 horses living in this institution which belongs to the ENE (National French Riding School). Its traditional French riding became a UNESCO world heritage in 2011.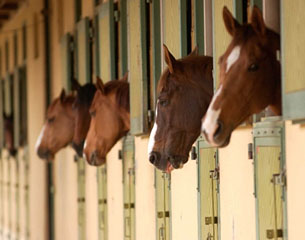 Moving from the traditional 18th century buildings of the Ecole de Cavalerie in down town Saumur at the river banks of the Loire to the outskirts of the town, the ENE spreads over 300 acres at the edge of a forest. There are several large stable buildings, but the horses of the prestigious Cadre Noir are all stabled in the Prestige complex in the centre of the property.
The horses live in modern airy loose boxes. Most of the stalls have big windows and automatic feeders delivering hard feed several times a day.
From the numerous outdoor and indoor arenas, wash boxes, roofed lunging circles and horse-walkers, ENE seems to have all that modern horse training requires. The only thing sadly missing are turnout possibilities like fields or paddocks to give the Cadre Noir horses some kind of freedom. Only near the well equipped equine hospital there are a few paddocks, but not destined to be used by the horses of the Cadre Noir.
It is with regret to notice that one of the biggest and most modern facilities of the world of equitation seems not much interested in giving their horses some kind of freedom, whereas the Spanish Riding School now at least provides to their stallions for a certain time span per year.
What the veterinarian thinks
As soon as any horse sustains an injury out in the field or paddock or even in company during turnouts, the question rises if it was the right decision to allow the expensive athlete such freedom. In conversation with top dressage riders who are not practising turnouts this fear is repeatedly expressed as the reason for not allowing their mounts to go out in a paddock or field. But if one takes into account the risk with turnouts, one should also factor in the risks of a horse living exclusively in its stall except when it's trained. Respiratory problems, leg issues and in particular colic attacks are much more often observed in stable-bound horses than in those living outside and thereby closer to the way nature has destined for them.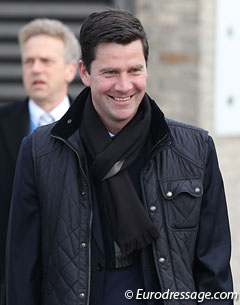 Also feeding plays a very important role and nature should be the first role model. Of course a high performance athlete needs a much bigger amount of energy than a wild mustang in Nevada, but the way of feeding should ideally simulate nature in which horses graze the whole day. This means feeding small rations repeatedly over the day and have roughage as the basis with any kind of hard feed just as an addition. Several top riders reported that they give their horses unlimited access to grass or roughage over the day and could see a significant positive change in their horses. Uta Gräf whose horses live in open stables all year and have 24-hour-access to hay says she never had any problems with colic over the past years.
Eurodressage asked international dressage judge, FEI dressage committee member and Danish team vet Hans-Christian Matthiesen what his opinion is on a successful balance when managing high performance dressage horses. To keep dressage horses healthy and motivated the renowned Danish vet stresses the importance of prevention instead of cure.
"Often riders approach me to show them how to react in case of injury, but an injury is recognised quite quickly," he said. "What I try to teach my clients is to recognise small changes in the horse, changes in their behaviour, their ability to perform in training and at shows. The aim has to be to monitor the horses closely day by day to prevent injuries because the vet can be called early enough. To reach this aim trainer, rider and vet have to co-operate closely." Matthiesen added that eventers usually take better care of their horses' cardiac training and their degree of physical fitness. Dressage riders often still don't know enough about the pulse, temperature and respiratory data and don't really check on them. "But it is important to take care also dressage horses are in peak physical condition and to train their fitness because tired horses injure themselves more easily."
In order to bring dressage athletes to a good level of fitness it is necessary to give them enough exercise apart from dressage training itself, for instance by allowing them to canter forwards over a period of time to increase the cardiac output.
Matthiesen confirms that some dressage horses are not only not exercised sufficiently, but are also fed wrongly, resulting in them becoming too heavyweight or even in danger getting EMS. In particular older dressage horses can get this disease. "Too much hard feed and not enough exercise can cause EMS and other problems, especially in older horses. So an easy prevention is to feed more hay or roughage and give the horse enough physical exercise. Just think how horses live in nature," he stated.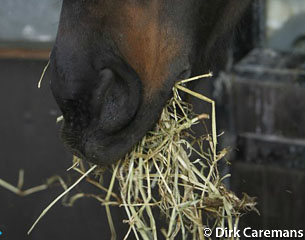 More physical exercise can be done "in many different ways today. There are horse-walkers and treadmills. It is definitely not acceptable if a horse is stabled 23 hours a day. It should at least be out twice a day. Of course this requires enough grooms and sometimes it is just a financial question to afford them or not. For example suspensory ligament problems which are so common among dressage horses are a management problem one can prevent."
Regarding the regular turnout of dressage horses in paddocks or fields Matthiesen admits that he is often asked by riders what he would do if the horse was his. "I think the turnout is something very individual. Nowadays many stables have very well installed paddocks with the best fencing and surface. Then even a winter turnout is possible if there is not too much snow. But some only have fields and then, especially here in the north of Europe, a turnout might not be possible until spring. The decisive factor to turn dressage horses out is to prepare them and make a plan. It is important to stimulate the horse's proprioception; each horse's relative position of the foot and leg of the body and strength of effort being employed on different surfaces. One can train this by riding the horses on many different surfaces."
The Dane considers the better diagnostic possibilities as the most significant improvement of the past decades. "Today we can make very precise diagnostics and as a result offer better and more effective treatment for the horses. If there is a problem I diagnosed I can tell the owner very precisely how I will treat it and how long it will take. Medicine today can do a lot, but it is always better to prevent than to cure."
The Advantages Outrank the Risks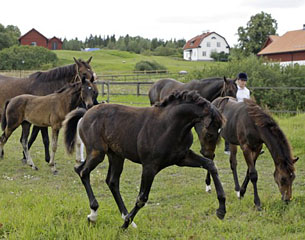 The public picture of our beautiful sport has suffered over the past years due to emotional discussions about certain training methods, bleeding mouths of horses in competitions and recent PETA-accusations. Even though the way horses are kept is only one part to keep them happy and content, it is a very essential one. Not only the breeding of horses, but also their management has come a long way since the first horses were domesticated and used for our various purposes.
Nowadays there is more common knowledge about how to keep horses healthy and motivated for a long time than never before and there seems fe arguments for not applying them. As the happily working athlete should be the aim of any (dressage) rider, it can only be hoped that the number of riders will continuously increase who first and foremost see the advantages of keeping their horses more natural instead of fearing the risks. Better motivated and more relaxed dressage horses are an important step towards a sport in which not tense sky-divers, but supple moving horses rule the roost.
By Silke Rottermann for Eurodressage.com
Photos © Silke Rottermann - Barbara Schnell - Dirk Caremans - Astrid Appels - Private
Related Links
Daily Turnout Prevents Dressage Horses from Injury
Forage Diet Beneficial to Equine Health and Conditioning
Two Sox Passed Away after Field Accident
Cabana Boy Euthanized after Field Accident
Fiona Bigwood Loses Mr G de Lully
Juan Antonio Jimenez Loses Naomy