German Dressage News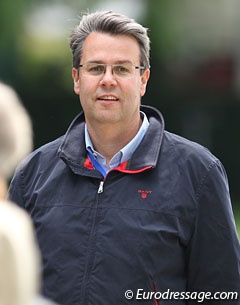 FEI Dressage Committee Member Thomas Baur has joined the team of organizers to guide dressage events at the 2014 Global Dressage Festival in Wellington, FL. Baur brings experience and know-how from some of the world's top dressage events to GDF.
Riders and horses alike will benefit at the 2014 AGDF as they find 11 shows - six CDIs and five national shows - in the winter show schedule from 9 January - 30 March 2014.
"Thomas is one of the world's top dressage organizers. His affiliation with the Stuttgart German Masters as well as his membership on the FEI Dressage Committee should bring us a wealth of knowledge and experience as we try to increase both the international exposure and participation at the GDF. He will work closely with GDF Horse Show Manager Lloyd Landkamer to upgrade the GDF dressage experience," stated ESP CEO, Mark Bellissimo.
Baur said, "I am very pleased to join the team for the 2014 Global Dressage Festival in Wellington. Our common goal is the development of this dressage facility to a world-class product that not only attracts the top dressage riders from North America, but also brings the best dressage riders from around the world to Florida during the winter months. We will present the highest level of dressage in Wellington at a top venue."
As a member of the FEI Dressage Committee, Baur is especially interested in the CDIO 3* event, which hosts the only non-championship Dressage Nations Cup in the Western Hemisphere. "Especially close to my heart is February's CDIO3 *, where the final format of the 2015 Pan American Games in Toronto will be tested for the first time," he acknowledged.
Photo © Astrid Appels
Related Links
FEI Dressage Committee Minutes of 15 May 2013
The 2013 CDIO Wellington to Include Grand Prix and Prix St. Georges Levels for Pan Am Test Event
Agreement Reached Between IDRC and FEI, Kyrklund Appointed Dressage Committee Athletes' Rep
New FEI Dressage Committee Elected at 2009 FEI General Assembly